Biography
Old Tom Morris was born in St. Andrews in 1821 as Tom Mitchell Morris Sr. In his mid-teens, he began a four-year apprenticeship followed by a further five years of employment as a journeyman under the watchful eye of Allan Robertson of St. Andrews. Old Tom Morris was fired on the spot in 1848 for the blasphemous use of the gutty ball as opposed to the feathery ball which Allan Robertson sold.
Old Tom Morris at Prestwick
In 1851, Old Tom moved to Prestwick to serve as professional and keeper of the green. Upon arriving, work was undertaken to layout, construction and maintain the course itself. Besides, he also founded what is now known as the Open Championship, winning it four times in the 1860s.
Due to the success achieved at Prestwick, Old Tom engaged in designing courses for the hefty sum of £1! As a result, it is thought Old Tom created or modified more than 100 courses, many of which are still considered some of the best in the game.
Return to St. Andrews
In 1864, Old Tom Morris returned to St. Andrews and made significant changes to the Old Course, making it the course we know and love today. Old Tom officially retired in 1903, but the R&A offered him a consultancy position with salary for the remainder of his life.
Old Tom Morris' Legacy
His legacy continues to be felt. Those influenced by him and who apprenticed under his tutelage included Bob Simpson, Archie Simpson, CB MacDonald, Donald Ross, AW Tillinghast and Donald Ross. These men furthered the discipline of golf course architecture and inspired the current generation of practising architects.
Further Reading
We wish to thank a friend of Evalu18 and collaborator, Keith Cutten, for the material for this short biography. For a more detailed account, you can find his book by clicking here.
Old Tom Morris Colourised Image
To see a modern take on the old classic, click here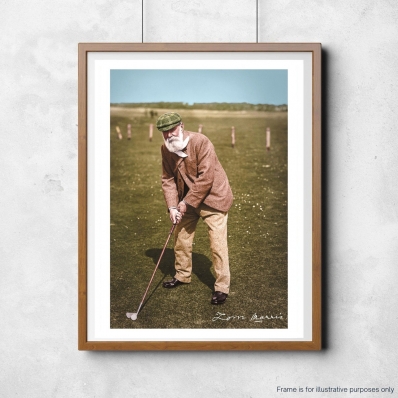 ---
Architectural Hallmarks
Old Tom Morris used the natural golfing terrain and the site's best features to perfection.
Limited by circumstance and the naturalness and rugged nature of the best sites available means Old Tom's minimalist work is still amongst the best in the game.
Wide & shared fairways allowing for width and angles.
Old Tom Morris felt no necessity to have trees.
Elevated tees with views over broken ground frequently feature.
Most holes are straight with very few doglegs.
Natural green sites in located in hollows or on plateaus placed diagonally to the fairway.
Par 3's often surrounded by pot bunkers however, grassy hollows are used around greens as hazards.
Incorporated hedges, walls, roads, railways, etc. into reign of the hole.
Burns, streams and ditches are common and are used near and around greens. Ponds are scarcely used.
---
Portfolio