Prestwick Golf Club

Ayrshire, KA9 1QG, Scotland
Overview
Prestwick Golf Club is home to the world-famous Cardinal Bunker, Himalayas, Sea Hedrig, and The Alps.
Tom Doak recommends golf architecture students pay special attention to green contouring, bunkering, and routing. Thus making Prestwick Golf Club one of only a handful of courses in the world with such an accolade.
32 spaces around the long table in the Dining Room are available for those dressed up in jackets and ties. Similar to other great Scottish golf clubs, Kummel is drunk before the afternoon rounds!
The Prestwick Experience is exactly that - you are a member of the club for a day. Unlike other member days, this is a genuine experience. Jacket and tie in the Smoke Room and the veritable museum that is the Dining Room, it is a once-in-a-lifetime experience that needs to be savored.
The first recorded hole-in-one at an Open Championship was recorded at Prestwick. It was also the scene of the first winner's check.
There have been only seven professionals in the club's history following Old Tom Morris. Amazingly, Charlie Hunter spent 54 years at the club, Frank Rennie 42 years, and Robert McInnes 35 years!
Course Review

(Click to reveal)

Golf Course Review

Prestwick Golf Club was founded by 57 members in 1851 and hosted the inaugural Open Championship in 1860. If the original members returned today, six of the original greens would be in play, their lockers would be in use but with different names, and the smoke room would be as it was then…
It is the birthplace of The Open with only St Andrews has hosted the tournament more often. The 1st Open was played here for the famous red Morrocan leather belt. The original course was a 12-hole layout from none other than Old Tom Morris in 1851. The remaining six holes were added in 1883.
Frank Pennink described the land in Golfer's Companion as a 'golf course architects idea of heaven… in the form of sandhills, winding valleys, and a tortuous stream. The turf is as seaside in quality as on any links I know.'
Old Tom Morris at Prestwick Golf Club
A handful of original holes from Morris' twelve holes layout survive. These include today's 3rd (4), 13th (5), and 17th (2). (Original hole numbers shown in brackets.) Iconic features such as the Cardinal and Sahara Bunkers are of Morris' vintage with the 2nd, 13th, and 15th greens Old Tom Morris designs as well.
Portions of the 12-hole course still exist and are in play today. Below are the elements you can see and play on the 18-hole layout:
Original 1st Green – Current 16th Green.
Orignal 2nd Green – Current 17th Green.
Original 3rd Green – Current 2nd Green.
Original 4th Green – Current 3rd Green.
Original 5th Green – Current 13th Green.
Original 6th Green – Current 2nd Green.
Original 10th Green – Current 15th Green.
You'll note the shared 2nd green on the 12 hole layout.
Famous Holes/ Templates at Prestwick
Prestwick Golf Club has six holes that are perhaps better known to the average golfer than the course itself.
Hole 1 – Railway – Trains and O.B. make this hole incredibly strategic.
Hole 3 – Cardinal – Dogleg right with the infamous Cardinal Bunker.
Hole 5 – Himalayas – Prestwick's Dell.
Hole 13 – Sea Headrig.
Hole 16 – Cardinal's Back – Willie Campbell's Grave bunker.
Hole 17 – Alps – Sahara Bunker.
Prestwick Golf Club & The Open Championship
Prestwick is the birthplace of the Open Championship, hosting the event 24 times. Only St Andrews has hosted more Open Championships despite not having hosted an Open since 1925! Prestwick Golf Club hosted the first 12 Opens and 24 of the first 60.
Open Champions have included: Willie Park Sr, Old Tom Morris, Young Tom Morris, Andrew Strath, Jamie Anderson, Jack Simpson, John Ball, Willie Auchterlonie, Harry Vardon, James Braid, and Jim Barnes. Here is a comprehensive list of previous Open Champions:
1860 1st Open – Willie Park Sr*#
1861 2nd Open – Old Tom Morris*#
1862 3rd Open – Old Tom Morris (First Multiple Open Winner)*#
1863 4th Open – Willie Park Sr*#
1864 5th Open – Old Tom Morris*#
1865 6th Open – Andrew Strath*#
1866 7th Open – Willie Park Sr (First 3x Open Winner)*#
1867 8th Open – Old Tom Morris*#
1868 9th Open – Young Tom Morris*#
1869 10th Open – Young Tom Morris*#
1870 11th Open – Young Tom Morris*#
1872 12th Open – Young Tom Morris (First 4X Open Winner)*
1875 15th Open – Willie Park Sr*
1878 18th Open – Jamie Anderson*
1881 21st Open – Bob Ferguson*
1884 24th Open – Jack Simpson
1887 27th Open – Willie Park Jr
1890 30th Open – John Ball (First Englishman & First Amateur to Win The Open)
1893 33rd Open – William Auchterlonie
1898 38th Open – Harry Vardon
1903 43rd Open – Harry Vardon
1908 48th Open – James Braid
1914 54th Open – Harry Vardon (First and Only 6x Winner of The Open)
1925 60th Open – Jim Barnes
* The first 15 Open Championships at Prestwick Golf Club were played on a 12-hole golf course three times for a total of 36 holes.
# The Open Championship was played at Prestwick Golf Club annually from 1860 until 1872. From 1873 until 1892, the Open Championship was rotated between St Andrews Old Course and The Honourable Company of Edinburgh Golfers not at Muirfield, but rather at Musselburgh.
Play the Oldest Intact Open Championship Hole
Walk in the footsteps of the former greats. The current 17th hole at Prestwick Golf Club was the 2nd hole on Old Tom Morris' original 12-hole course. It remains unchanged since the very first Open Championship in 1860. This, therefore, makes it the oldest existing hole in major championship golf!
The Morrocan Leather Belt, Claret Jug, and Prestwick Golf Club
Originally, the Open Championship Golfer was awarded a red Morrocan leather belt, known as the Challenge Belt, as spoil. If any player won The Open three consecutive times, the belt would become his. It was thought impossible until Youn Tom Morris completed the feat in 1870 after victories in 1868 and 1869.
The following year, in 1871, no Open Championship was held. There was considerable discussion on how to proceed with regard to the prize and which venue should host the Open. In the end, just two days before the 1872 Open Championship, it was decided that the venue would rotate between St Andrews, The Honourable Company, and Prestwick. Born was the Open Rota. The prize? A Claret Jug that no one could win outright…
For the 1872 Open Championship, there was a medal that was given to the eventual winner, Young Tom Morris as the Claret Jug was still being furnished by Mackay, Cunningham, and Co. of Edinburgh. The medal was inscribed: "The Golf Champions Trophy". Despite winning The Open 4 times, Young Tom Morris was awarded the Challenge Belt but never awarded the Claret Jug. It was awarded first to Tom Kidd at St Andrews after winning the 1872 Open Championship. The Claret Jug was awarded with Young Tom Morris' name already inscribed.
From Prestwick was born The Open, The Open Rota, The Claret Jug (properly called The Champion Golfer Trophy), the title "Champion Golfer of the Year", The Challenge Belt, and the gold Golf Championship Medal.
Interestingly, since 1871, every Open Champion has received the Golf Championship Medal. Even rarer, is the awarding of the Challenge Belt. It was awarded to Sandy Lyle in 1985 on the 125th anniversary of the original Open and to Louis Oosthuizen in 2010 on the 150th anniversary of the Open. In 2022, another Challenge Belt will be awarded to the winner of the 150th Open.
Prestwick Golf Club Reviews
Take Sean Arble's tour of Prestwick Golf Club.
Read Golf Club Atlas' review of Prestwick.
Enjoy Jaeger Kovich's analysis of the 1st hole.
Prestwick Golf Club Photography
Read More


Prestwick Golf Club

- Videos




Watch: Scotland - Where Golf Began's Expose on Prestwick Golf Club
Watch Cookie Jar Golf's Story of a Golf Club - Prestwick GC
hidden links reviews prestwick golf club
erik anders lang on the most famous 19th at prestwick golf club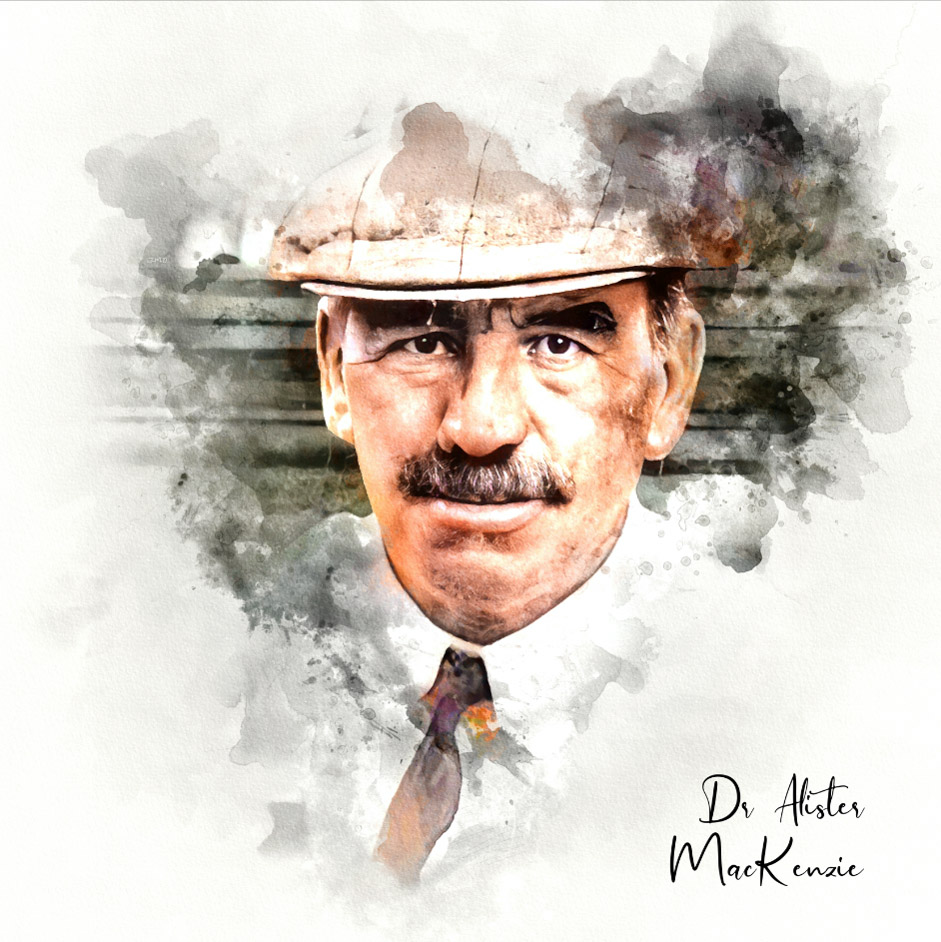 Featured Architect:
MacKenzie, Alister
As taken from his book, Golf Architecture, Alister MacKenzie felt the following were essential: The course, where possible, should be arranged in two loops of nine holes. There should be a large proportion of good two-shot holes and at least four one-shot holes. There should be little walking between...
View Profile