A half set of golf clubs is also known as a beginner set. For many of us, our first set of golf clubs was a half set consisting of a driver, 3, 5, 7, and 9 iron, and a putter. 6 clubs were all we needed and then we realised we could carry 8 more. The age-old question is: should you just because you can?
Building a Half Set
The good news is you probably have everything you need to get your first half set sorted. It's pretty simple really, just get rid of some clubs.
Ditch the Clubs You Don't Use
The first few clubs are pretty easy to choose. Look for wear – if your 3 or 4 iron is still in factory condition chances are you won't miss it. It's quite easy to go from 14 to 13 or 12… the next few get a little harder part with.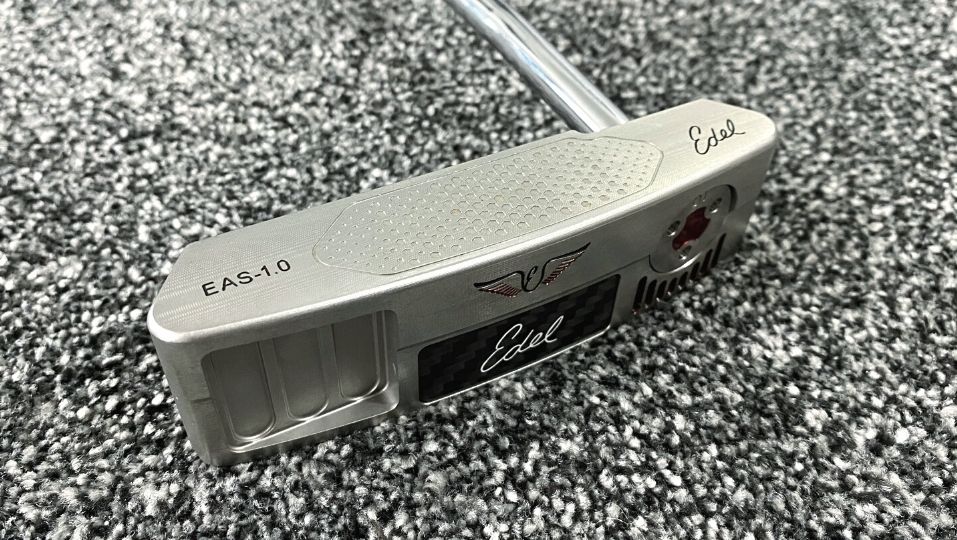 The putter, in my case a made to measure Edel EAS 1.0, is the only club you don't have to think about when choosing your half set bag.
Use Your Yardages To Lose More
After you rid yourself of the clubs you don't use anyways, look for the golf clubs which you hit roughly the same distance. For example, your 5 wood and your lowest hybrid may go the same distance. Pick the one you're most confident with or that is the most versatile. You probably have one or two clubs that will fit into this category. Congratulations – you've made it to 12 or 11 clubs without really giving anything up except your security blanket… which you don't need anymore, right?
Be Honest With Yourself to Lose The Rest
Another way to lose a couple of clubs is to simply be honest with yourself. Until now we have focused on the top of the bag, this is where you can lose a club or too from the bottom of the bag. When was the last time you pulled off a flop shot from a downhill, tight lie to a tucked pin behind a bunker with the green running away from you after short-sided yourself? The answer to that question should indicate where we are going with this one… ditching your 64-degree lob wedge might be a good place to start.
Building a Half Set Summary
You can probably lose 3 or 4 clubs by 1) ditching the clubs you don't use, 2) removing duplicate clubs using yardages, and 3) removing the clubs you don't have the skill to use anyways. In truth, you will probably score better by making these changes anyways because when you remove the opportunity to play a shot you shouldn't be attempting anyways. You've probably made it from 14 to 10 or 11 clubs.
Building a Half Set – Iron Options
This is where the next few clubs can pose some tough decisions. The easiest way to take the next step is to play half set Blackjack and choose Evens or Odds.
Evens Half Set
Pretty straightforward, this will leave you with the following: 4, 6, 8 irons and Pitching Wedge or 10 iron as it more or less. If you've followed the preceding steps, you've probably already dropped your 4 iron. That means you have between 4 to 6 clubs, including your putter, committed to your bag.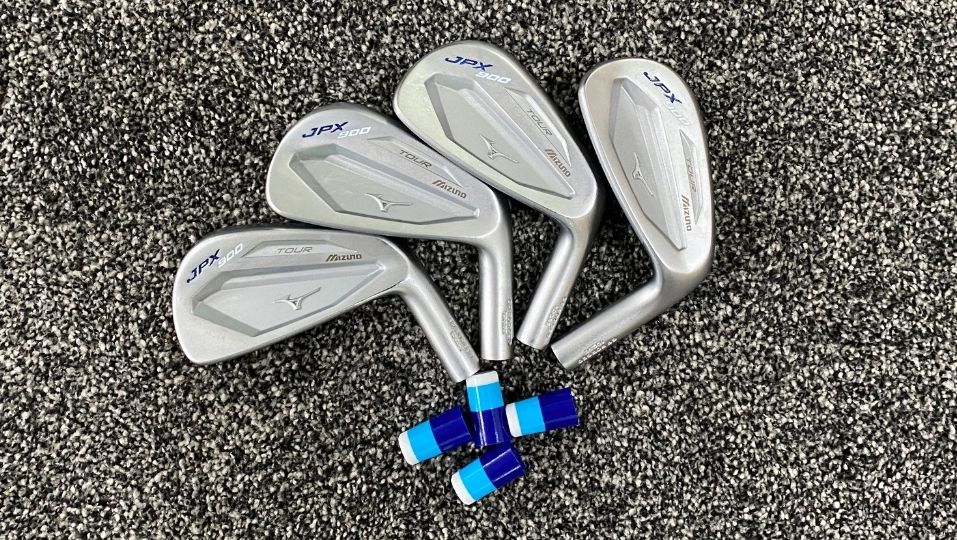 I have chosen the evens for my half set. The 8-degree gaps marry nicely with my wedge set up and I can drop the 4 iron for a hybrid.
Odds Half Set
Logically, you'll be gaming 3, 5, 7, and 9 irons. With modern lofts, you'll have to do some homework. If your irons are modern, super game improvement irons, check the loft of the 9 iron. It could be a little as 38 degrees. This is important when you get to the bottom of the bag, in other words, your wedges. If you have a 38 degree 9 iron and your wedge is 56 degrees, your going to struggle with hitting your numbers.
Buy a Half Set
Some boutique brands (see National Custom) offer a number of short set options. For example, Geom offers a Half Set (1/2 Set), a Third Set (1/3 Set), and a Quarter Set (1/4 Set). The Half Set consists of 4 clubs (21*, 29*, 37*, and 45*), the Third Set has 3 clubs (29*, 37*, and 45*), and the Quarter Set is made of 2 irons (37* and 45*). All irons have 8-degree differences between irons. Links Soul's Colour Theory half set are Miura blades with lofts at 25*, 32*, 40*, and 49*. National Custom can do any combination you like.
Choose Your Loft Intervals
The moral of the story here is to choose your loft intervals. Industry standards (if there is such a thing?!) usually have 4-degree intervals between irons. The easy way to do it is to jump to 8-degree intervals and be done by dropping every second iron. If you go old school, you'll have 24 degree (4 iron), 32 degree (6 iron), 40 degree (8 iron), 48 degree (Pitching Wedge), 56 degree (Sand Wedge). The most important loft is your last iron – find that and work out your wedges with consistent loft intervals.
Embracing the Half Set Movement
The half set movement is intrinsically linked to golf's growing subgenres that have united the woke crowd lurking on social media. Tour visors, bucket hats, Sunday bags, pencil bags, leather goods, custom ball markers, pitch repair tools, and casual golf wear is all part of the scene. Whatever niche floats your boat, there is a common thread of breaking the norm and enjoying the game is of paramount importance.
Less Than 14 <14
The unofficial advocate of the half set movement is the Instagram is @lessthan14. Give them a follow and unite with other minimalists who don't need 14 golf clubs to enjoy golf.
Half Set Sunday Bags & Half Set Pencil Bags
The beautiful thing with half sets is they are lighter and easier to carry. If you use your standard carry bag, your kit will quite literally be chattering about in your bag. A little bit like a large house, if you have it you'll fill it. If you downsize, it'll encourage you to walk and cement your support of the movement.
There is a load of options from the ridiculous to the sublime. An inexpensive option based in the UK is the Conybeare Golf Bag starting at £90. At the other end of the market is the Original Mackenzie Bag which landed in the UK are in the region of £800.  There are quite a few options in the middle ground – The Jones Golf Bags Original Carry Bag will set you back £159.
Making the Transition to a Half Set
The toughest part of the transition is the first step. Once you commit, you'll realise you didn't use the clubs you dropped and you may even see an improvement in scoring.
Half Set & Wedge Sets
Once you choose the loft interval you'll need to sort out the bottom end of the bag. The bottom of the bag is your wedge set. If you've chosen an 8 degree increment, game a 54 to 56 degree Sand Wedge and be done. If I need extra insurance, I through in the Gap Wedge and Lob Wedge. As the majority of the shots are within 100 yards of the green, the extra wedges help me score if I absolutely need the help.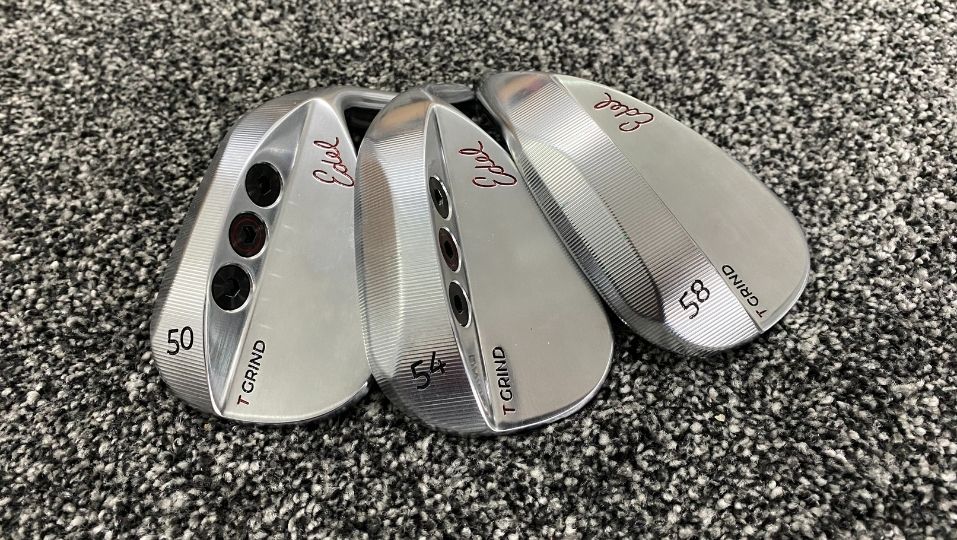 I can put all three wedges in my bag if I feel the need for the extra shot-making options.
I can also drop the 50 degree and 58 degree for an 8-degree gap from my Pitching Wedge.
Half Set & Drivers, Fairways & Hybrids
At the other end of the bag, you'll need to start with the yardage of your longest iron. Most amateurs hit their 3 wood the same distance as their driver. Most golfers can hit a fairway wood off the tee and through the fairway. Another easy choice if made logically and not with your ego. A modern driving iron is also a viable option. After that, you may wish to add a 5 or 7 wood and a long iron replacement hybrid and you have your short set sorted.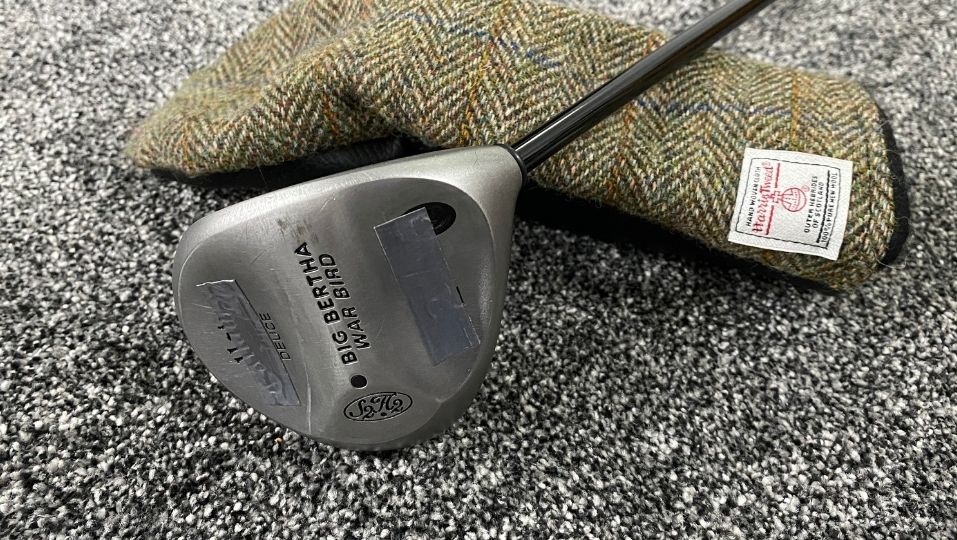 The Callaway Deuce can be found for next to nothing. Dropping the Driver and 3 wood for a 2 Wood gives me the best of both worlds.
Callaway Half Sets
Callaway has an 8 and 11 piece set for Women and a 10 piece set for Teens. Men don't play half sets I guess, but I digress. Despite the oversight, they do provide a couple of generic models to follow:
Women's 8 Piece Reva  
Driver (12.5*)
5 Wood
5 Hybrid
7 & 9 Irons (33* & 43*)
Sand Wedge (56*)
Putter
Women's 11 Piece Reva  
Driver (12.5*)
3 Wood
5 Hybrid
6 Hybrid
7, 8 & 9 Irons (33*, 38* & 43*)
Pitching Wedge (48*)
Sand Wedge (56*)
Putter
Teen 10 Piece Reva  
Driver (14)
Fairway Wood (19*)
Hybrid (27*)
6, 7, 8 & 9 Irons (32*, 36*, 40* & 44*)
Pitching Wedge (48*)
Sand Wedge (56*)
Putter
Half Set Issues
Gapping. If you follow the tips set out above, there won't be too many holes to fill. Most golfers think they hit their numbers consistently but you'll be doing well if your + or – 5 yards of what you think you hit it anyways.
Confidence. If you're used to hitting numbers, make sure you have a club that suits your typical leave yardage. For example, if you love a 9 iron from 140 yards, find a way to keep that club in your bag. If you know you have a stock shot you can hit on command, keep that club and hit it.
Half Set Opportunities
Shot making. When you don't have the number you have to manufacture a shot – the art of golf. Focus on the trajectory, shot shape, and your tempo – once you get back to trying to hit shots rather than mechanically hit numbers, I reckon your enjoyment will go up.
Fun. If you've handicapped yourself with half the tools available to you it's pretty tough to take the game too seriously. Scoring becomes less important and other aspects of the game appreciate in perceived value.
Minimalism. Once you've been bitten by the bug you will see how many clubs you can ditch. Seven clubs is as lean as I've tried… the Deuce, 3 Hyrbid, 6 iron, 8 iron, Pitching Wedge, 54-degree wedge, and a putter. You'll probably lose the yardage book and laser. The bag is light and has little storage so you don't need a trolley or cart. If you're playing a quick nine, one sleeve of balls, a few tees, and your divot repair tool and you're away – liberating.
Benefits of a Half Set
We've scribed a few points below about the benefits of the gaming a half set, quarter set, third set or short set. If you're playing less than 14, you've paid your dues.
Walking
It's lighter. It's quick. It's easy. Read about my journey from decadent materialist to golf minimalist and why the right bag is so important.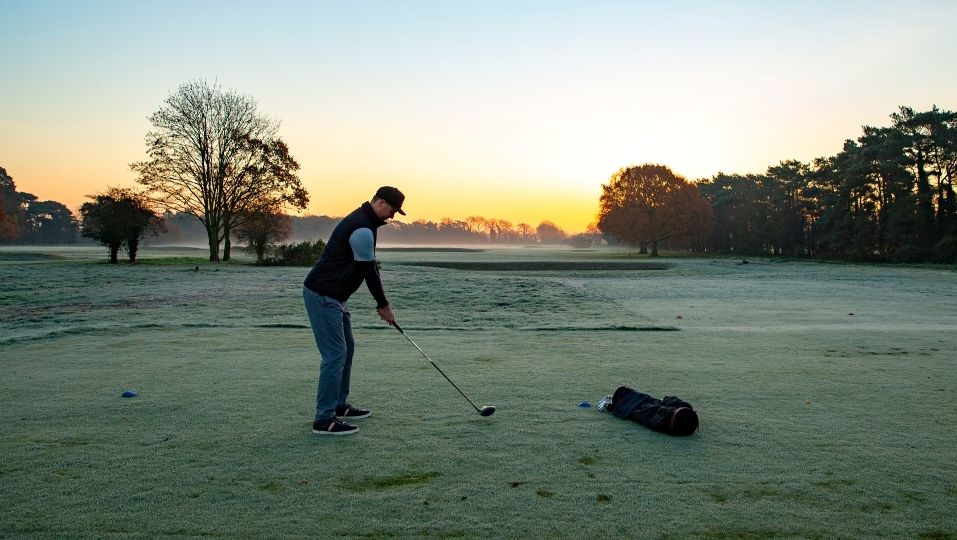 A single-strap Sunday Bag at Royal Worlington & Newmarket Golf Club.
Dew sweeping on the Sacred Nine is one of life's pleasures.
Different & Forward Tees
With a full set, the goal always seems to be making the game a test and pushing the limits. You find yourself playing from the back tees because you have no excuse not to. With a half set, you can embrace change and even play from the forward tees or even different tees on each hole. Imagine being unencumbered and playing from the tees which make the hole the most interesting from a strategic point of view.
Game Formats
When you're not attempting to shoot a score and go for your career-low round, you can play different formats… why not match play or foursomes? It's quick, fun, and the game of golf that most have never experienced. It's the perfect complement to the half-set culture.
Tell us about how you've benefitted from embracing the minimalist golf movement in the comments below!
"What is golf course architecture? Is that even a thing?" These are the usual responses I hear when I attempt to explain what one's passion is. I can do no better than quote a reply on Twitter from Tom Doak & Rennaissance Golf Design Lead Associate, Brian Schneider: "Golf Course Architecture is golf." Is it really that simple or profound? If so, why do so many completely miss the importance of golf course architecture or even fail to conceive of its existence?
What is Golf Course Architecture?
Like most things in golf, there is no codified explanation or even a vaguely held general consensus as to what golf course architecture could possibly mean. If you were to ask the question to a Golf Course Manager, Tour Player, or Golf Course Architect each would probably furnish a different response, and interestingly, each could be correct.
For example, we asked US Amateur Champion, Walker Cup Participant, and European Tour player, Richie Ramsay for his definition. He answered: "Golf Course Architecture is the compilation and arrangement of features which will create character and beauty while providing strategic options to enhance the golfing experience."
Stewart Duff, Course Manager of Gullane Golf Club, answered: "Golf Course Architecture is a group of thoughts or ideas that use or tweak land to create a new hole, new course or to improve an old hole or course. …those involved have to understand all aspects of golf."
James Bledge, Course and Estates Manager at Royal Liverpool Golf Club (Hoylake), defined Golf Course Architecture as "making the best use of a piece of land, the views, undulations, shapes, features, and backdrops to create a playable, aesthetically pleasing haven where golfers can feel secluded from the world yet fixated in the beautiful game."
Brian Schneider expanded further, saying: "Golf Course Architecture is golf. I really do think that (golf course) architecture can and should be that simple. It's not the architect's job to determine or define the way a hole should be played, they simply need to present natural features or create artificial ones that make getting your ball from one place to another as fun and interesting as possible. The more often those features can be tightly mown contour, rather than something more complicated, the better."
How would you define it? The answer may give you insight into how you perceive the game and what really matters to you.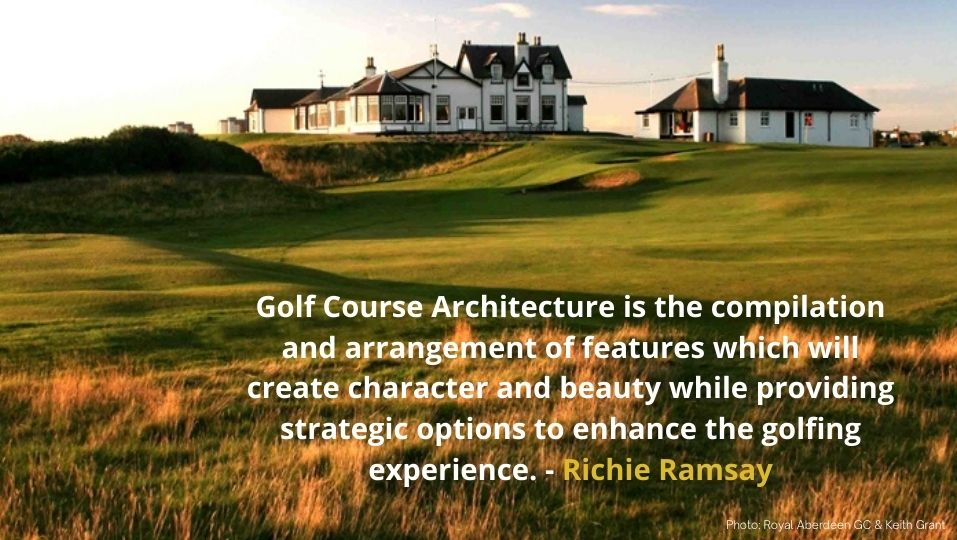 Architect -What's In a Word?
A logical place to start is to define the role of the practitioner of golf course architecture – the golf course architect. An understanding of the context of where and when the term was first used is quite compelling.
Drawing upon the etymology of British English, it is intriguing to consider that the term architect had long been associated with an individual who was a master builder – an artisan who was adept at a wide array of trades and proficient at them all. Of note, the titles architect and engineer were used virtually interchangeably in the British English vernacular until relatively recently. Today, the term engineer is used much more broadly and loosely in Britain than in North America. In fact, there is no restriction on the right to practice (or use the title of) as an engineer in the U.K.
This is of note as it would be late in the 19th century or early in the 20th century in Britain that the term 'golf course architect' was first applied to those who laid out golf courses. The use of the term drew the ire of many as even the concept of the skill, let alone the art, was still embryotic. The term appears to have been applied early on to renowned golf course architect, Harry Colt.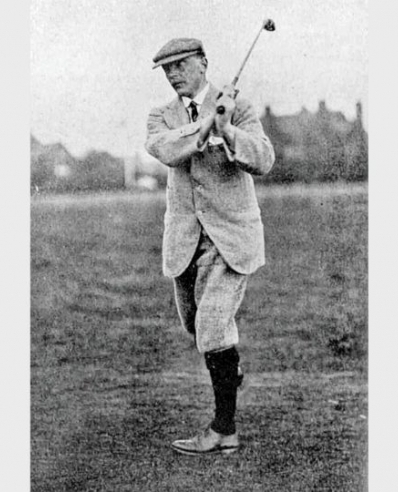 Golf Course Architecture – Developing the Art
The spread of the game of golf inland from the seaside links called for the expertise of those who understood what made links golf so compelling. Early attempts were rudimentary with the inland golf courses of Britain resembling steeplechase, with cross bunkers taking the place of hurdles. Good shots were rewarded whilst bad shots were penalized. Hazards were utilitarian and served a definite role – to intimidate and were very much to be avoided. The penal concept was easy to explain and easier to grasp. The elephant in the room? The golf didn't titillate the way the links golf did… It would seem the early golf course architects themselves were still attempting to suss out what made for good golf.
To unlock the magic, the development of various schools of thought attempted to lay the foundation for making design decisions. For example, in 1920 Alister MacKenzie laid out 13 principles that laid the foundation and guided his work. Later on, he would suggest the first essential was not essential at all, namely, that the course should be arranged in two loops of nine holes. Also in 1920, Harry Colt wrote his book: Some Essays on Golf Course Architecture. He didn't enumerate his design theory but explained it with words and by example. Somewhat late to the party was Tom Simpson, who waited until 1929 to write: The Architectural Side of Golf. Tom Simpson took the Strategic School to the next level and developed what could be termed Strategic Minimalism. Although he didn't codify his design ethos, he sang from the hymn sheet of John Low, who prior to them all, in 1903, scribed 11 points in a single chapter which would later be termed 'Articles of Faith' in the book, Concerning Golf.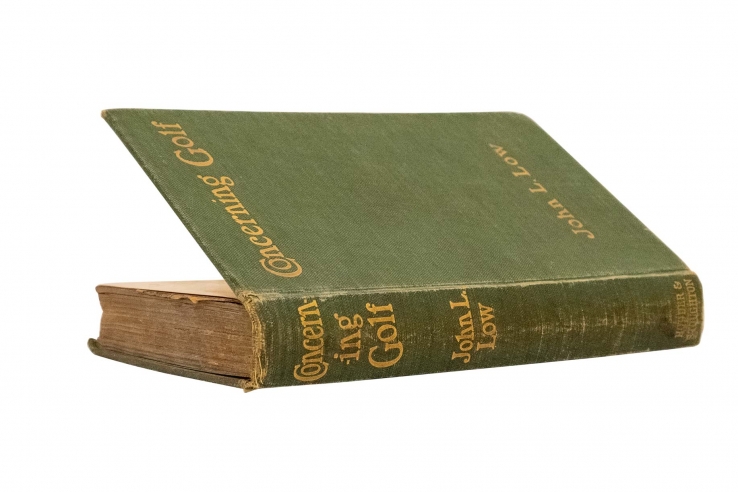 What is definite is the evidence of the emergence of a trade, the mastery of numerous skills, and the development of an art form. Trial and error, deep thought, and copious amounts of Kummel, whiskey, and wine no doubt helped. It seems this accumulation of knowledge and understanding is what has now been accepted as golf course architecture.
No Longer a Jack of All Trades
Today, a modern practicer of golf course architecture must be much more than simply a golf course designer. They must be intimately acquainted with the legal (planning), social, and political arenas where there work. Look no further than Scotland and the dissension around a recently proposed golf course, a recently renovated links golf course, and a new build links as high-profile examples. In addition, the environmental impact of golf is under incredible scrutiny, deserved or not. Irrigation, drainage, pesticides, turfgrass science, agronomy, woodland management, and regeneration (of heather, for example) are also all skills that need to be acquired or hired by a golf course architect worth his salt… and we still haven't got to the golf (or maybe this is golf?) yet!
So then… What is Golf Course Architecture?
The answer would have to be a combination of all of the above. Golf course architecture has to be a talent, a set of skills, a plethora of trades, and an art form. It is the assembling of an incredibly diverse array of skill sets singularly applied to making the most enjoyable golfing experience possible of a chosen piece of land. Golf course architecture is the cumulative sum of all these parts.
Perhaps this is where we can also agree on a point: Not all golf is good golf… the good news is most of these examples will eventually be weeded out by attrition. However, what exactly differentiates the good from the bad and the ugly? Golf course architecture allows one the ability to articulate, on the basis of knowledge, what makes for good golf. Your conclusion may not be agreeable to all, but this may simply be a matter of taste.
Taste and Golf Course Architecture
This is where I feel taste needs to be factored in and respected. Good design can be observed, appreciated, and is generally – universally accepted. It may not be to one's taste or preference but it can still be applauded and appreciated. In fact, this may be the litmus test of whether you can define, using golf course architecture, what makes for good golf. Can you recognize 'good golf' despite it contravening your personal golf preference? It is golf course architecture that enables that possibility.
For example, Minchinhampton Old Course may not appeal to the average golfer – but the golf? Sublime. To others, Adare Manor may be one's idea of golf heaven on earth. Can you see the best of golf in both? Can you identify what makes both 'good'? For me, the ability to articulate one's reasons why both are 'good', despite being polar opposites, partly answers the question: What is golf course architecture?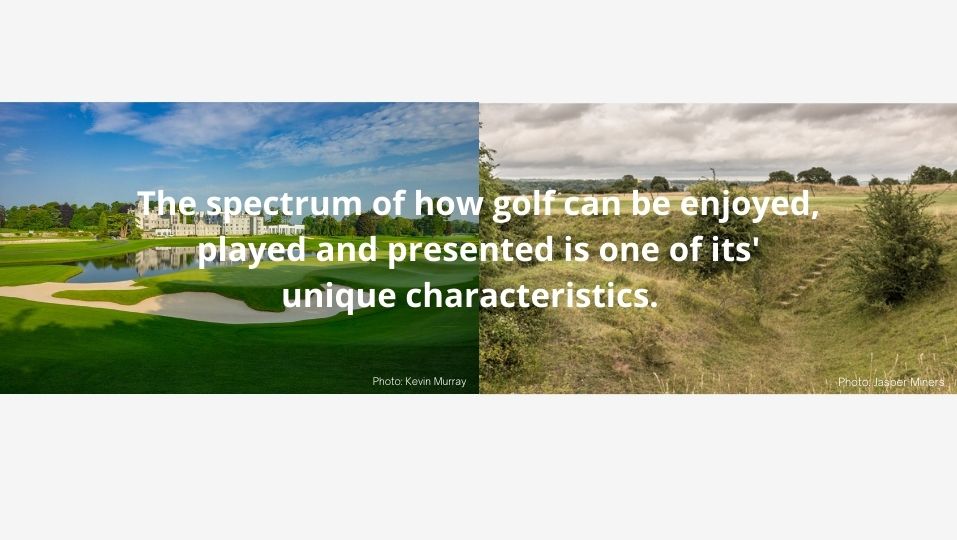 If you were to ask me to define golf course architecture, my considered response would be: It is the collective group of elements (including but not limited to skills, concepts, and artforms) that allows one to judge some golf as good whilst respecting taste and preference.
I feel an interest in golf course architecture has allowed me to see golf courses without prejudice and to accept each on its own merits. Each golf course can be evaluated individually and not simply according to a formula-based prescription.
More on the Topic of Golf Course Architecture
Perhaps it is the ability to identify which characteristics share a commonality between good golf courses is the key to identifying what golf course architecture really is. I hope to explore this in a future article.
The humble Sunday bag is enjoying a renaissance. Once a bit of kit you evolved from, could it be where more of us need to graduate to? With endless product cycles and the disproportionate amount of time and print golf equipment gets, it is easy to see why we convince ourselves why we need to buy what we're being sold. Golf is difficult and for most, the promise of straighter shots, longer drives, and low scores are worth taking a punt on. What though, is the driver for it all? When it is all boiled down is it not simply more enjoyment of the game? Perhaps the best way to find more is to have less… enter the humble Sunday Bag.
Humble Beginnings & The Sunday Bag
I played ice hockey left-handed and played golf that way until my father bought me a set of clubs at a department store in a rural farming town in Saskatchewan, Canada. Purchased on sale and with no returns, I can still remember the first and only set my father bought me – a set of right-handed Northwestern's. The set consisted of odd-numbered irons starting with 3 and ending with 9. A driver and three wood were bookended with a knock-off bullseye putter. A blue, single strap Jones Sunday Bag was bought at a garage sale and I saved my allowance until I could afford a set of FootJoy GreenJoys. This caused fractious division as both my father and grandfather wore Etonic. I was happy to have a set of my own clubs and the fact they were right-handed rather than left-handed didn't seem to cause me any real concern.
Equipment Decadence
As some of you know, I eventually walked away from the game. During the interim, things got complicated! Pushcarts had been replaced by electric trolleys & yardage books had been replaced by lasers with slope. 1, 3, and 5 woods accented with 3-PW, SW, LW, and a putter were no longer sufficient. Hyrbids and driving irons had been introduced and lofts were all over the shop. It was time to catch up and buy the lot! I filled the bag with a traditional set of woods and a set of irons. Then I added a driving iron and a couple of hybrid replacements for the long irons. At one point I had 4 wedges. I bought a stand bag and being in London, I needed an umbrella. After walking 18, I realised I needed a cart. My wife was bemused… she couldn't figure out why I needed so much stuff to hit a ball into a hole.
Battle of Attrition
Every time I wanted to play I had to charge multiple apparatus' and fill the boot with staggering amounts of kit for every conceivable eventuality. It felt as though I was preparing for an expedition rather than a gentlemanly game of golf.
The process started slowly. I realised I rarely hit my 3 or 4 iron. Like someone who tries to quit smoking but still carries a couple of cigarettes and lighter, I kept them in the boot of the car until I realised I was better off without them anyway. I hit my hybrids as far as my fairway woods so they were the next out.
A 52* gap wedge and 60* lob wedge were replaced by bending the other two wedges to a traditional 50* pitching wedge and 55* sand wedge. It was enthralling – how many more could I drop? I eventually gave up the even-numbered irons. I was playing 5, 7, and 9 irons, two wedges alongside a driver, hybrid, and putter.
The Humble Sunday Bag
There is a range of options when choosing the vessel that holds the implements of golf. From cart bags to carry bags of all descriptions, the most obtuse is the tour bag which also doubles as a billboard. Perhaps the most symbolic change was when I acquired a Mackenzie Sunday Bag sporting a single strap with one divider of lightweight design. Utterly ridiculous to carry a full set in it, the Sunday Bag has prevented me from stumbling backwards toward my old ways. I was back to where I began as a youth and golf felt simple, pure, and authentic again.
Less Than 14 Short Set & Sunday Bag
While the rules of golf allow you to carry 14 clubs, I now proudly carry a short set in a Sunday Bag. None of my irons have numbers… actually, they don't have any markings at all. Not done intentionally, I simply cannot decide what I want. The lofts are approx. 28*, 36*, 44*, 52*, and 58* (updated). They are hand-ground blanks from a Japanese forge called Kyoei and have black onyx ProjectX 6.0 shafts. It's not so difficult to choose the correct one. With the bag off my shoulder and on the ground, the longest iron is the 5 equivalent and the shortest is the 9 equivalent. Even I can figure out the middle one.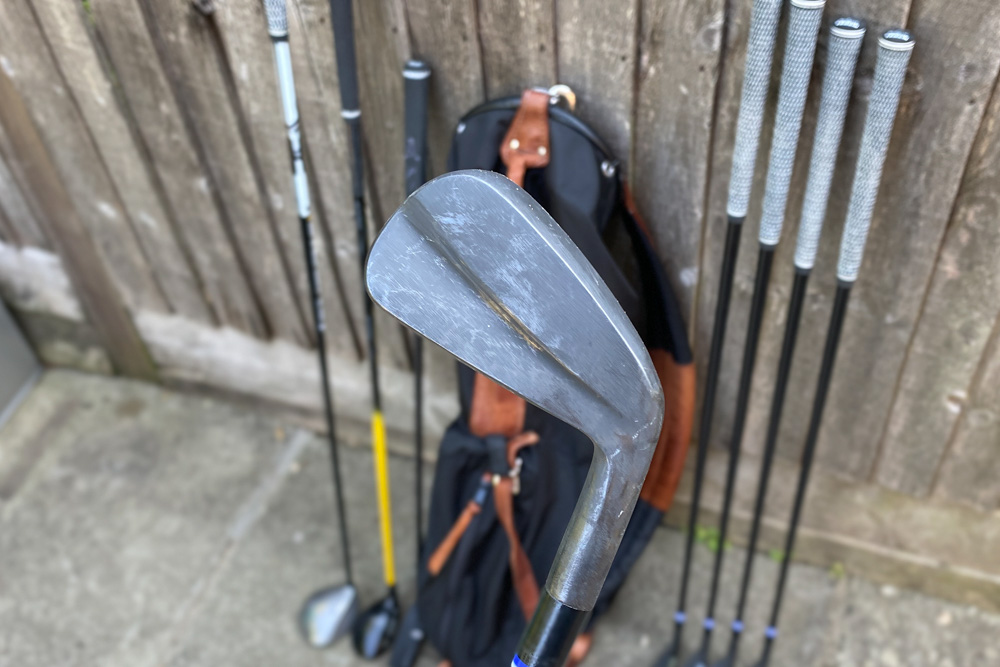 I game an Edel E2 putter that has been custom fit. For most rounds, I carry a Cobra Baffler 3 hybrid and an old Callaway Big Bertha Deuce. If I am playing a 'proper' course that demands length, I'll drop the Deuce and add the Titleist 917 D3. A Cobra Baffler 16* hybrid can be used for the gap left between the 3 hybrid and my driver. My hybrids and driver sport Accra graphite shafts. Whatever the course, I carry 8 or 9 clubs. What motivated me to make the change? I felt as though I was losing the spirit of the game and in danger of almost knowing too much.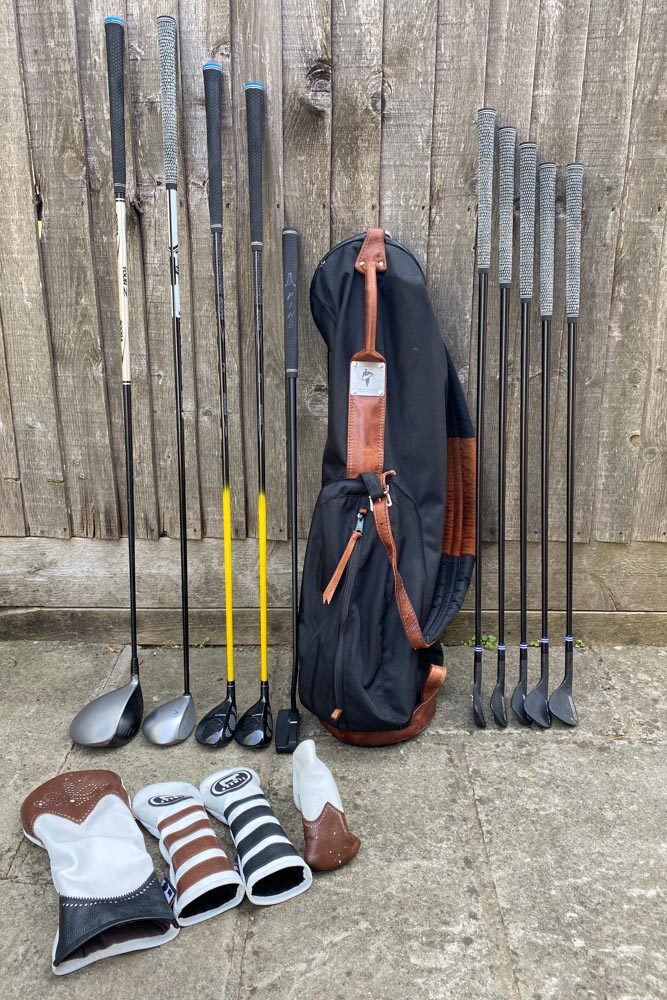 Gaming a half set in a Sunday Bag when you could have 14 clubs in your bag initially fees like your giving up shots. When you adjust to playing with the minimum number of clubs, you realise having an extra club or two is superfluous. Ditching the excess and carrying a pencil bag, Sunday bag, or double strap carry bag, reestablishes you with the roots of the game.
The Spirit of the Game
Some people have called me a 'purest'. I don't think I've ever intentionally taken that tack. It is true that I prefer common land golf over rough ground than flattish, resort, cart golf. However, the Trackman Range nearby is pretty great for practice. I'd readily admit I would prefer to have an old Wood Bros. persimmon than the new SIM from Taylormade. I'd rather have a MacGregor M85W than the new Callaway Mavrik. It's not that I have anything against them, it's simply the marginal gains between them and my current gamer aren't worth it. They may give me ballz-ier results but they cannot offer the percussion of persimmon or the intangible reality of catching one on the screws. It's a feeling rather than absolute fact… something a laser range finder with slope definitely cannot provide.
Intangible Gains From a Sunday Bag
Carrying a Sunday Bag comes with an inherent lack of options. That, in turn, makes my decisions both easier and quicker. It demands me to think about plotting a course rather than hitting a number. In some cases, I even need to think about shot-shape and then attempt to pull it off.
It also keeps me honest as I'd far rather enjoy a round from the forward tees than endure the self-flagellation of a game from the tips. I may give up some distance and perhaps even a few shots a round but it's a trade-off made with no regrets.
The swap to a Sunday Bag has also helped me worry less about scoring and focus on simple enjoyment and having fun. If I am playing with others a match is just as intense and competitive, perhaps even more so if you can carry the day with half the kit in a canvas Sunday Bag with a single strap.
It may well be the millennial craft movement that has breathed life into small-batch manufacturers of the Sunday Bag. Whatever the case, it does feel good to reward those who put their heart into their work rather than line the coffers of faceless corporations. Having less has also allowed me to acquire pieces that I really love. Less and better rather than more and average. My wingtip headcovers from Dormie Workshop accent the Sunday Bag perfectly and are a great example of this.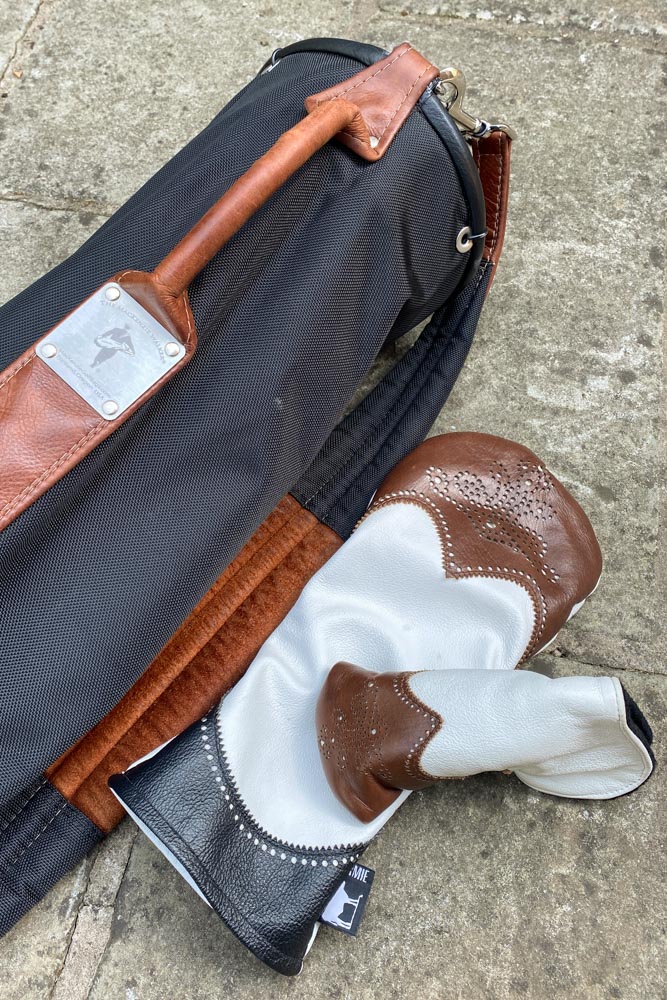 From Sunday Bag – Where To Next?
Stripped back to bare essentials, I have even given up the glove. I still carry a yardage book if it's a course I'm not familiar with or one from which I want a memento. I love persimmons and I am on the lookout constantly. I've also toyed with gaming hickories again and have decided at some point to add some Tad Moore Star OA's or a Louisville Precision Series set. I spend far too much time dreaming about my imaginary set of National Custom Works.
The fact is none of these things is actually needed and you could say the same thing about a Sunday Bag. In fact, it could be as simple as choosing evens or odds. As my wife often reminds me, it is as simple as getting the ball in a hole.