New Zealand Golf Club

Surrey, KT15 3QD, England
Overview
Harry Colt describes New Zealand as the first-ever 'Forest Course'. Swinley Forest would appear later...
Minimalist, Tom Simpon strategic bunkering.
Lace-edged, ragged Simpsonesque bunkers are thankfully reappearing.
Heather abounds on a superb sand-based site.
Routing made of sets of triangles on one of the best inland courses in Britain.
Micro-contours with green grass in depressions and thin grass on the tops of mounds.
Depressions in front of greens. Perhaps they are inspired by 14 at Woking or the Valley of Sin at The Old Course?
Doughnut or Island Bunker on 7 & 13 is similar to Muirfield's on 18.
Centreline bunker on 13 as at Woking on 4.
The back tees were once painted black and gold to indicate them as the 'Tiger Tees.' There were three sets of tees. Instead of strokes being given, you played off the appropriate tees in a head to head match.
Sir Arthur Conan Doyle was a famous member. His name on the locker can still be seen.
The wine collection is one of the best at any golf club in the British Isles.
Course Review

(Click to reveal)

Golf Course Review

Bernard Darwin waxed lyrical of New Zealand Golf Club in The Golf Courses of the British Isles where he penned: 'New Zealand Golf Club… does not compete with other courses, but it sets its own standard and lives up to it. If anyone wants to play a friendly game, uncrowded and unseen, to have a good lunch in pleasant company, and get home early to London, there is no place like New Zealand.'
Echoing the sentiments, Tom Doak wrote in his Confidential Guide: 'If I could airlift the entire club somewhere close to my home, I would be happy to play here the rest of my days.' High praise indeed!
Tom Simpson & New Zealand Golf Club
In the late 1920s, Tom Simpson improved on Samuel Mure Fergusson's routing. Bernard Darwin wrote both Tom Simpson and then Secretary, Colonel Bunbury, were responsible for the course improvements. Messrs Suttons of Reading did the work of improving the greens and removing the penal Victorian features such as the rampart bunkers. The new holes suggested by Darwin as from Simpson were the 3rd, 10th, and 17th. They were completed and ready for play in the Autumn of 1929.
How to Play New Zealand Golf Club
New Zealand can be played with prior agreement from the Secretary. The club is primarily used by its exclusive membership and a large number of societies that return annually accounting for the vast majority of its play. Persistence and flexibility will be your best bet in obtaining a tee time to play this course.
Why is it called the New Zealand Golf Club?
The land where the course now sits was originally part of the Royal Forest of Windsor. It was reverted to common land before Peter King, the 7th Baron King of Ockham, Surrey purchased the estate. Members of the King family served New Zealand, then a British colony, as High Commissioner, Resident Magistrate, Governor-General of New Zealand and Protector of Aborigines and also founded New Plymouth on the North Island. Peter King's son, Peter John Locke King, built two cottages and named them New Zealand in honour of his family's links to the colony in the 1850s.
In the 1890s, Hugh Fortescue Locke King would commission Samuel Mure Fergusson to build the private golf course. The course opened for play on May 25, 1895, taking the name of the cottages his father built 40 years before and where the clubhouse now stands. Hugh Fortescue Locke King would become better known for Brooklands where he built the world's first banked motor racing circuit and was considered the home of British motor racing in the early 20th century. An aerodrome was also constructed which helped establish the British aviation industry.
Independent Review of New Zealand Golf Club
Take Sean Arble's Tour of New Zealand Golf Club.
Read More
New Zealand Golf Club

- Videos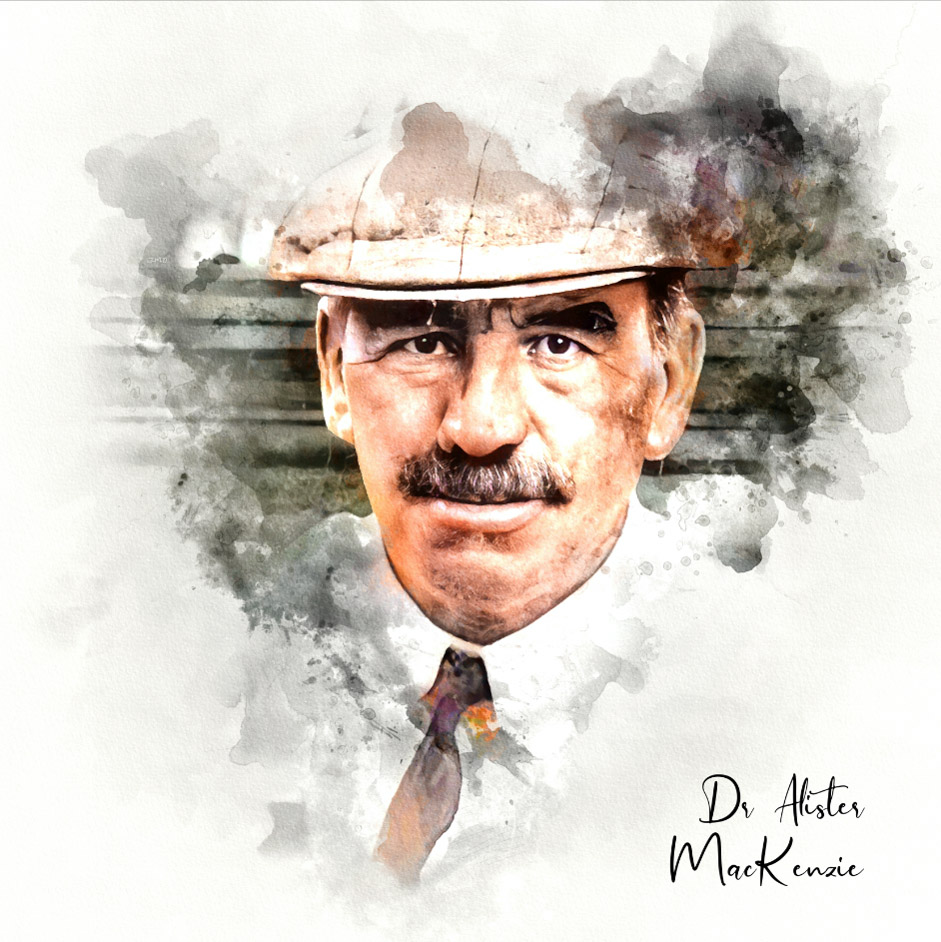 Featured Architect:
MacKenzie, Alister
As taken from his book, Golf Architecture, Alister MacKenzie felt the following were essential: The course, where possible, should be arranged in two loops of nine holes. There should be a large proportion of good two-shot holes and at least four one-shot holes. There should be little walking between...
View Profile