Royal Worlington & Newmarket Golf Club

Suffolk, IP28 8SD, England
Overview
What makes Royal Worlington & Newmarket Golf Club or Mildenhall so great? The Sacred Nine? 
The green complexes are world-class.
The all-world 5th!
The best 9-hole course in the world? I think so!
The most juice for the least amount of squeeze.
An inland Old Course in England.
Course Review

(Click to reveal)

Golf Course Review

Any other club would love to have even a shred of Royal Worlington & Newmarket Golf Club's heritage to hitch their proverbial marketing wagon to. Two club presidents have been royalty, and it's home to the Cambridge University golf team. If that's not enough: Harry Colt, John Low & Bernard Darwin's names are intimately woven into the very fabric of the club. However, the understated elegance and unpretentious nature of the club epitomises the 'olde worldly' charm that makes Royal Worlington & Newmarket Golf Club so great.
History and tradition are respected but not rigidly adhered to at Royal Worlington & Newmarket Golf Club. The welcome and interest shown to visitors are reminiscent as if one is welcoming an old friend to their humble manor house. Dogs are welcome and so are shorts if wearing long socks. Two balls ensure quick play and match play is preferred.
Royal Worlington & Newmarket Golf Club

Overview

Royal Worlington & Newmarket Golf Club itself is simple yet genius; understated yet brilliant. A somewhat common-looking piece of land, it appears unremarkable at best but hidden in its wrinkles is its quirkiness. The turf plays hard and fast. Centreline bunkers come into play on four of nine holes. Water is also found on four of nine but is a non-factor for all but the most egregious of mis-hits. Four of Nine have you tee off over the previous green. Natural depressions on Three through Five and Seven can steal a shot if found. There are shared fairways on Two and Three as well as Four and Six. There are width, strategy, and angles. Harry Colt's redesign of number Nine is downright fun, playing over a burn and a road!
Green Complexes
The green complexes at Royal Worlington & Newmarket Golf Club are breathtaking, especially on numbers One and Nine. With bold contours surrounding them, these undulations are perfectly woven into the fabric of the putting surface itself. The grass is closely mown, revealing a multitude of perplexing options for recovery. 
Multi-tiered greens, such as One and Five, are fair but flummox even those with a deft touch. Shaped like an upturned bow, Two is spectacular. The greens on Four and Eight fall away naturally with the hillside, making both approaches semi-blind and thought-provoking.
Bunkers
The bunkers appear Victorian both in design, placement, and construction in some places. The edges are kept ragged and natural save for the side closest to the intended line of play. Brilliant work by a keeper of the green-focused on the minute details. Royal Worlington & Newmarket Golf Club exudes the character that seems to come only with time and seasoning.
The Famous 5th
The 5th at Royal Worlington & Newmarket Golf Club is one of the best par 3's you'll find anywhere, at least according to Tom Doak and Martin Ebert. It's short, has no water nor bunkers. The green is multi-tiered, narrows at the rear, falls away sharply on both sides. With the grass cut short, the recovery shot is usually more memorable than the tee shot itself. Bernard Darwin writes that a wise play may be to lay up, then chip it dead and carefully walk away with a par.
Royal Worlington & Newmarket Golf Club Synopsis
There are no dull holes though some seem suspect from a design point of view at first glance. However, the more you play them, the more you're intrigued by their nuances. Six is a good example. A row of trees lines the right-hand side. A long par four from the tips, if you avoid the trees by going left, you increase the distance of the second shot. You also bring into play the bunkers shared with the fourth fairway. There is also the need to carry the two bunkers guarding the front left of the green. Hug the trees to the right too tightly, and you make the green in regulation impossible. A lay-up offers you little respite as it brings two bunkers as well as a collection area into play to the left of the green. Hit one superb shot, and it's rewarded by an easier next. No matter how you play it, par requires at least one magnificent shot.
The Sacred Nine at Mildenhall
Some might be put off by a nine-hole par 35. However, once played you'll no doubt agree that it can rightfully be called 'sacred' and 'the best nine-hole course in the world.'  
It may take a couple of times around to wash your mind of the rhetoric that has usurped our perceptions of what modern golf has become. Much like St Andrews Old, it gets better every time you play it.
Golf sometimes seems to try too hard. So much can be had with so little if done with simple elegance & subtle nuance. If this type of golf were replicated, which seems entirely possible given the parcel of land it's on, we would all be richer for it.
Reviews of
Royal Worlington & Newmarket Golf Club
Read Golf Club Atlas' review of Royal Worlington & Newmarket Golf Club.
Read More

Royal Worlington & Newmarket Golf Club

- Videos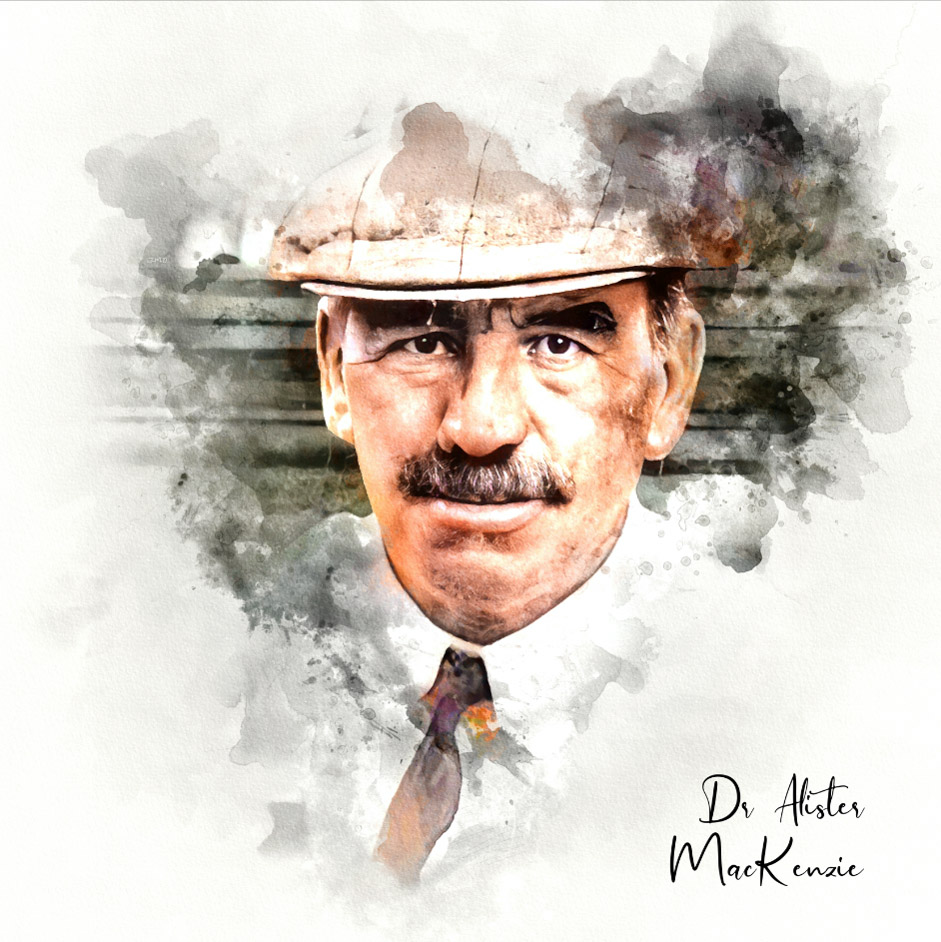 Featured Architect:
MacKenzie, Alister
As taken from his book, Golf Architecture, Alister MacKenzie felt the following were essential: The course, where possible, should be arranged in two loops of nine holes. There should be a large proportion of good two-shot holes and at least four one-shot holes. There should be little walking between...
View Profile