North Berwick Golf Club

East Lothian, EH39 4BB, Scotland
Overview
Tom Doak recommends paying special attention to the green contouring and routing at North Berwick Golf Club.
North Berwick is the 13th oldest golf club in the world.
Both Tom Dunn and David Strath were employed as greenkeepers.
Golf on Sundays was first allowed in 1957!
Course Review

(Click to reveal)

Golf Course Review

North Berwick Golf Club West Links is a celebrated links golf course on the East Lothian coastline of Scotland. Given the plethora of choices of world-class golf on offer, North Berwick is perpetually cited amongst the top three in the vicinity. The other two? Muirfield and Gullane.
North Berwick Golf Club History
The first reference to golf at North Berwick is in 1605 but it would be 227 years before a club was formerly organised! 28 members established The North Berwick Golf Club on June 1, 1832, and played over a 6 hole course which ended at March Dyke. This makes North Berwick the thirteenth oldest golf course in the world.
In 1849, Old Tom Morris and Allan Robertson take on Wille Dunn and Tom Dunn on a 7 hole course. In 1868, additional land was donated which allowed one of the weak holes to be dropped and three new holes to be added, one of which is the Redan. The course was now comprised of 9 holes.
In 1877, additional land is acquired which allows the links to extend to 18 holes. Criticism soon follows as 7 of the holes measure less than 200 yards and the course just 4841 yards!
Ben Sayers would extend the course in 1895 to just over 6000 yards and is the backbone of the course played today. It is in 1895 that Hole 14, Perfection, is created.
North Berwick GC Routing
The 1st and 18th have more than a passing resemblance to the Old Course at St Andrews. The tendency for many would be to route holes exclusively on the water's edge then return inland or vice-versa. Here, the first three holes begin seaside before crossing inland for the next six. Holes 10 through 14 are again along the beach with the closing stretch of four holes being inland. The beach is in play on no less than seven holes and out of bounds on another seven holes.
In Contrast With Muirfield
Despite keeping a close company on bucket lists, rakings and geographically, North Berwick and The Honourable Company are a study in contrasts. North Berwick is a proper seaside links, Muirfield is hilltop. North Berwick, stretched to its max, plays less than 7000 yards, Muirfield confidently measures 7245 yards. North Berwick begins and ends in town, Muirfield is sat back from the public road and accessed by a long private drive. North Berwick is full of quirk and eccentricity while Muirfield is classically elegant. North Berwick is bisected by dykes and walls while Muirfield is surrounded by one. The contrasts are seemingly endless but perfectly illustrate that great golf doesn't fit a mold.
Template Holes at North Berwick West Links
Pit, Perfection, Redan, and Gate are perhaps the most celebrated stretch of holes in golf to the architectural student.
The Redan
There is no more famous template in golf than the Redan. But, what is it? A redan is a protruding feature of a fortification. Usually V-shaped, it is a salient built of earth or other building material and laid out pointed to the expected angle of attack. An officer serving in the British army stormed a Russian redan during the Crimean War in Sevastopol. Upon his return, he described the 15th hole as a redan in nature. As at North Berwick Golf Club, the point of the V points away from the angle of attack on most redans.
Used by Fowler, MacKenzie & Macdonald
Redan provided Alister MacKenzie with the inspiration for the 6th at Augusta National. It also was one of Herbert Fowler's four ideal golf holes as chosen in 1913, although his Redan had water at the head of the green. CB Macdonald recreated Redans frequently but it is his design at National Golf Links of America that is considered by many to be better even than the original.
Reviews of North Berwick Golf Club
Take Sean Arble's tour of the West Links.
Read Jaeger Kovich's analysis of the 13th hole at North Berwick Golf Club.
North Berwick Golf Club Photography
Purchase Kevin Murray's North Berwick Golf Club photography. 
Read More


North Berwick Golf Club

- Videos




watch cookie jar's stunning video of north berwick golf club
See UK Golf Guys hole by hole video guide of north berwick golf club
watch no laying up's visit to north berwick golf club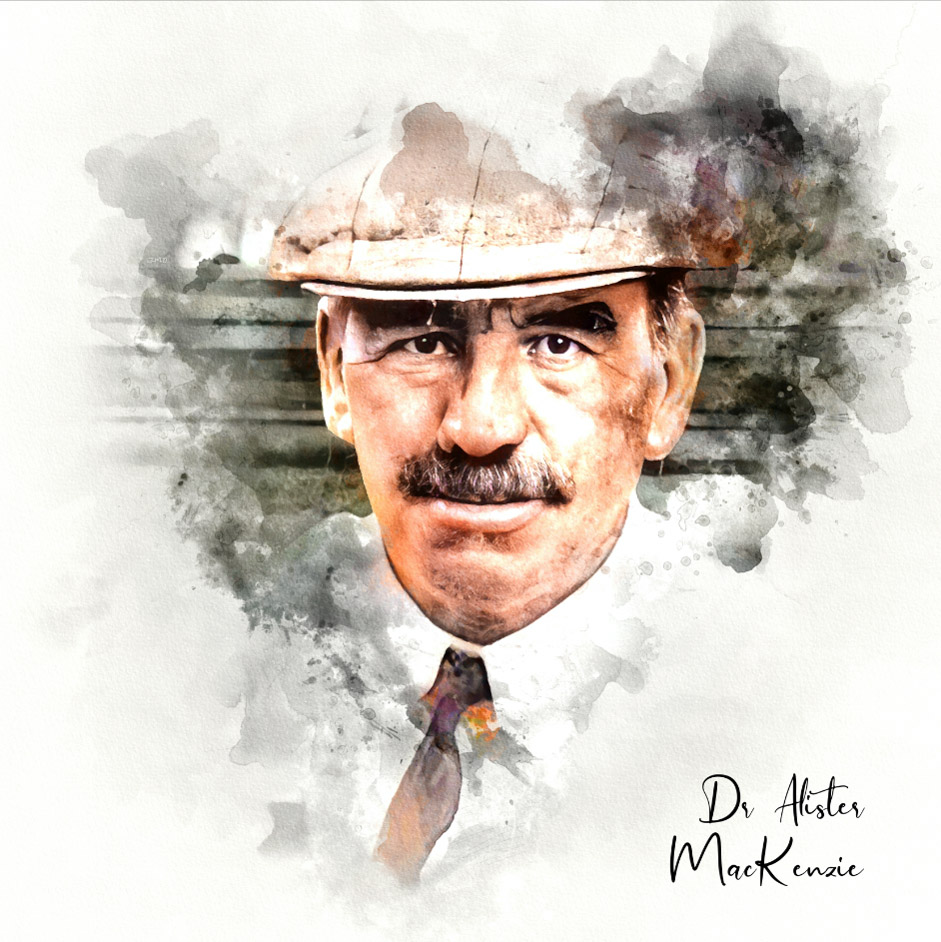 Featured Architect:
MacKenzie, Alister
As taken from his book, Golf Architecture, Alister MacKenzie felt the following were essential: The course, where possible, should be arranged in two loops of nine holes. There should be a large proportion of good two-shot holes and at least four one-shot holes. There should be little walking between...
View Profile