Kilspindie Golf Club

East Lothian, EH32 0QD, Scotland
Overview
Kilspindie Golf Club fits compactly on just 70 acres!
Like quick golf? Rounds of less than three hours are the norm and expected...
Course Review

(Click to reveal)

Golf Course Review

Kilspindie Golf Club is found in Aberlady, Longniddry beside Aberlady Bay on the Firth of Forth. Views across the Firth of Edinburgh, Edinburgh Castle, and Arthur's Seat are afforded after accessing the course by a single-track road. The course lies on Aberlady Point behind Donald Steel's Craigelaw Golf Club.
Luffness Becomes Kilspindie Golf Club
The club was formed in 1867 as the Luffness Golf Club. Golf was played on the land bordering Luffness New Golf Club and Gullane. The club eventually split – with the Gullane-based members establishing Luffness New Golf Club in 1894. The current course was established as Luffness Club and opened on November 26, 1898. It was later renamed Kilspindie Golf Club in 1899.
The Golf Course at Kilspindie Golf Club
The golf course is short by modern standards. There are three sets of tees available with just 500 yards between the forward tees and the tips. The course plays at 5092 yards from the Red and 5494 yards from the back tees. Some may be put off by the yardage but this is one of the best short courses in the world!
The opening hole is a Par 3 and the only par 5 comes following on the 2nd hole. Don't let the innocuous yardage fool you… it plays dead straight into the prevailing wind. The first 8 holes make the most of the waterfront with the 2nd, 3rd, 4th, 7th, and 8th holes running alongside the Firth. The 9th hole begins the inward nine on the inland side of the property.
Kilspindie Golf Club Scorecard
Hole 1 – Par 3 – 158 Yards
Hole 2 – Par 5 – 516 Yards
Hole 3 – Par 4 – 411 Yards
Hole 4 – Par 4 – 369 Yards
Hole 5 – Par 4 – 290 Yards
Hole 6 – Par 4 – 280 Yards
Hole 7 – Par 4 – 382 Yards
Hole 8 – Par 3 – 167 Yards
Hole 9 – Par 4 – 308 Yards
Hole 10 – Par 3 – 152 Yards
Hole 11 – Par 4 – 294 Yards
Hole 12 – Par 4 – 269 Yards
Hole 13 – Par 3 – 182 Yards
Hole 14 – Par 4 – 340 Yards
Hole 15 – Par 4 – 436 Yards
Hole 16 – Par 4 – 411 Yards
Hole 17 – Par 4 – 279 Yards
Hole 18 – Par 4 – 250 Yards
Kilspindie GC Synopsis
The takeaways are interesting… there are four one-shot holes and a single three-shot hole. None of the par 3's are longer than 185 yards and the par 5 is just over 500 yards.
It's the thirteen two-shot holes that really make Kilspindie special… six of them are less than 300 yards and only three are over 400 yards. What have become termed 'half par holes' are found here and in abundance.
Kilspindie Golf Club Reviews
Read More
Kilspindie Golf Club

- Videos




WATCH ERIK ANDERS LANG AT KILSPINDIE GOLF CLUB
RU MACDONALD PLAYS KILSPINDIE GOLF CLUB
WATCH COOKIE JAR'S STORY OF KILSPINDIE GOLF CLUB
NO LAYING UP PLAYS KILSPINDIE GC
THE AVERAGE GOLFER PLAYS HICKORY AT KILSPINDIE GOLF CLUB
WATCH KILSPINDIE GOLF CLUB'S PROMO VIDEO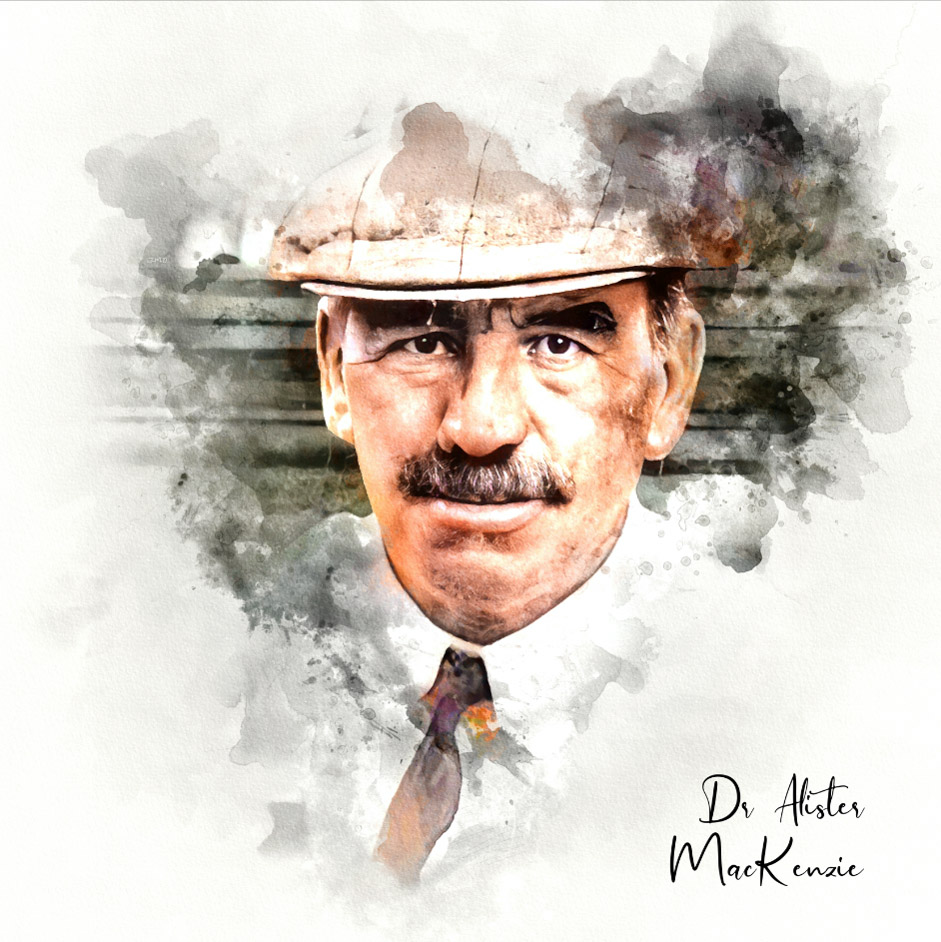 Featured Architect:
MacKenzie, Alister
As taken from his book, Golf Architecture, Alister MacKenzie felt the following were essential: The course, where possible, should be arranged in two loops of nine holes. There should be a large proportion of good two-shot holes and at least four one-shot holes. There should be little walking between...
View Profile