JCB Golf & Country Club

West Midlands, ST14 5HY, England
Overview
Not open to the public you need to be a corporate member or be their guest to get behind the front gate. It is a difficult tee time to obtain but worth the effort to play the course.
The course design of the 4th hole is said to be inspired by the 2nd at Huntercombe.
Adam Lawerence of Golf Course Architecture states emphatically: "From the back tees, the JCB golf course is a brutally hard one, which will eat up the vast majority of golfers and spit them out."
Course Review

(Click to reveal)

Golf Course Review

JCB Golf & Country Club is a private golf club in Staffordshire, England on the Woodseat Hall Estate. Lord Bamford set the minimum standard at nothing less than a tour-ready course that would compete with the very best in the world built to the highest specification. Robin Hiseman of European Golf Design saw, met, and delivered on the brief.
Why Does JCB Have a Golf Course?
Why would a large manufacturing firm be interested in a golf course? Chairman of JCB, Lord Bamford explains: '''My vision for this golf course is for it to build an even stronger awareness of the JCB brand around the world and help drive increased demand for our products.'' Essentially, the course is a savvy marketing tool used to attract big tournaments and ultimately woo overseas (US) investors. This also explains the flash white sand used to adorn the course which will no doubt resonate with the American audience… (besides the fact there isn't much in the way of natural sand on the site anyway…)
It isn't as crazy as it sounds. A little look over the PGA Tour Schedule and you see all sorts of sponsors who see value in hosting tournaments. (See John Deere Classic held at Deere Run.) The same could be said for the naming rights of stadiums… with every event held your name gets mentioned. Link with a prominent brand, club, or team, and the awareness of your brand in the minds of the general public is heightened. The PGA Tour has green and yellow… we will have to wait and see if the European Tour eventually goes black and yellow.
What is JCB Golf & Country Club Like?
What Robin Hiseman of European Golf Design delivered over four years was a bold, modern Par 72, 7308-yard course that made the most of the site's water features and woodlands. Generously laid out over 240 acres, the course made the most of innovative construction technology. About 300,000 cubic meters of earth were moved and sculpted to create the course with the majority of it on just two holes. Intriguing is the fact that so much earth was moved to introduce water and as much work was done to lose it with drainage due to the heavy clay. The course wasn't sand-capped but still plays firm underfoot and has been designed to accept running shots into many of the greens.
Visual Deception
Robin Hiseman is a fan of golf course architect Mike Strantz. Having seen his entire portfolio, some of Robin's inspiration was taken not only his bag of tricks but by his irreverence to conventional norms as well.
The opening tee shot is a great example. The placement of the ball in front of the centreline bunker is critical. Left of the bunker appears generous but is flanked on three sides by water. Over the bunker is dead as the lake, hidden from view from the tee, is waiting for the perfectly struck shot which greedily carries the bunker.
The third tee shot is another example. The tee shot gives you two choices: over the bunkers on the left and you have a shot at the green in two or lay up to the bunker right and layup the second bunker short right of the canal. The ridge on which the left bunkers are found creates an infinity view. It appears you are hitting into a chasm when in reality there is a massive backstop waiting to absorb your perfectly placed tee shot.
JCB Golf & Country Club hasn't been rated. It looks gettable but plays incredibly difficult. Length exists but it's not the only defense – contours, bold greens and visual deception play a more direct role and the golf at JCB Golf & Country Club is better for it.
Risk & Reward
A significant design hallmark is risk and reward. Numerous half-par holes have been included. Long Par 3's, short Par 4's, and even the longest of the Par 5's will entice the longest hitters to go for it in two with eagles as common as double bogeys. Centerline bunkers are found on no less than six holes and Lion's Mouth bunkers are found on five holes. Alternative routes that demand a decision to be made with conviction are presented from the get-go until the home hole. Blind shots and forced carries are common but a less adventurous route is always provided.
Signature Holes
What most will remember from JCB Golf & Country Club is the 17th. A monster 255 yard, downhill par 3 to an island green. To see how it came to be, click to see Part 1 and Part 2. The 1st and 18th will probably follow closely behind as golf porn, Instagram fodder. For many, this term is cringe-worthy but if you're going to have them, an island green attacked from an elevated tee that also provides a Cape tee shot for the home hole is where you need to be if you're going to go for it.
Retention of Natural Features
JCB Golf & Country Club itself is manufactured. There is that feel to it – it isn't Brora nor Painswick. It couldn't have been. This is JCB country – nothing that simply draped over the landscape would work… and it couldn't have, as the existing clay farming fields wouldn't have lent themselves to it.
However, where natural features were existing, they were kept and the results were outstanding. The par 3 9th plays from an elevated position to a green site perched on the side slope of a natural valley. It is a show stopper but also was 'found' on the site of a former arboretum. The other hole which is one of the best on the course is the 11th. Gently sweeping from left to right, it incorporates Alders Brook with more than a little flavor borrowed from the 13th at Augusta National. Classic in design, it is elegant and contrasts exactly with what is to come later on in the round.
At JCB Golf & Country Club, Robin Hiseman displays the ability to find holes and the ability to manufacture golf with pizzazz. This is a showcase of skill from a seriously talented golf course architect.
Playing Corridors & Bunkers
At first blush, it may appear that there is a proliferation of superfluous bunkers at JCB Golf & Country Club… However, they are a bit of the Old Course being played in reverse. How so? With open vistas and only a few stands of trees, alternative routes needed to be guarded to prevent those wishing to emulate Bryson from taking ill-advised shortcuts. An example is the first bunker on the 2nd hole which prevents a tee shot from the 3rd tee from being played up the 2nd fairway as opposed to around the 3rd holes dogleg. Another such example is the Oakmont-style bunkers on the right of the 7th green. Not visible nor in play for except for the most egregious of shanks, they are there to prevent a cheeky route down the previous hole's fairway.
Blind & Obscured Shots
If you haven't been exposed to the joys of UK and Irish golf, the inclusion of blind shots is an acquired taste. Some old-school charm used so well on a modern design is a breath of fresh air. If you approach from the wrong side of the fairway or have taken an easier line in, you may see the flag but not the hole. This is Tom Simpson's design theory at its modern-day finest. Most blind tee shots give you an indicator as to line – these blind shots ask a question or propose a quandary – it's not blindness for blindness' sake. This is the type of strategy that satisfies a serious golfer long term. It is subtle but exists in spades at JCB Golf & Country Club.
Tom Doak's Dumb Blonde Award
First coined when the world wasn't so politically correct, it conveys the idea of style over substance. Is this a front-runner for such an accolade? Most definitely not. It is a course that ardent fans of modernist minimalism would simply pass by. In fact, I wanted it to be good but was prepared for it to be flashy Americana that provided an excellent day out but wouldn't satisfy a serious golfer long-term.
How wrong I was! JCB Golf & Country Club is bold but the underlying strategy and design are sophisticated enough to keep even the most discerning golf course architecture aficionado interested and coming back for more. If you cannot see past the flash, you don't want to see it for what it is – this dumb blonde has a Ph.D.
JCB Golf & Country Club Summary
For those fortunate to see JCB Golf & Country Club and who are switched on enough to render informed judgment – universally it has been hailed as one of England's best modern inland course designs. It will test the very best and no doubt draw the ire of them as well. A recent major championship winner, Ryder cup participant, and household name claimed some holes didn't reward a good shot. Unbeknownst to him – rather than a criticism, this is perhaps one of the best compliments that could have been given… It is bold and flash but strategically sophisticated.
This is JCB country and the JCB Golf & Country Club needed to be constructed this way. Why? It needed to emulate the features of the brand: solid, sturdy, engineered but sexy at the same time… In a nutshell, it needed to be the JCB Fastrac Two #JCBWFT – a world-record-holding 153 mph tractor driven by Guy Martin. What the JCB Fastrac Two is to agriculture, the JCB Golf & Country Club is to golf. Does that make Robin Hiseman golf's Guy Martin?
Read More
JCB Golf & Country Club

- Videos




Enjoy a Short and Sweet Introductory Glimpse of JCB
Watch UK Golf Guy's Hole By Hole Overview of JCB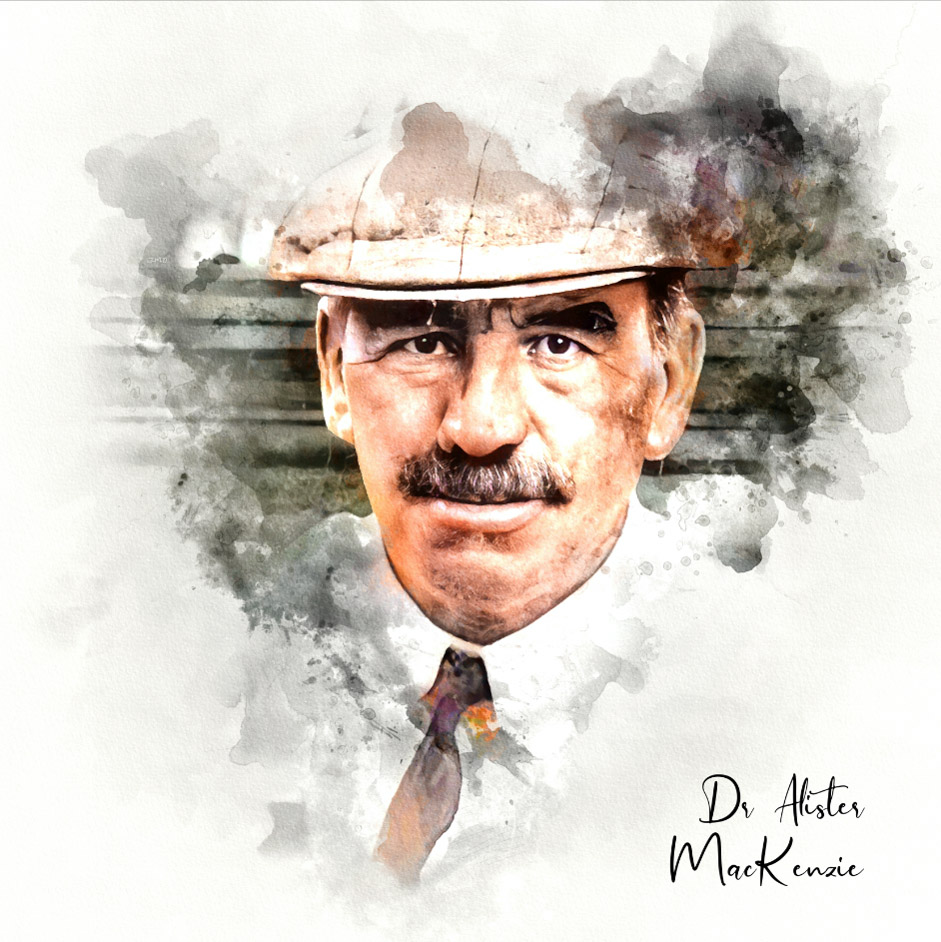 Featured Architect:
MacKenzie, Alister
As taken from his book, Golf Architecture, Alister MacKenzie felt the following were essential: The course, where possible, should be arranged in two loops of nine holes. There should be a large proportion of good two-shot holes and at least four one-shot holes. There should be little walking between...
View Profile