Ganton Golf Club

North Yorkshire, YO12 4PA, England
Overview
Harry Vardon and Ted Ray were both professionals here.
Ganton Golf Club was the club that gave Harry Colt his first paid commission.
Tom Doak recommends golf architecture students pay special attention to Ganton's bunkering. He also recommends all the two-shot holes as standouts.
Ganton Golf Club earned two 7's and two 8's on the Doak Scale - the same as West Sussex and Turnberry Ailsa!
Frank Pennink wrote that no other course could be compared with Ganton with the exception of The Addington New.
Gary Player felt it the only inland course capable of hosting the Open Championship. It has a real similarity to Carnoustie in parts.
One of only a few clubs that has hosted the Curtis, Walker, and Ryder Cup. It was in the running to host the Solheim Cup but lost out to Gleneagles.
The sand scrapes are starting to reappear - however, don't call them sand scrapes or naturalized areas... here at Ganton, they are called 'Pandies'.
Being a championship course, the fairways at Ganton Golf Club can be narrow for the higher handicapper. The tide is turning and expanded green sites and short grass is returning...
The Vardon Room demands a jacket and tie from mid-morning onwards. Come suited and booted and enjoy the experience.
Course Review

(Click to reveal)

Golf Course Review

Ganton Golf Club is the singular exception to the overused descriptor that a course could possibly be an 'inland links'. Frank Pennink wrote: "I do not know whether I should describe Ganton as a course or links because the golf it provides is really seaside golf, played nine miles inland. Whichever is correct, no course nor links is it's superior in playing conditions."
Located in the Vale of Pickering midway between York and Scarborough, it feels like it is seaside despite being miles from links land. It also feels a bit like Gleneagles in that it is cradled by an expansive valley with ridges on either side.
Ganton Golf Club's Distinguished Professionals
Harry Vardon was professional of the club from 1896 to 1903. During his tenure, he would bring 3 Claret Jugs back to Ganton Golf Club. In addition, Open Champion Ted Ray served the club as professional.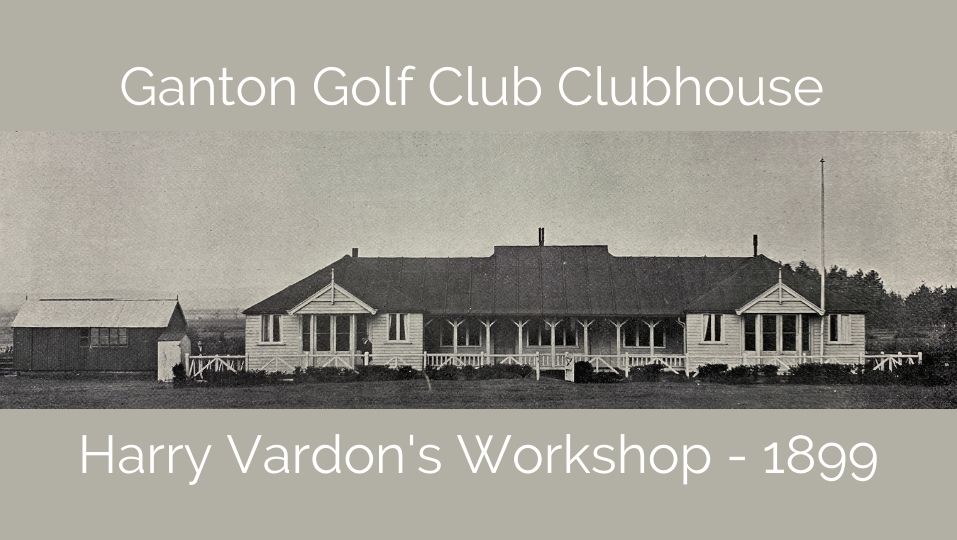 Ganton Golf Club is an Impeccable Host
Harry Vardon played two infamous matches at Ganton. The first, in 1896, against JH Taylor and in 1899, against Willie Park Jr. The latter came to be known as the Driver v Putter Test Match. Legend has it that Park Jr had neglected to play a practice round on account of practicing his short game. He was overcome by the challenge of the back tees placed by Vardon which played to his strength.
The club has also hosted the Ryder Cup in 1949, the Curtis Cup in 2000, and the Walker Cup in 2003. The Amateur Championship or Brabazon Trophy was contested here in 1964, 1977, 1991 and will be again in 2021. Ganton, Royal Birkdale, Muirfield, and Royal Lytham & St Annes are the only four clubs in this prestigious group, with Ganton being the only inland course.
The Only Constant is Change at Ganton
With a pedigree as rich as Ganton's you could excuse it for being resistant to change. After all, there is literally no equal to it with regards to the tournaments it has hosted and perhaps those who have had a hand in making it what it is. With names such as Harry Colt, James Braid, Alister MacKenzie, Herbert Fowler, Tom Simpson, and H Hutchinson all improving the course with each successive change, Ganton is not a club that rests on its laurels.
The course was reviewed in 1899 by Golf Illustrated. The course was described as a fair course, full of traps but with all the danger clearly seen from the tee. There was nothing tricky about the design and the putting greens were described as large, well-kept, and true. The turf was described as the sort you would find on the seaside links. 'Pandy', a large bunker, came into play on the 16th and 17th and it was said it would not shame a seaside course of the sandiest description.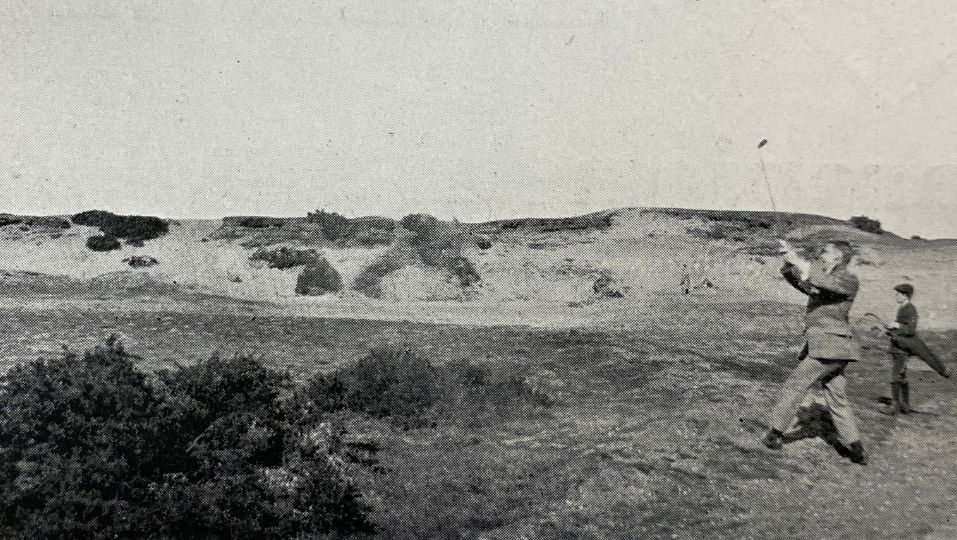 Chisholm, Dunn, Vardon, and Ray at Ganton Golf Club
During the summer of 1891, Tom Chisholm and Robert Bird (the first club professional) laid out the original course. In 1893, prolific Victorian golf course architect, Tom Dunn, would make the first of many changes to the golf course. The greens were enlarged and improved by Harry Vardon after he joined the club in 1896. The farmer who leased the land to the club objected to bunkers being dug so holes 7, 8, and 9 had none. In 1905, Ted (Edward) Ray lengthened the course due to the extra length provided by the Haskell ball.
Harry Colt at Ganton Golf Club
We know Harry Colt visited Ganton Golf Club in June of 1907. The primary need was to address the length, or perhaps the lack of it… It played 5,700 yards and it was suggested they add 550 more yards to it. Due to ill health, Colt couldn't follow through and Herbert Fowler was lent upon for his help.
Legend has it that Harry Colt later returned and is ultimately responsible for the 4th hole and as such, one of the very best on the course. He is also credited with the 7th hole and both the 13th and 17th greens.
Herbert Fowler at Ganton Golf Club
In 1908, Herbert Fowler was invited to address the bunkering and to add some length. A new hole, the then 17th of 220 yards, was his favourite. It was noted the course had over 50 bunkers in all when Herbert Fowler was done.
Alister MacKenzie at Ganton Golf Club
Just four years later, in 1912, Alister MacKenzie made suggestions to improve the course. He was unhappy with every green with the exception of the 17th as they were not sufficiently undulating. The same criticism was leveled against the fairways. The approaches to the greens were not firm enough and the Fowler's bunkers had been placed in penal locations as opposed to strategic locations.
He specifically remarked that the bunkers should have been placed so that the tee shot would have to be placed in order to open up the green for the approach. He also wanted to include heroic carries but also provide alternative routes for the weaker player. He would later return in 1920 for further work.
Ganton Golf Club Golf Architecture Synopsis
There are standout holes everywhere. Our picks are the short 3rd, the demanding 4th, the visually deceiving 11th, the 16th from the back tees with the island fairway, and the two-shot par 3 17th.
The 14th is potentially one of the great short risk-reward par 4's. The presentation and removal of gorse will propel this hole into one of the best on the course.
The par 4's are the standouts. The par 3's, with the exception of the 17th, are adequate. That's not really a problem as there are only two, both at 169 and 170 yards respectively on the 5th and 10th. Once the gorse is removed or at least trimmed back, the blindness will be eliminated or reduced and the hole instantly better.
The par 3's should get a needed boost with Martin Ebert advising. It's a natural fit for some splashy short holes that fit his current eye and Ganton's original aesthetic. (See his recent work on the par 3's at Prince's and Hoylake as examples.)
In general, good Par 5's are so difficult to get right with modern equipment… a genuine three-shot hole needs to be 600+ yards and at that length, it just feels like you're covering distance for the sake of it. The 503-yard par 5 9th and the 565-yard par 5 13th both would benefit from some added intrigue. The 9th will gain some interest with the new Pandy.
Currently, the Pandies are bold and are a slight juxtaposition against thicker gorse and boundary tree growth. However, you have to start somewhere and then roll them out. The 17th and 18th Pandy is the model that should be used moving forward. Don't judge the process, wait and judge the result… it should be spectacular.
Ganton Golf Club & Top 100 Ranks
Ganton is a combination of Carnoustie and Woodhall Spa. Both are spectacular golf courses in the world's top 100. Restored and presented properly, Ganton Golf Club has everything it needs to compete with the best inland courses found on that list…
On the most respected ranking in the world, (golf.com) Sunningdale New, Sunningdale Old, Woodhall Spa, Swinley Forest, and St George's Hill feature while Ganton is left off. However, it could (and should) again hold its own against the competition once the work is complete…
Top 100 Golf Courses ranks Ganton in the World Top 100. Of the UK's contributions inland, only West Sussex (Pulborough) ranks below it. Above it are St George's Hill, Woodhall Spa, Swinley Forest, Sunningdale New, and Sunningdale Old.
On the current rank for the Top 100 UK & Ireland Golf Courses from National Club Golfer, only Sunningdale Old, Woodhall Spa, Sunningdale New, Walton Heath Old, Alwoodley, and Gleneagles Kings outrank Ganton Golf Club… it is followed by Woking, St George's Hill, Pulborough, and Hollinwell. NCG is a bit of a wild card – it is new and due to its pool of reviewers, there are some surprises.
With all rankings, you need to take them with a pinch of salt… However you cut it, Ganton is mentioned on every respected ranking near Woodhall Spa and Pulborough. With recent work, one wouldn't be surprised to see it catch and surpass its competition.
Ganton GC Conclusion
We've been more honest in our appraisal than we would normally be… this is because the difference between very good and truly great is razor-thin.  As it is so good, it needs to be evaluated with a little more abrasiveness than your average 'good' golf course – it deserves to be. We're being picky because Ganton Golf Club can take it.
If they can possibly replicate what they've done on 17 and 18 throughout, Ganton Golf Club should challenge for the title of one of the best inland courses in the UK again (in fact, it already is…). We're massive fans and would happily play here for the rest of our days.
When viewed through the lens of what's coming and how it's trending, the only way is up… As the saying goes, "With great power comes great responsibility" – with the course manager they have, Ganton Golf Club looks like it will get there. Of that, we're quite confident.
Ganton Golf Club Reviews
Take Sean Arble's tour of Ganton Golf Club.
Ganton Golf Club Photography
Read More

Ganton Golf Club

- Videos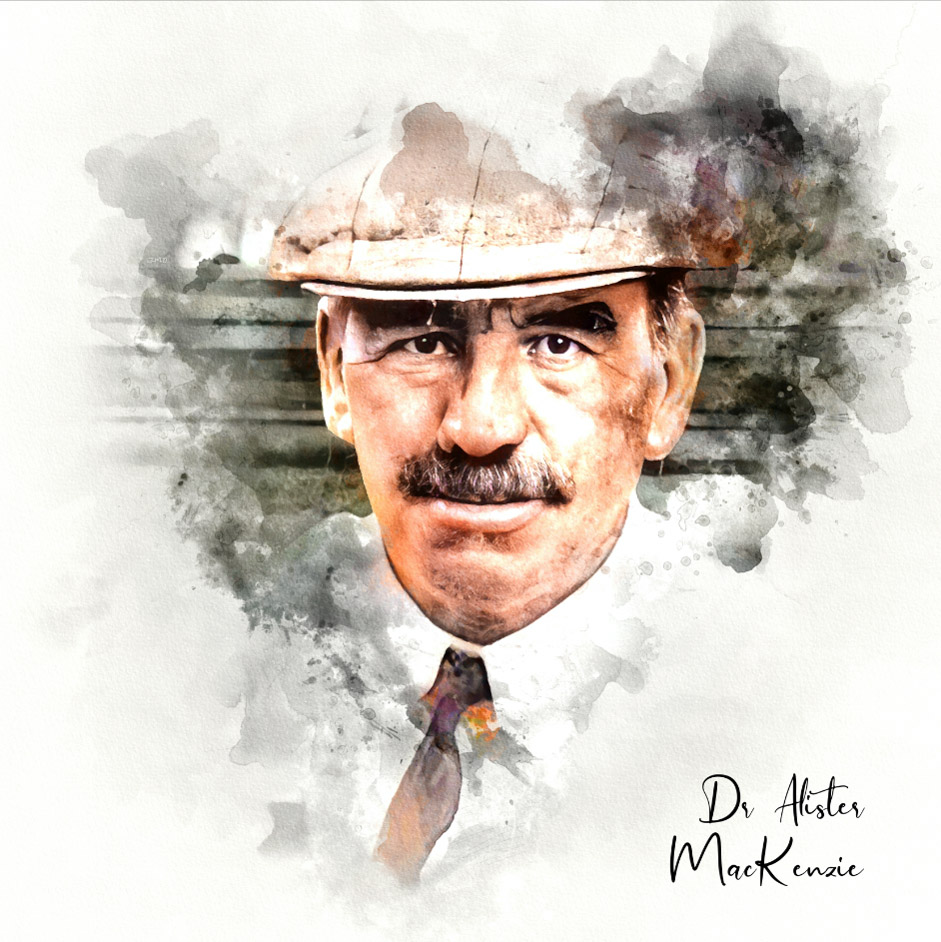 Featured Architect:
MacKenzie, Alister
As taken from his book, Golf Architecture, Alister MacKenzie felt the following were essential: The course, where possible, should be arranged in two loops of nine holes. There should be a large proportion of good two-shot holes and at least four one-shot holes. There should be little walking between...
View Profile