Burnham & Berrow Golf Club

Somerset, TA8 2PE, England
Overview
Four holes don't have any bunkers.
Seven holes have alternate tee's.
One-shot holes are best played using the aerial approach.
5 -time Open Champion, JH Taylor, became the clubs first professional.
Course Review

(Click to reveal)

Golf Course Review

Burnham & Berrow Golf Club in Somerset is one of the oldest clubs in England. Originally a nine-hole golf course, it was laid out by the Royal North Devon professional Charles Gibson and opened for play on June 4, 1891. Five years later, in 1896, it was extended to 18 holes and the name was changed to Burnham & Berrow Golf Club.
In 1901, it was again extended before the club called upon Herbert Fowler to carry out further work in 1910. Fowler's work focused on the back nine. He reduced blindness, routed the course through dunes, and added length, taking the course over the 6000-yard threshold.
In 1913, Harry Colt made alterations that would result in making the golf course what it is today. In contrast with Royal North Devon nearby, the course benefits from some of the most imposing sand dunes in golfdom. Due to the nature of the site, blind shots abounded early on before Harry Colt recommended the removal of them. Interrupted by the Great War, the course work was completed in 1923 with Harry Colt, Alister MacKenzie, and Hugh Alison all playing a part in carrying out the work.
In recent years, MacKenzie & Ebert have undertaken work to enhance Burnham & Berrow Golf Club.
Burnham & Berrow Golf Club by Architect
Burnham & Berrow Golf Club can be attributed to the following architects:
Charles Gibson is responsible for the majority of the 3rd, 15th, 16th & 17th. The 15th is an original 1891 green!
Fred Hawtree is responsible for 6, 12 & 13.
Harry Colt & Hugh Alison are jointly responsible for 8.
Harry Colt & Alister MacKenzie are jointly responsible for 9.
Frank Pennink is responsible for 14.
Herbert Fowler is responsible for 7 & 11.
Herbert Fowler and Hugh Alison are jointly responsible for 18.
Harry  Colt is responsible for holes 1, 2, 4, 5 & 10.
Burnham & Berrow Golf Club Channel Course
The Burnham & Berrow Channel Course is a 9-hole golf course sat beside the Championship Course. The first few holes are found seaside but not in the rambunctious dunes that the course is known for. Decent golf but perhaps not inspiring… until you reach the 6th tee. The last four holes hold their own against any on the course next door.
Of the 9 holes, there is one par 5, six par 4's, and two par 3's. It plays just over 2900 yards and has alternate tees to provide some variety if you decide to go round twice. The nine-hole Burnham & Berrow Channel Course is good golf and in the discussion for one of the best 9 hole courses in England.
Burnham & Berrow Golf Club Artwork
Buy Joe McDonnell's Burnham & Berrow GC Modern Golf Artwork.
Burnham & Berrow Golf Club Review
Read More

Burnham & Berrow Golf Club

- Videos




See Burnham & Berrow Golf Club's Promo Video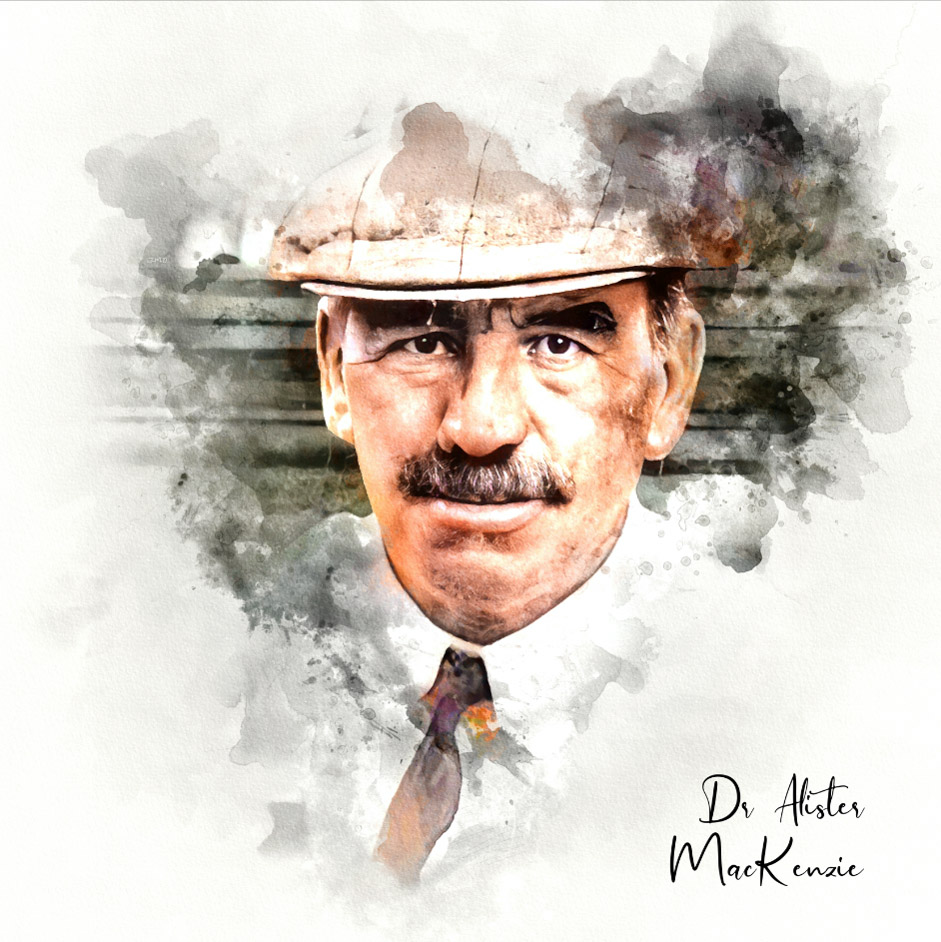 Featured Architect:
MacKenzie, Alister
As taken from his book, Golf Architecture, Alister MacKenzie felt the following were essential: The course, where possible, should be arranged in two loops of nine holes. There should be a large proportion of good two-shot holes and at least four one-shot holes. There should be little walking between...
View Profile