West Coast Golf in Scotland is still relatively unexplored to both overseas visitors and locals. Most will flock to Fife with an initial pilgrimage to The Home of Golf followed by a trip to East Lothian and the exclusive Honourable Company of Edinburgh Golfers – Muirfield. If you venture over again a combination of Aberdeen and Inverness will probably round out your Scottish golf resume. Evalu18 and SIGTOA have teamed up to pull back the curtain on your next holiday – West Coast Golf – Scotland.
Dundonald Links – West Coast Golf – Scotland
Dundonald Links is a Kyle Phillips design in Ayrshire. After a trans-Atlantic flight, you want to get to your accommodation, get settled in, and refresh yourself for the trip of a lifetime. Dundonald Links is the perfect way to start your trip – just a quick trip from the airport and easily accessible from both Glasgow and Edinburgh. What you'll find is a modern golf course that is the perfect first taste of links golf. It's firm and fast golf with tight turf and has a bit of everything you'll find on your journey – from burns to gorse.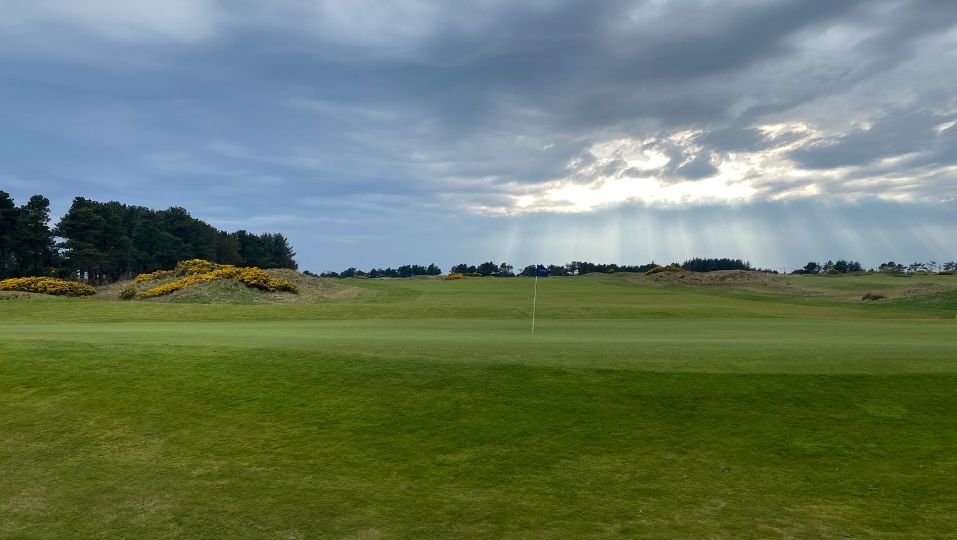 The accommodation and clubhouse facilities are second to none and probably will end up being amongst the best you'll find in Scotland. If you want a soft landing or a treat before you fly home, use Dundonald Links as a base for trip. From here, you have easy access to Royal Troon, Prestwick, and Trump Turnberry. If you want to add on Western Gailes, it is also worth an extra day to play. Additionally, don't be in a hurry to move on from Royal Troon as the Portland Course is an Alister Mackenzie design from 1920.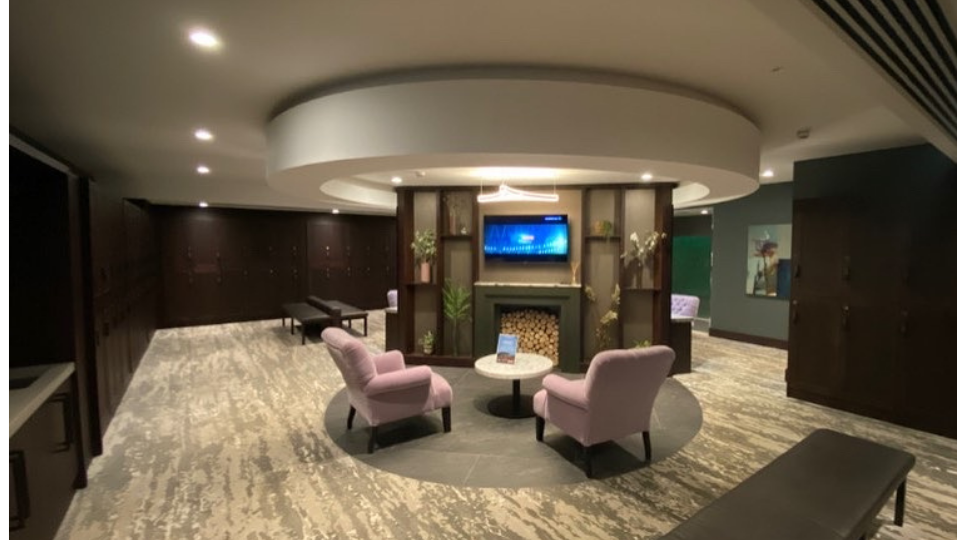 Dundonald Links also has a grass driving range, short game facilities, modern accommodation with satellite TV, and fine dining at reasonable rates taking into account the quality on offer. The hotel rooms (shown below) are perfect for a single or couple. The lodges can accommodate large groups. We stayed in Room 6 with the driving range just over that sandhill behind. It was perfect for little range sessions to loosen up after a long-haul flight.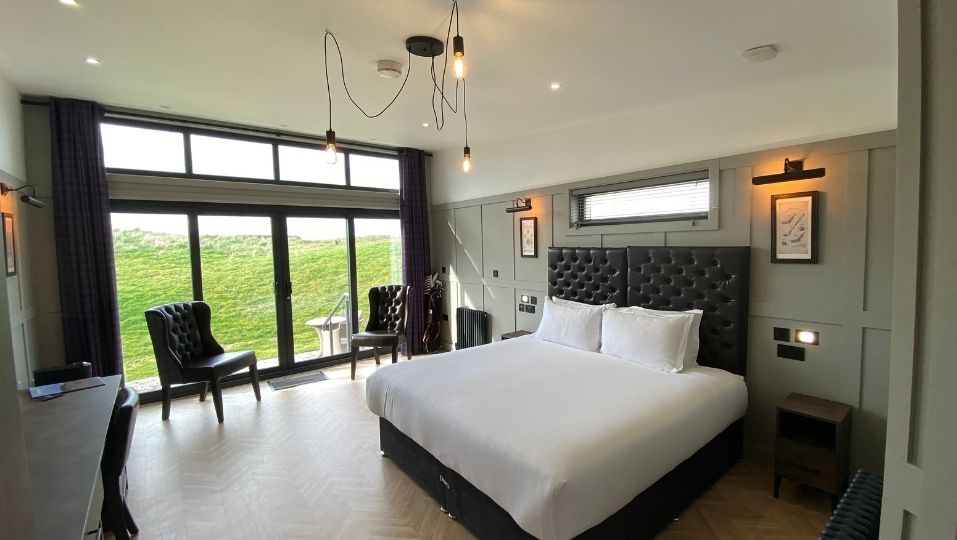 See our article for an in-depth look at Dundonald Links from an architectural and historical, perspective
Royal Troon Old Course – Scotland's West Coast
Royal Troon blew me away. Even at 51 in the world, one wonders why it isn't higher and we don't hear more about it. Perhaps it is the first impression? The opening holes are quietly elegant and needed before the rollercoaster ride that is holes 7 through 11. You will have heard about The Postage Stamp but it surely is one of life's ambitions to play it. I think it was one of the most ludicrous holes I've played and absolutely sublime!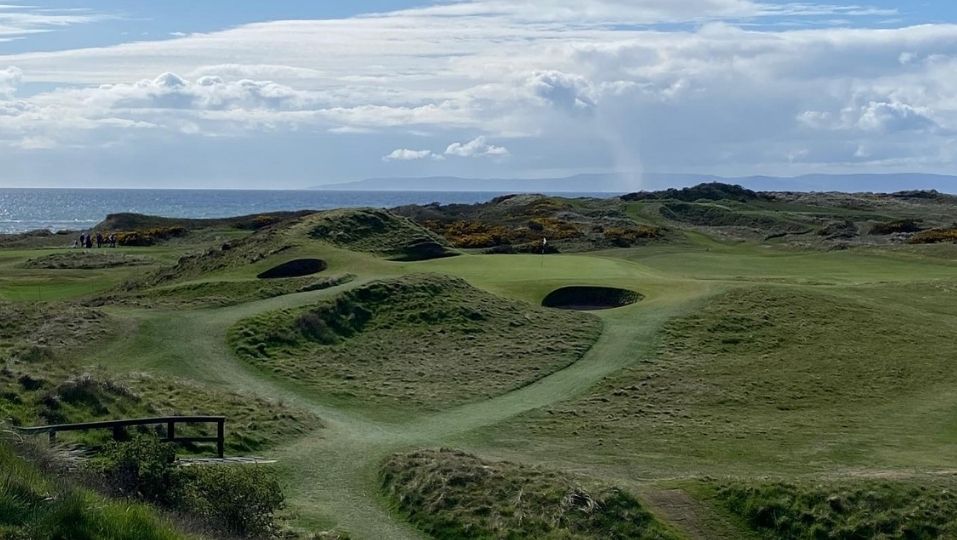 The other world-class standout hole is Railway. It uses the boundary railway line to perfection and is an example of strategic minimalism at its finest. Tom Simpson would be jealous of this hole.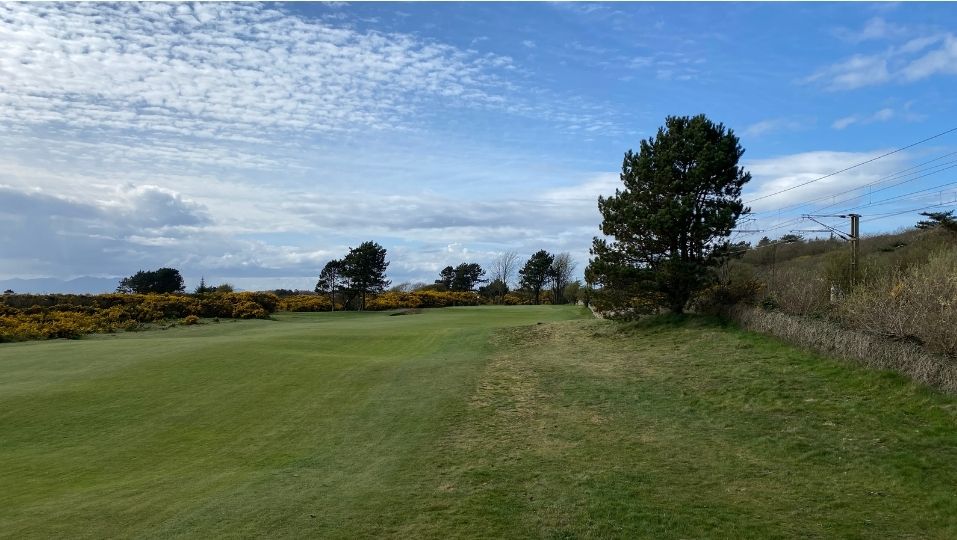 Whilst Tom Doak recommends an architectural student pay attention to the bunkering, it was the bunker-less holes that really stood out for me. The 10th is incredible and followed closely by the 13th. Both examples where the brilliance of the land was allowed to take center stage. See our article for an in-depth look at Royal Troon from an architectural and historical perspective.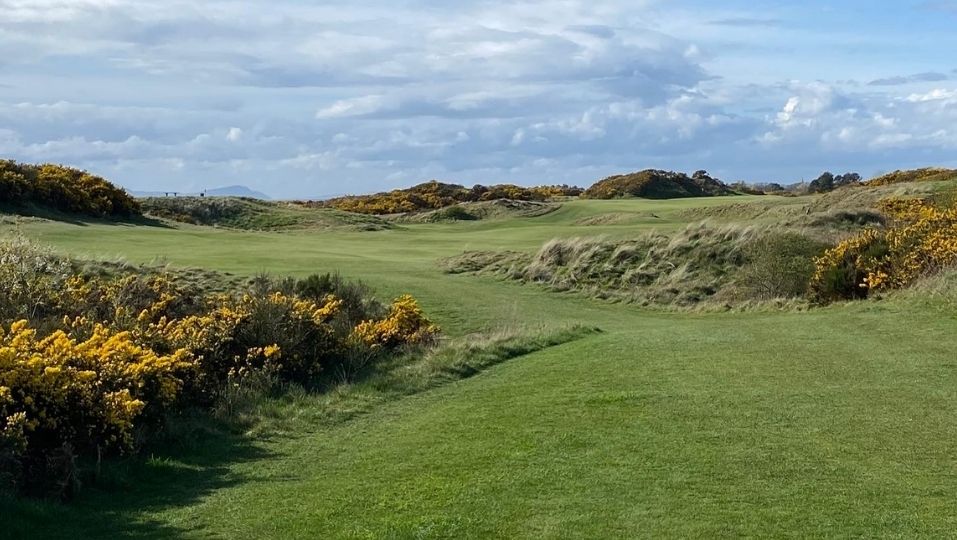 Western Gailes Golf Club
Western Gailes Golf Club was a late addition but not because of it not being on my list. I had long been told of its quality and even been told it was the best links in Ayrshire! While I cannot wholeheartedly agree with that sentiment, it certainly is one of the most complete sets of 18 links golf holes I've come across.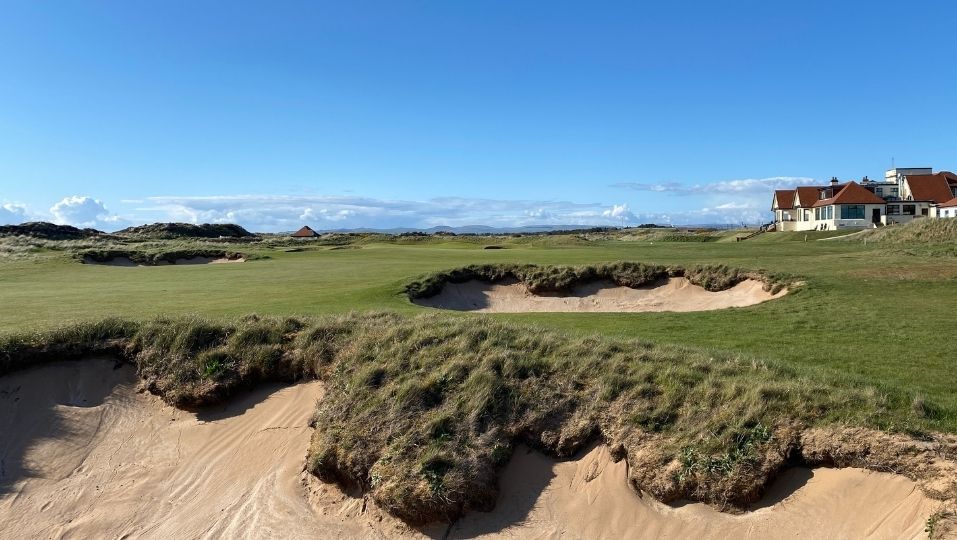 Western Gailes has had recent work done and the improvements are very good. More short grass, wider fairways, less gorse, naturalised bunkers and new, expansive green surrounds make it a better version of itself.
The 6th and 7th holes are two of the best I've come across on my travels and are early front runners for the best of the trip! Read more about Western Gailes Golf Club on its dedicated page.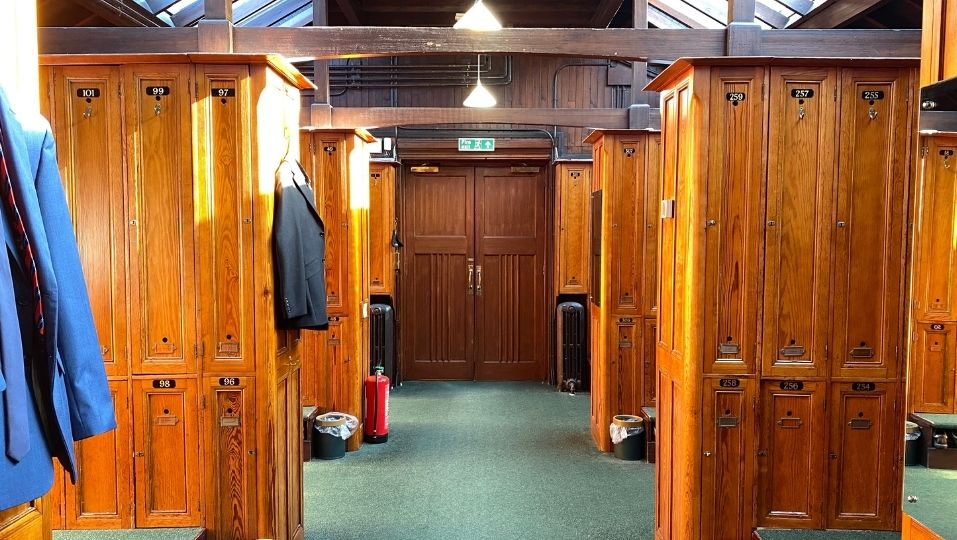 And the clubhouse… perhaps the best locker room I've come across in golf yet.
Shiskine Golf & Tennis Club
12 holes of sheer fun. The opening is strategically sound and it is accomplished with a road and a single bunker that dictates play from the tee and on the second shot.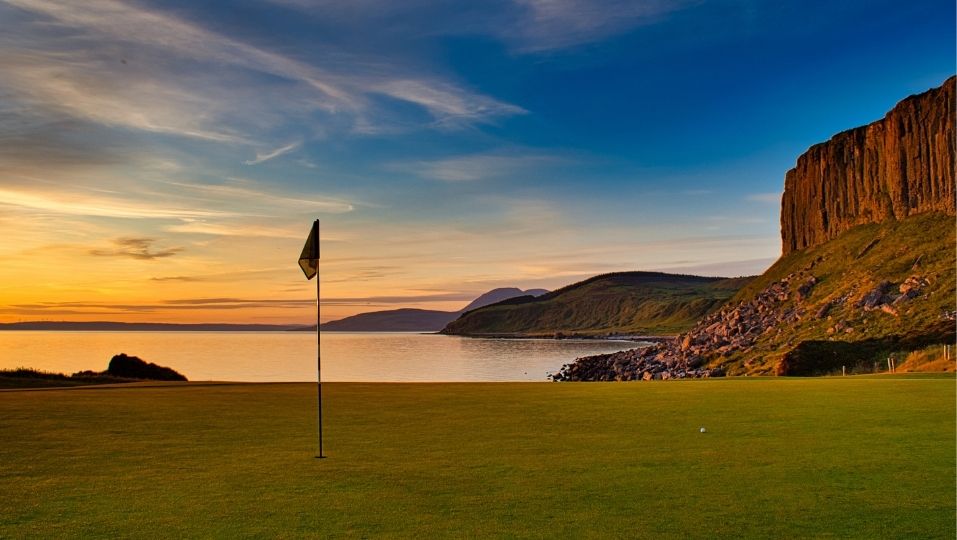 Holes 3, 4, and 5 are a collection of great par 3's. A risk and reward par 4 follows on the 6th followed by a Dell hole on the 7th that makes the original look like child's play with the burn behind the green.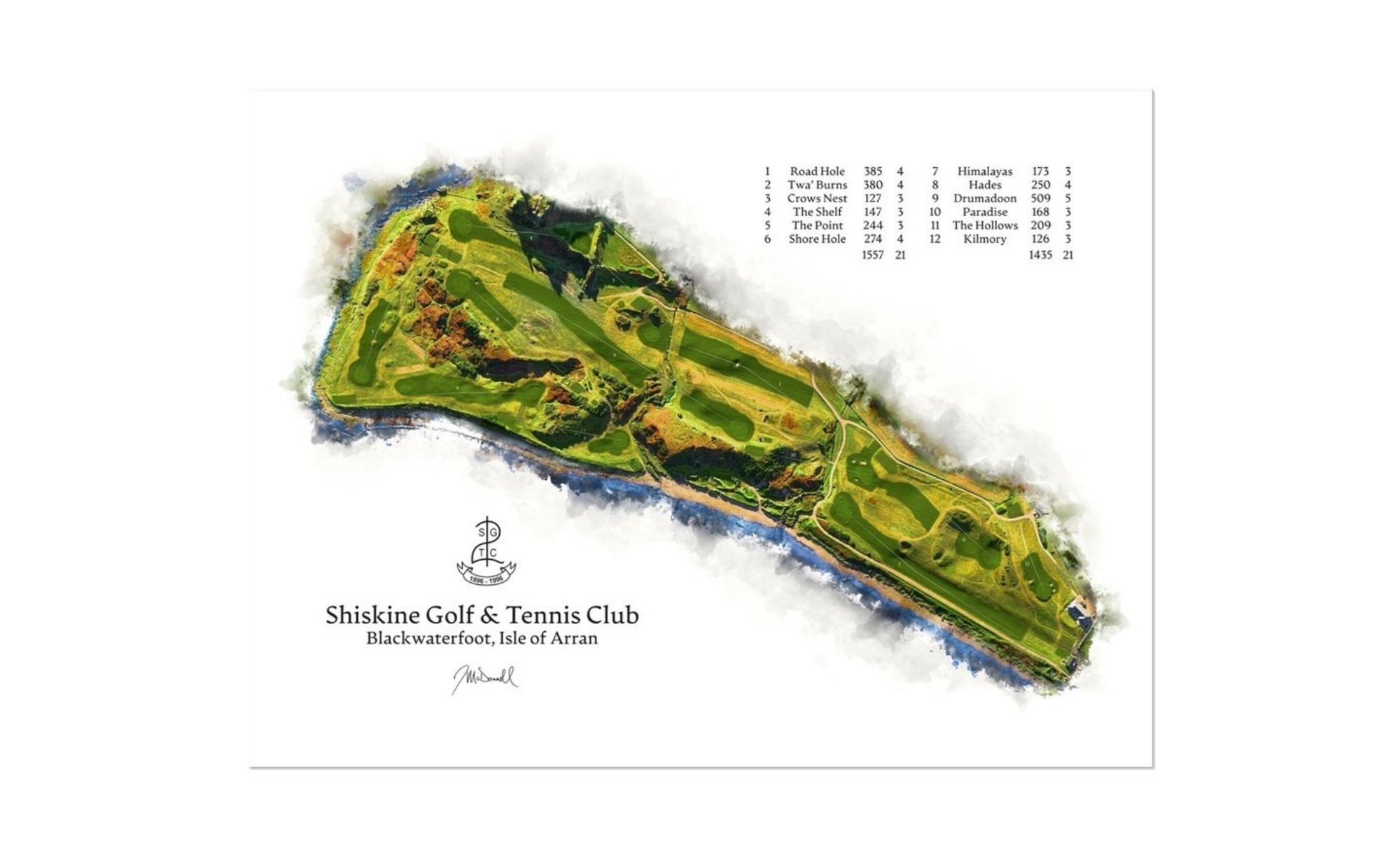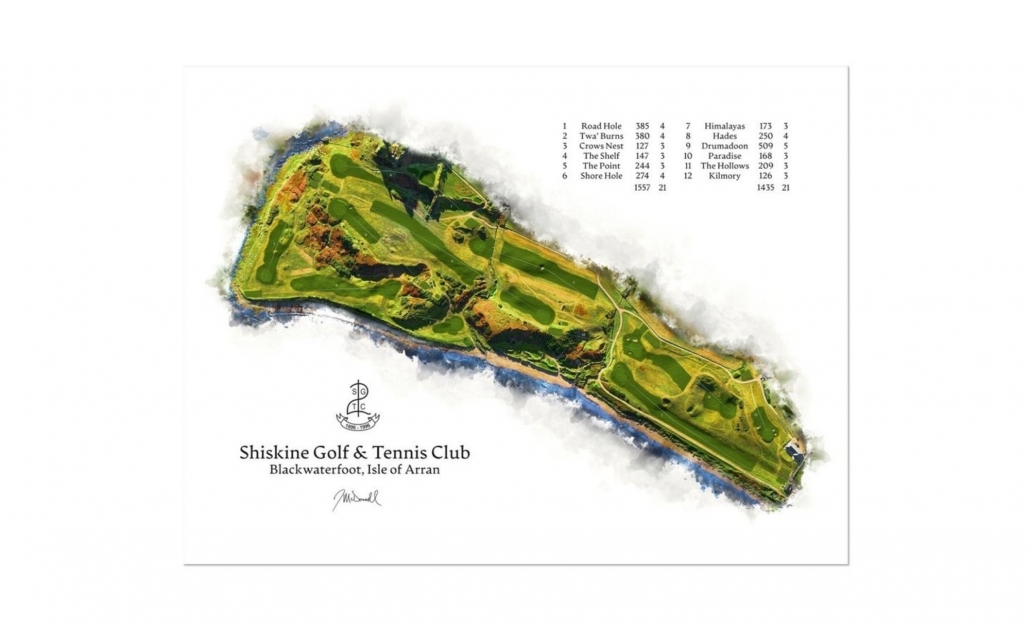 The 11th is the final hole of note with a double punchbowl – a punchbowl for the approach and another for the green… approached blind, of course! Read more about Shiskine Golf Club on its dedicated page.
Machrihanish Dunes
The most undulating golf course I've ever walked… no massive dunes just 'mammoth' micro undulations in the fairways. Once navigated, the fun has just begun… David McLay Kidd earned his reputation for fun golf and bold greens… he did his best here to uphold that ideal here.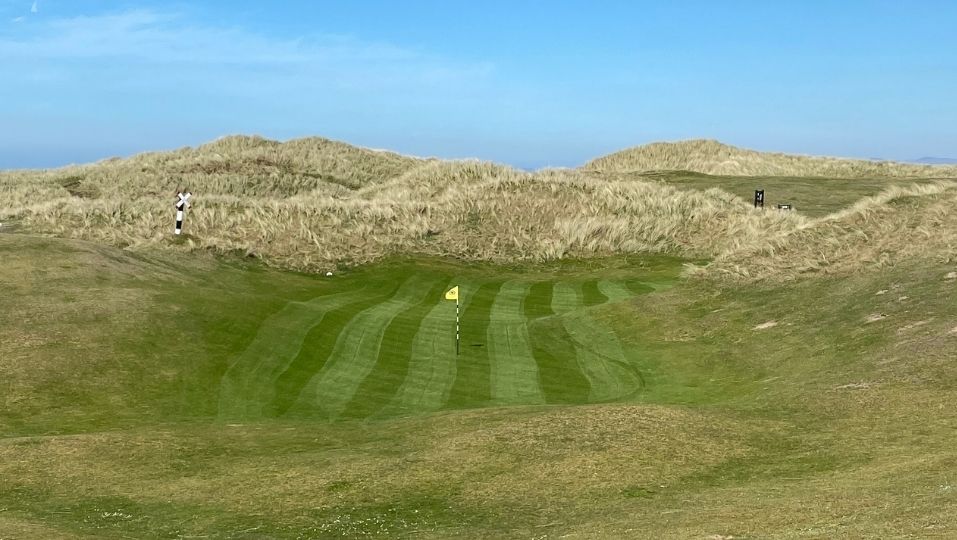 If you could ever just find golf, it was found here. Tees were leveled and greens contoured but other than that, the grass has simply been mown. A solid test and set of holes, there is blindness and carries over thick marram. If you struggle with that, it could be a long round.
Spend some time with Lorna and Willie if you can, you'll not regret it! Read more about Shiskine Golf Club on its dedicated page.
Machrihanish Golf Club
One of the world's best in unbelievable weather – bright, sunny, dry, and very windy. A 30 mph wind and gusting… it was perfect.
The course oozes old school charm and character. Nothing is flamboyant nor extravagant – it is just mature class in every sense. If it were a boat, it would be a Riva – understated yet bold and timelessly elegant.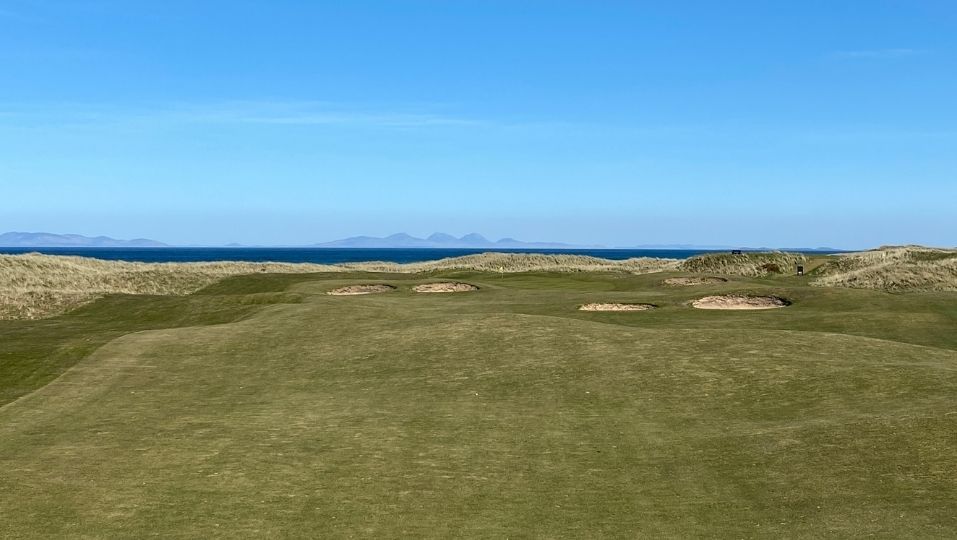 My new muse, Machrihanish has consumed my thoughts since play. A new clubhouse and pro shop have not meant sacrificing the old clubhouse (now a pub) and the old ladies' locker room will soon be on course accommodation.
Dunaverty Golf Club
Dun-Averty, not Duna-Verty… or Southend as the locals may call it. Dunaverty Golf Club is reportedly one of the best short golf courses in the world. There are some great holes, suspect holes, and loads of quirks. It's been said that it provides the most fun you can have on a golf course.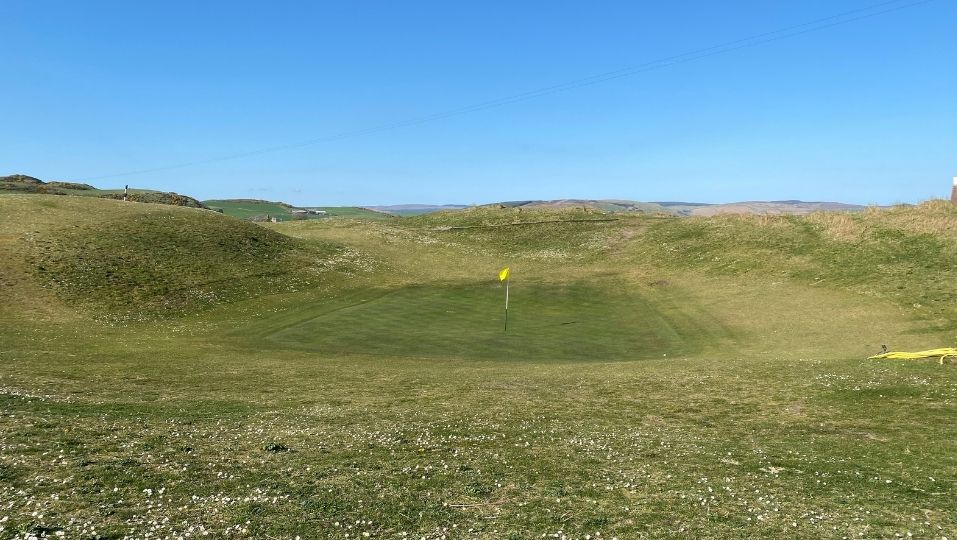 If you ratcheted up Machrihanish Dunes to 11, put it on even more undulating terrain, and removed the subtle touch of Mr. McLay Kidd, you'd have Dunaverty. Read more about Dunaverty Golf Club on its dedicated page.
Carradale Golf Club
Overlook the 1st and 9th and the repetitive 4th and 5th and there is more than enough to keep you interested here.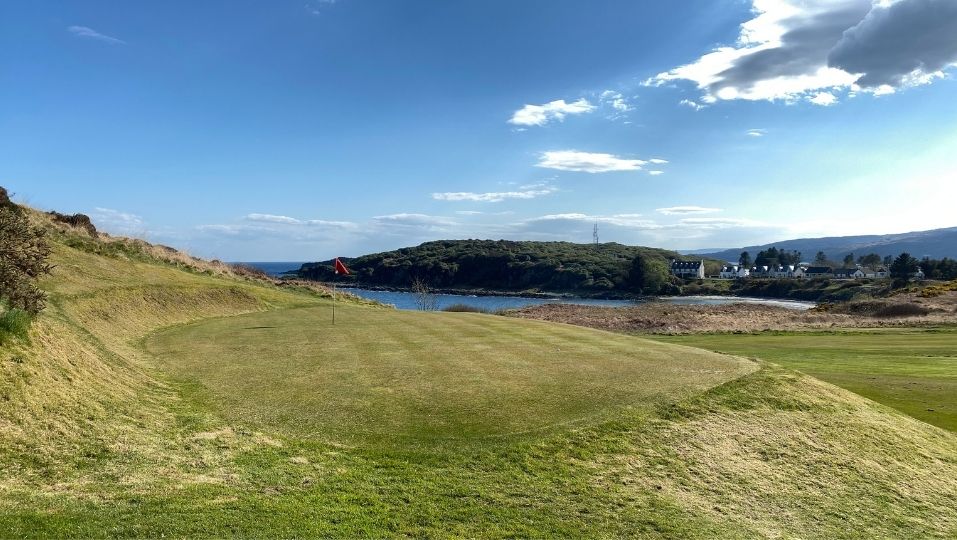 The 2nd and 6th are standout holes. The second is brilliantly simple and demands a placed tee shot and an accurate second. The 6th is a two-shot par 3 or risk and reward single shot hole.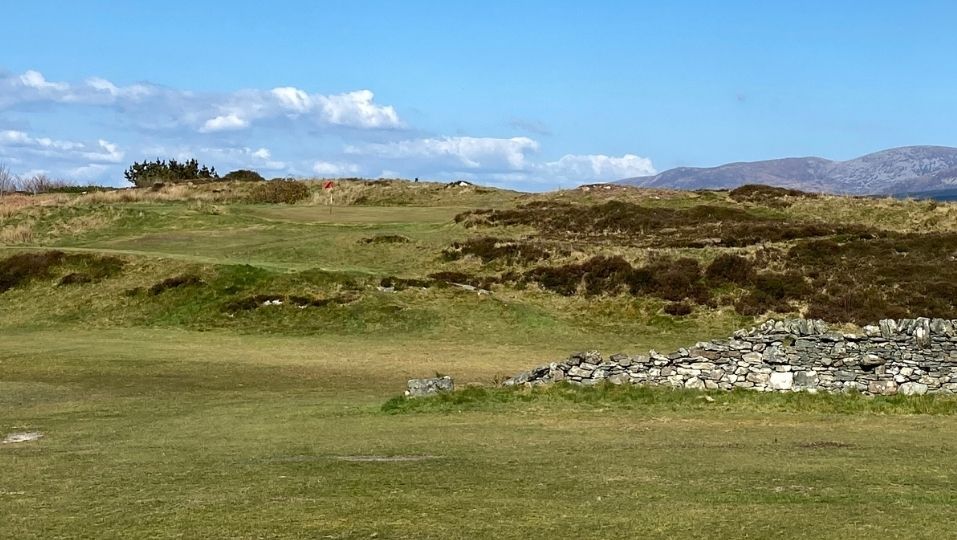 It's 9 holes of fun and is a quick round after the ferry from Shiskine. Play it on the way over or before Dunaverty. Read more about Carradale Golf Club on its dedicated page.
The Machrie
A new-old links with terrific heritage, amazing ambiance, and facilities to swoon over. There is the Himalayas Putting Green, 6-Hole Wee Course named the Willie Campbell. The putting green and short game area are steps from the first tee and the 18 holes that follow are some of the best in the UK & Ireland.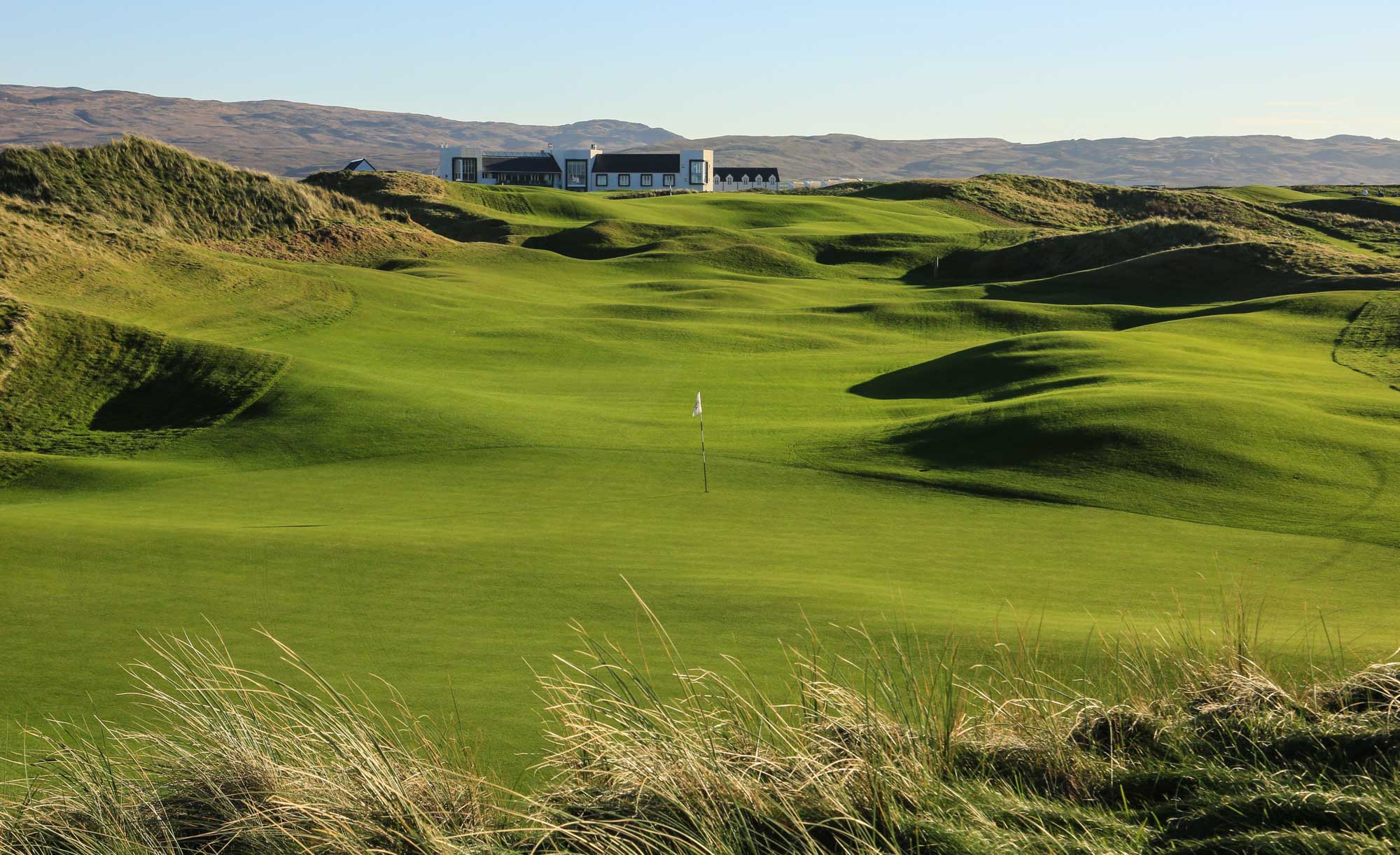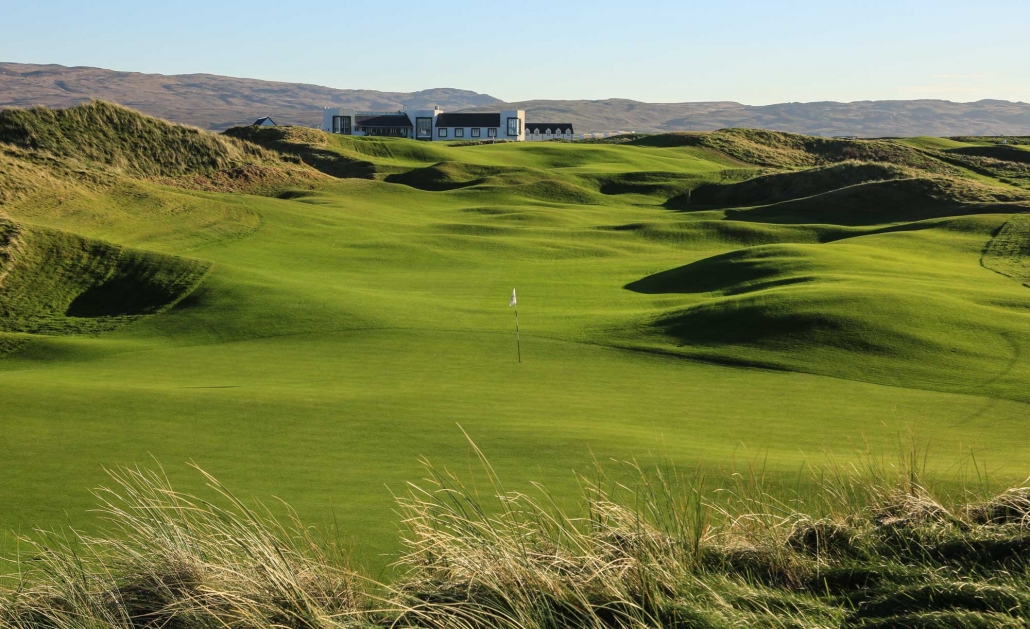 The Isle of Islay is a long way to come for a single course… The only other option is Ardfin on Jura but that's not a viable option for most at £1500 + per round. That means The Machrie Links needs to be special, and it is. It is still bedding in and evolving but as it stands now, is worth the journey. Read more about The Machrie on its dedicated page.
Traigh Golf Course
Traigh is one of the best 9 hole golf courses in the UK. The scenery is stunning which certainly helps but the genius is the use of the central dune ridgeline.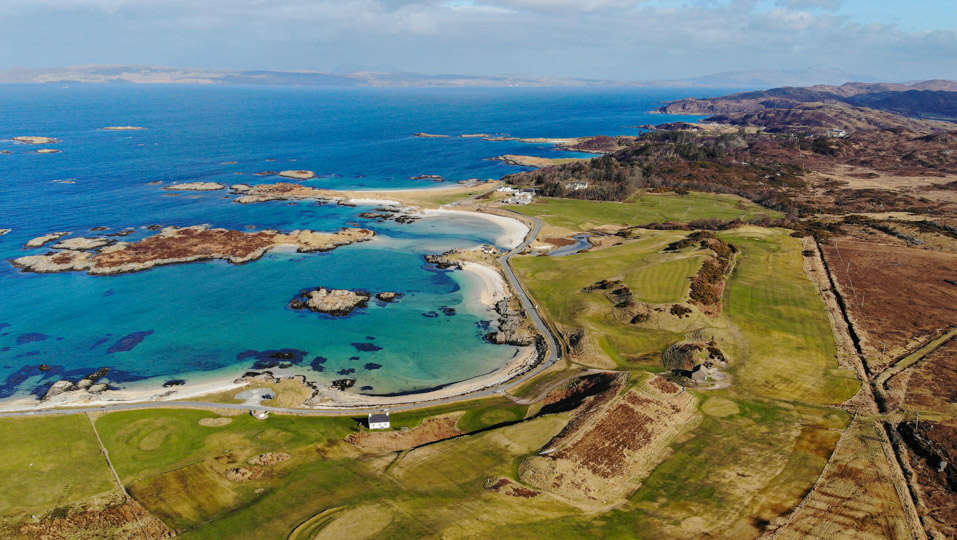 The 2nd hole is one of the best par 5's I've played. Long at St Andrew's has 5 routes but no distinct options. The 2nd hole has two routes but two options to choose from… not subtle but a helluva hole to play. It offers a risk and reward route that effectively changes the hole into a gettable Par 4… If the alternative route is taken, it plays as a true three-shot hole… Below is the punchbowl green on the 2nd hole.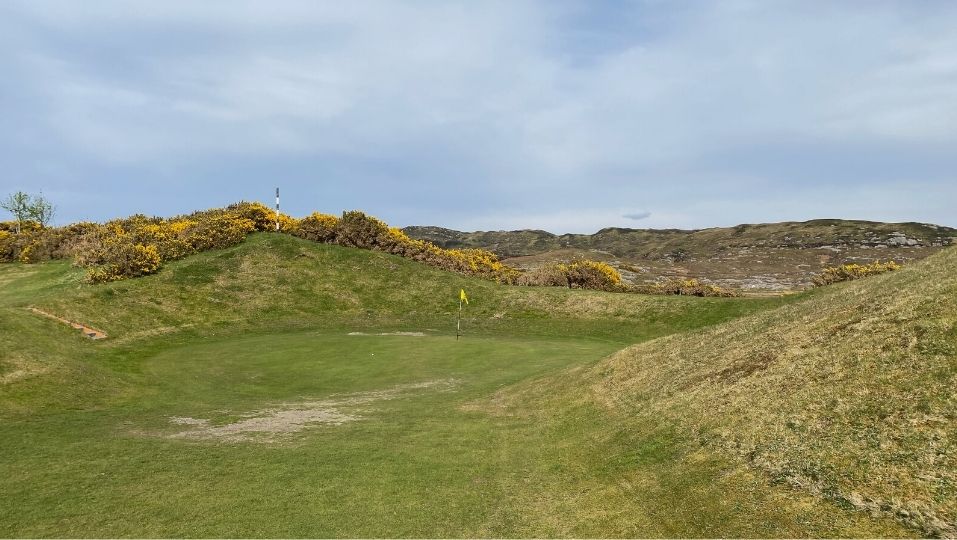 Read more about Traigh's on its dedicated page.
Iona Golf Course
Iona Golf Course is accessible on foot after taking a short ferry from Fionnphort on the Isle of Mull. As the ferry attendant told us upon arrival: "There is one road… go left not right and walk until the end." The walk there is a tad uphill and feels longer than it actually is. The road ends with the gates to the machair and the links.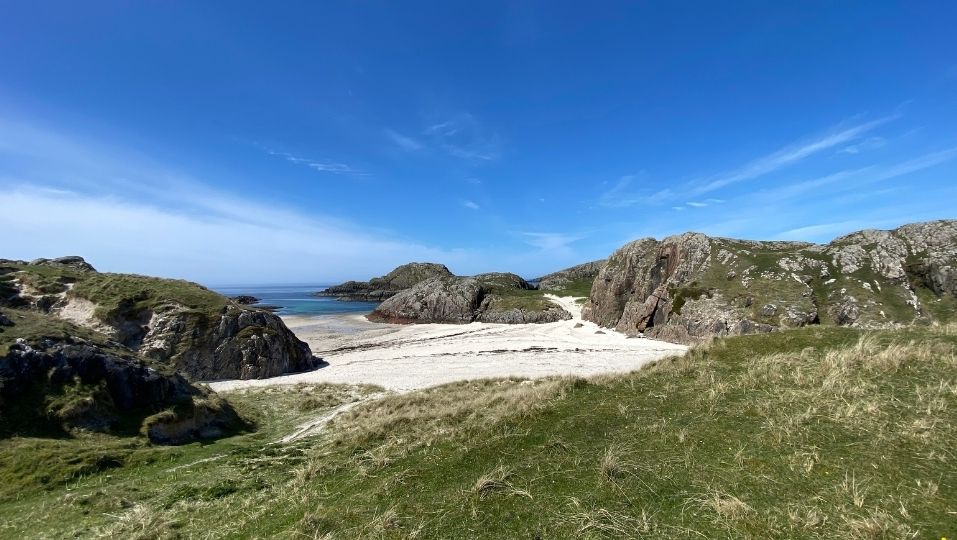 It is already one of the best golf courses I have ever played. I imagine this was what the great golf courses were like 130 years ago. It's simply sublime… and the potential is unrivaled. It would have to be a contender for the first 12-hole golf course to break into the world top 100.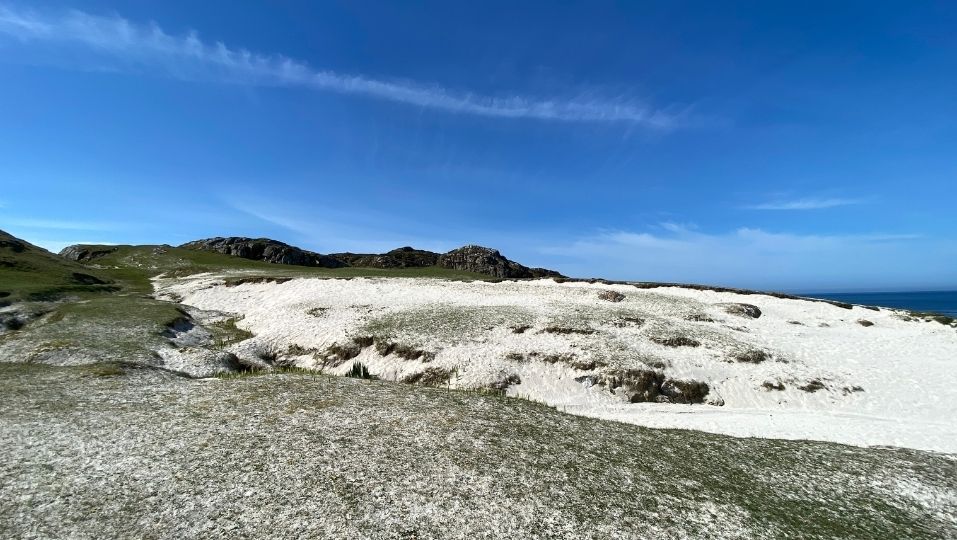 Read more about Iona on its dedicated page.
Tobermory Golf Club
Tobermory Golf Club is a 9 hole golf course set on the cliffs overlooking Tobermory Bay. Panoramic views of Ardnamurchan, Loch Sunart, and the Isle of Skye are astounding. Found on the remote Isle of Mull, the club is a member of the Argyll & Bute Golf Union.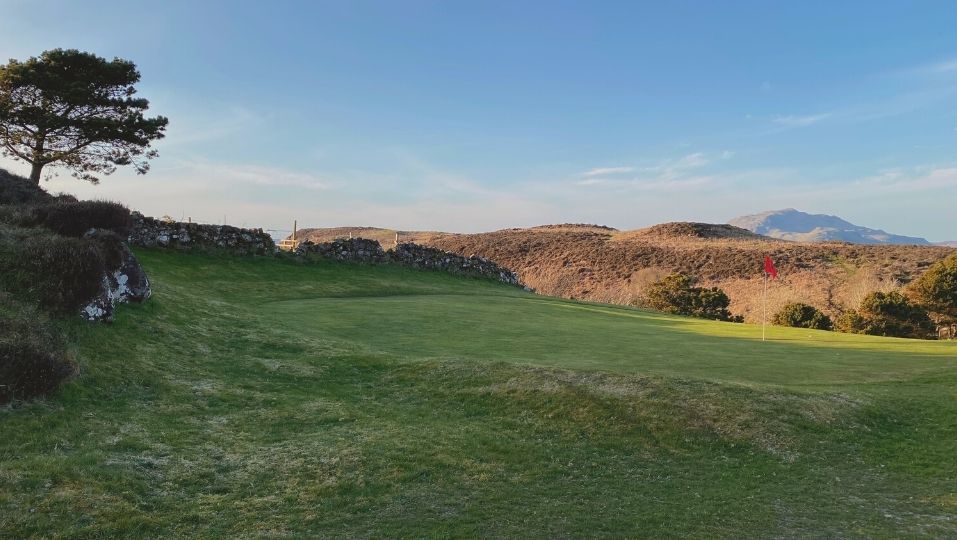 The original course numbered 18 holes and measured 3717 yards. Much of the course would have been found on the high part of the hill in what is now rough moorland. Seven holes would have been found there. Eight of the original holes would be kept to make the current nine-hole course.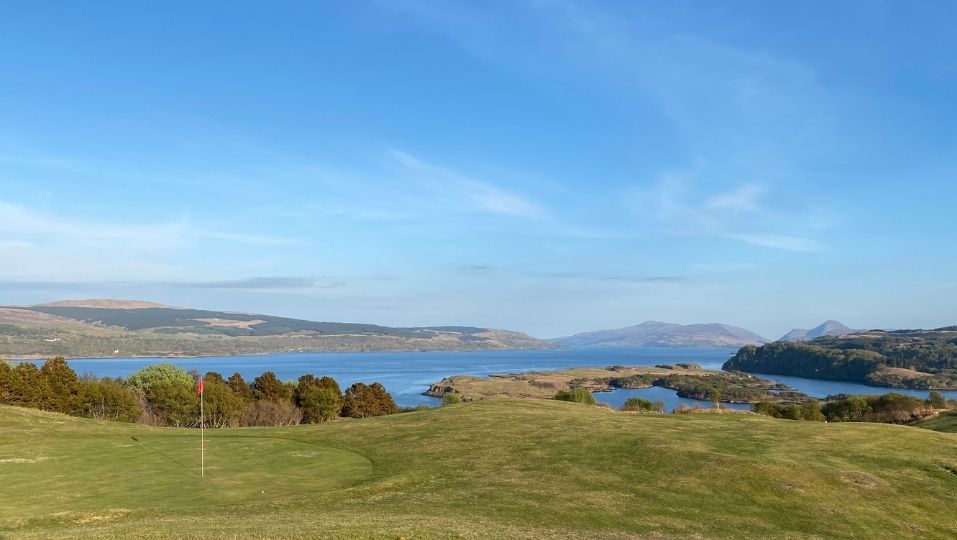 No tee times – show up, pay your money and play. You can use the Honesty Box or pay at Brown's Shop on the High Street. Read more about Tobermory Golf Club on its dedicated page.
Isle of Barra Golf Club
Established in 1992, the small nine-hole Barra Golf Club golf course is laid out over turbulent land that doesn't necessarily scream links.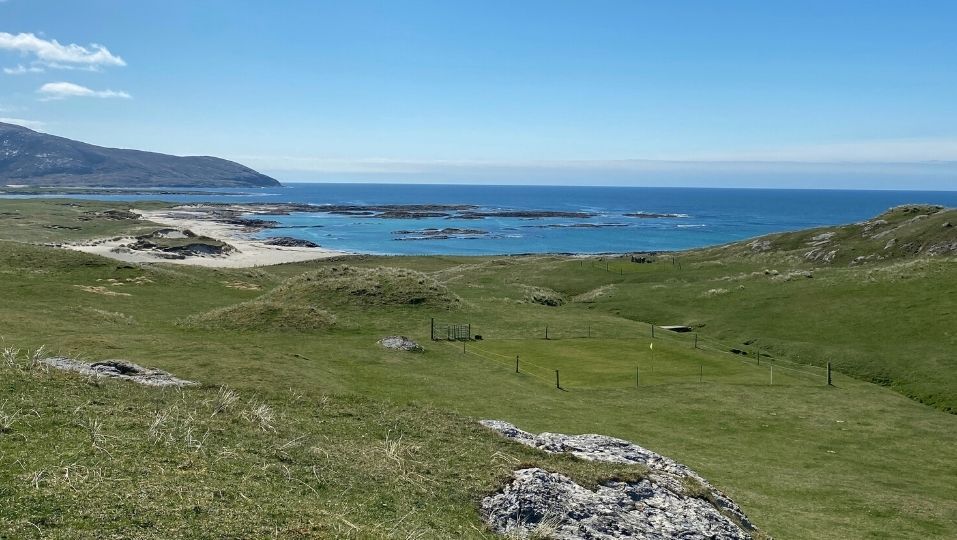 The 2nd, 5th, and 9th at Barra Golf Club are solid with the sum of the others being greater than the whole of its parts.
The final four holes are made up of two par 4's of almost identical length along with two par 3's of very similar length. Despite what's on paper, they all play differently from one another.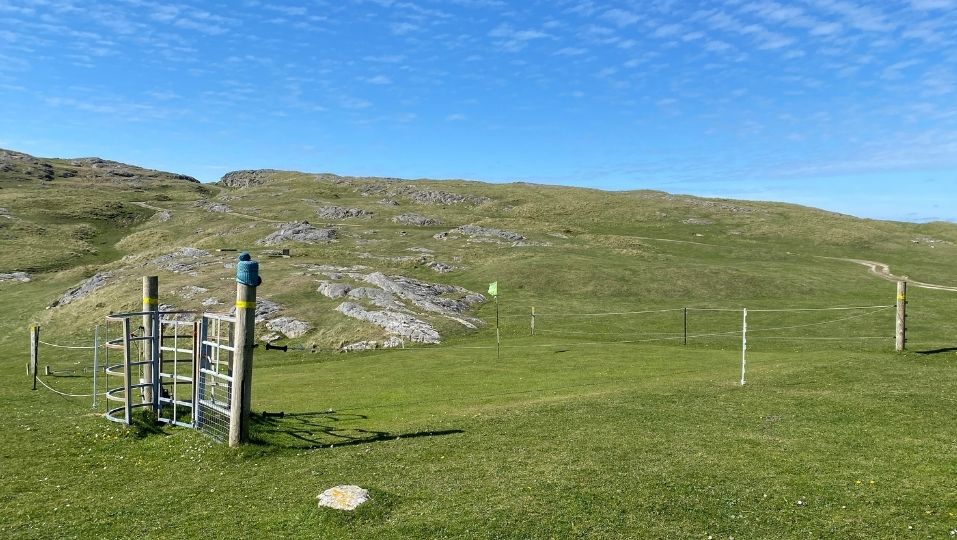 All in all, Barra Golf Club is quirky and has one standout hole (the 5th) and 7 solid holes. The view from the tee on the 5th is shown below… your line is the U in the middle of the frame.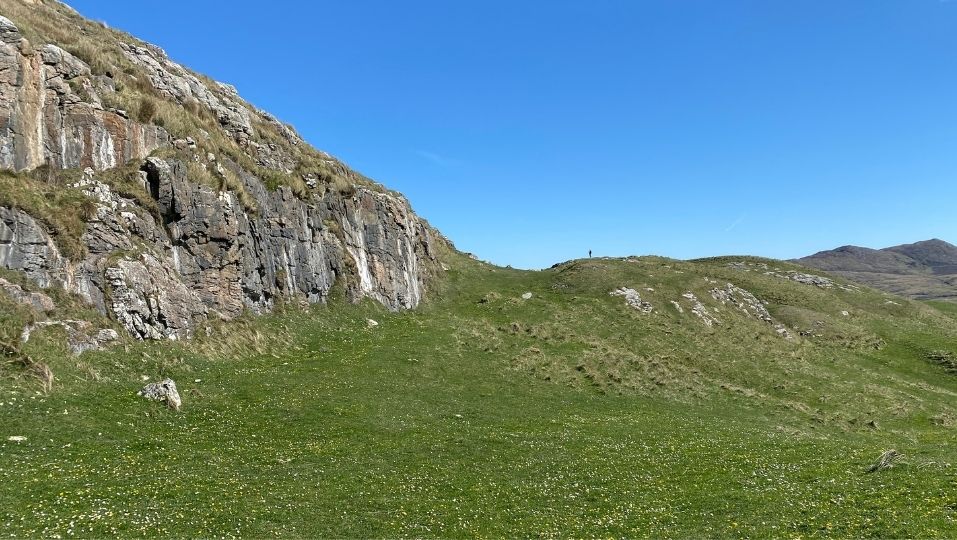 For a nine-hole golf course, that's pretty good going… Read more about Barra Golf Club on its dedicated page.
Askernish Golf Club
Askernish Golf Club is the jewel in the Outer Hebridean golfing crown. The foundations were laid by Old Tom Morris and later revived by an all-star team of some of golf's brightest architectural minds. It is rugged and pure. If there is no wind, it is entirely gettable but the greens will stand up to most and a breath of wind adds both bark and bite.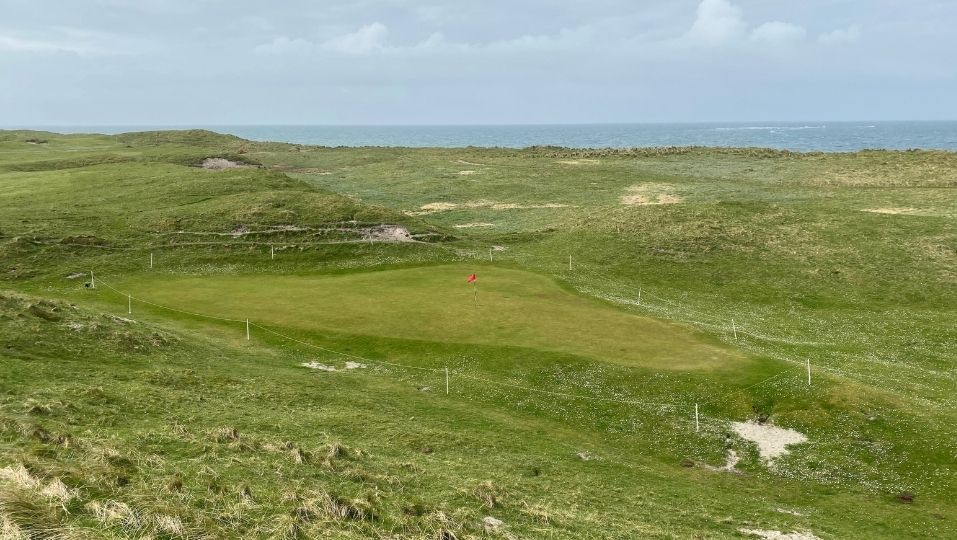 Here you can revisit the origins of the game and walk through the evolution of golf. Hazards are not man-made and mechanical earth moving has never been employed. You can play golf as it was and how it is meant to be.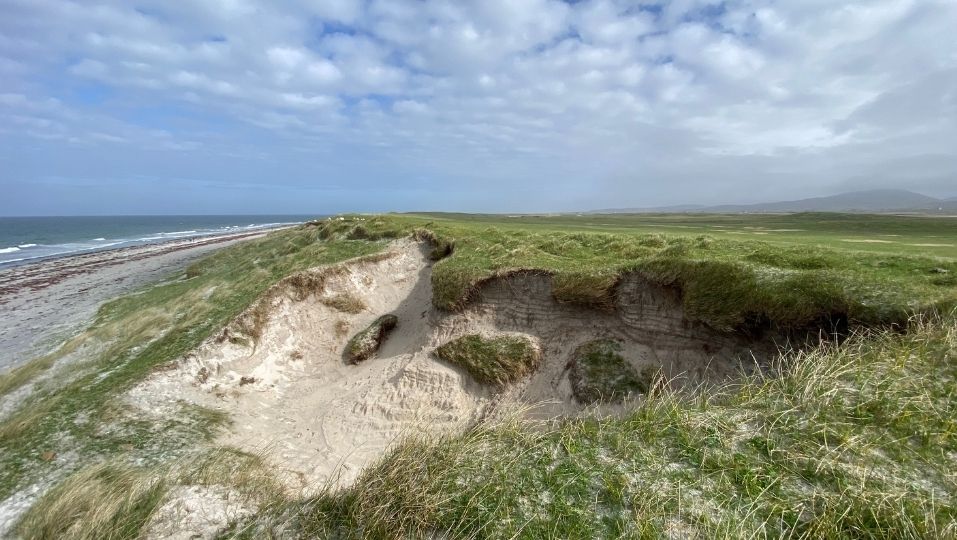 For more information on the evolution of the links and what to expect… read about Askernish Golf Club on its dedicated page.
Isle of Harris Golf Club
The third course you'll want to play in the Outer Hebrides is the Isle of Harris Golf Club. It is a cracking 9-hole golf course on one of the most mesmerizing stretches of seaside real estate in the world. Scarista Mhor and Taransay Sound must be amongst the most picturesque locations of golf anywhere in the world.
The 2nd hole and 4th green are two of the highlights of my entire trip. The jury is still out on the recent changes but it is worth the journey alongside Askernish. For more information on the evolution of the links and what to expect… read about Isle of Harris Golf Club on its dedicated page.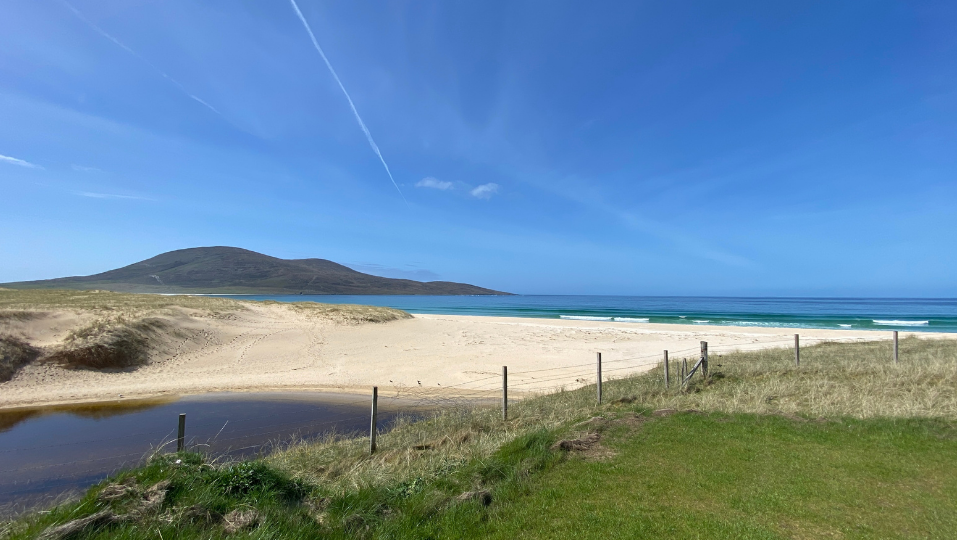 Gairloch Golf Club
After the ferry back from Ullapool, I took the ultra scenic drive to Gairloch Golf Club… I had heard reports of a good golf course but had never seen any photos or real reviews… it was the surprise of the trip. A solid set of holes that had 2 standouts… one of which much be in the running for the best of the entire trip – the 8th shown below.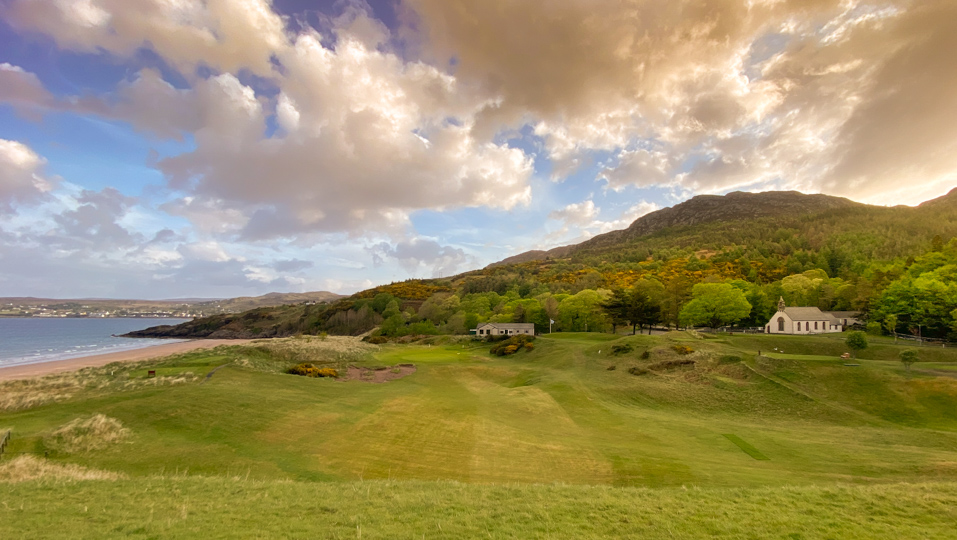 The short 7th was less than 85 yards and one of the best short holes I've played due to partial blindness…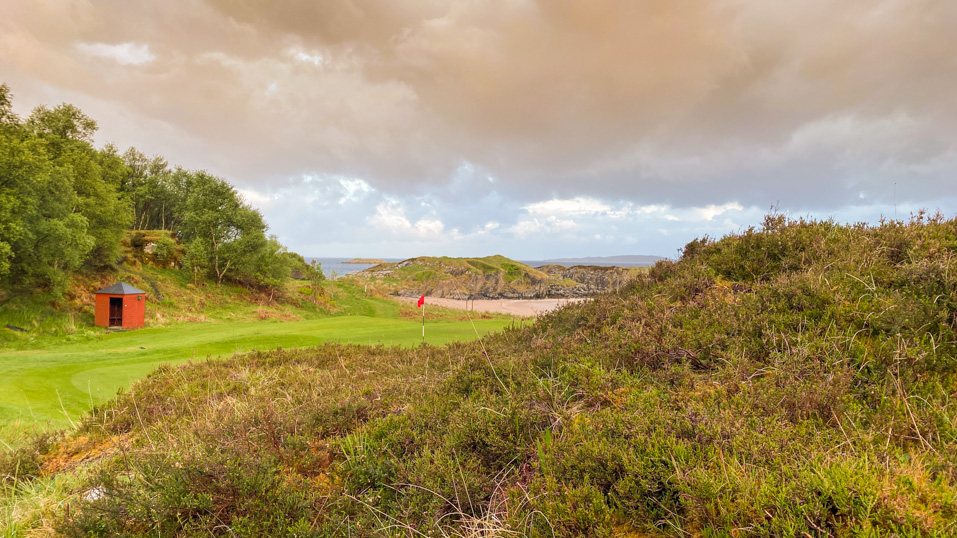 Every once in a while you find a wee 9-hole golf course that offers great golf with the right amount of quirk and charm. I'd count Traigh, Harris, Durness, and Mildenhall as other golf courses on that list. Gairloch is one of the better 9 hole courses I've ever played and probably is near the top of the shortlist mentioned previously…
Read more about Gairloch's on its dedicated page.
Durness Golf Club
Durness Golf Club is a course that captures the soul and spirit of the ancient game. It was founded by three locals in 1988 and continues to gain acclaim from those who have made the trek to play it!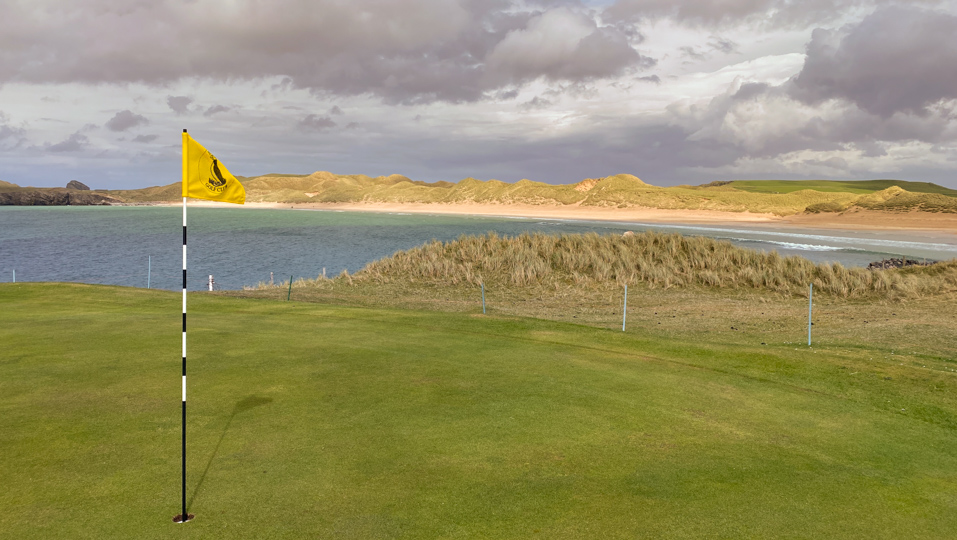 Durness is pure golf with a touch of class. The 9th is what most will remember but the other holes offer higher caliber golf for those who place strategy above aesthetics… Read more about Durness Golf Club on its dedicated page.
Prestwick Golf Club
More to come on Prestwick… This was the best experience of the trip. Other courses may be more dramatic or scenic, but for strategic, historic, and architecturally sound golf, Prestwick is in a league of its own…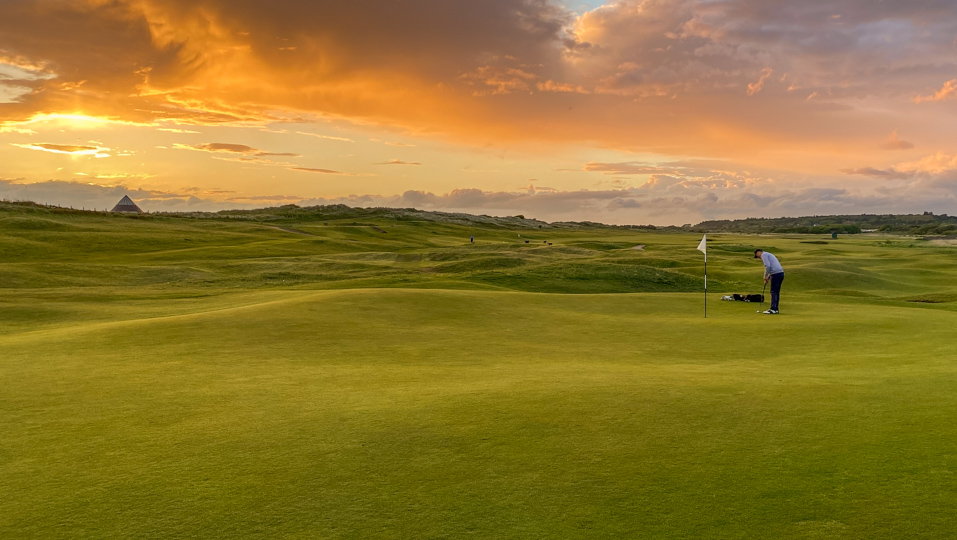 Where is Trump Turnberry?
We tried our best to get to Turnberry but to no avail… it doesn't dampen our spirits… it gives us an opportunity to go again! For more information on the evolution of the links and what to expect… read about Turnberry on its dedicated page.
Inspired by West Coast Golf – Scotland?
Contact SIGTOA to speak with local experts who specialize in bespoke Scottish Golf Tours.