Please login or register to add this content to a list.
Overview
Predominantly fescue and bent grasses with all 18 holes on sandy links land.
Fun golf which is designed to keep the golfer engaged.
Rish and reward is used masterfully. One-shot par fours and dual fairways are hallmarks.
Bunkers are both revetted and natural, blow out style.
Dumbarnie Links Videos
Watch Iona Stephen discuss the links with a course manager here
Opening Day on the links can be seen here
Before and after shots of the Front Nine can be seen here
Before and after shots of the Back Nine can be seen here
---
Golf Course Review
Dumbarnie Links opened to critical acclaim despite the COVID-19 pandemic of 2020. Despite the lack of American visitors filling the course as it was meant to be, locals were given the opportunity to enjoy the links in a providential twist of fate. Even without the tales of Fife's newest links being spun by deep-pocketed visitors, it has still become the newest must play in Fife alongside The Old Course and Kingsbarns. It lies directly opposite Muirfield and is ideally located for travel between Edinburgh and St Andrews.
Dumbarnie Links Architects
Click Clark, a famed English amateur and professional golfer, designed the course. A former design partner with Peter Alliss and perhaps better known for his designs stateside, he has built up an impressive portfolio of golf courses in American and Europe. Dumbarnie Links is a premier site that was founded, developed and designed by Clive himself with investment from several of his American friends. The course is part of The Bacarres Estate owned by Lord Balniel dating back the 16th century.
Dumbarnie Links Breakdown
The site itself is 345 acres with a mile and a half of sea frontage on the Firth of Forth. Dual elevations of the site allow for sea views on 14 of 18 holes. The course sports 5 sets of tees which allows play from 5296 yards to 6,900 yards. The Tournament Tee's stretch the course to a daunting 7620 yards! One hallmark of the design is the notion of risk and reward. There are three potentially driveable par fours and at least 3 holes which offer alternate routes to the hole if you're willing to take it on.
Dumbarnie Links is 2020's hottest golf course and will continue its rise to the top of the rankings, bucket lists, hearts and minds of golfers the world over.
Art & Photography
Purchase Dumbarnie Links photography here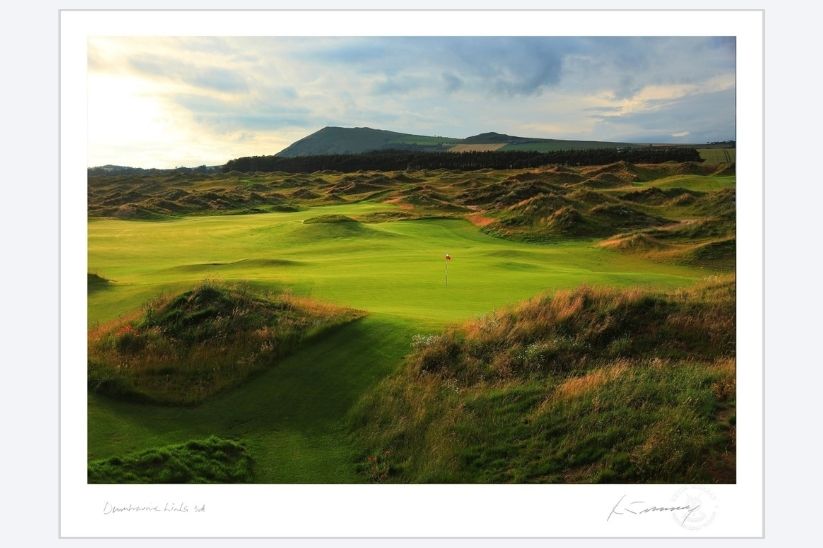 ---
Collections
This course features in these collections. Click an icon to view the entire set.
---
Visitor Information
Everything you need to know before you go!
---
Evalu18 Recommends
Everything you need to know before you go!
Stay:

Food & Drink:

Things To Do: