Architects:

Jim Engh Design
McIntosh Golf Design

Holes of Merit:

13, 17

NCG Rank:

78/100 in GB&I
Please login or register to add this content to a list.
Overview
Tom Doak says these are the largest dunes he has ever seen...
The local Belmullet Golf Club was founded in 1925 and was invited to be the resident club at Carne in 1992.
Carne Golf Links Videos
No Laying Up's visit to Carne Golf Links can be seen here
Watch Carne's promo video here
North & West Coast Links Golf video can be seen here
John Garrity's take on the course can be found here
---
Golf Course Review
Carne Golf Links lies on the edge of nowhere... well actually, it's in North Mayo, Ireland. While there is much talk about the Wild Atlantic Way, this definitely embodies the essence of that moniker. With views of the Atlantic and the islands of Inis Glóire and Inis Géidhe, there are 27 stunning holes on offer.
The Original Hackett Course
Eddie Hackett designed the original 18 holes known as the Hackett Course. This remote links would turn out to be his final design. The first nine opened in 1992, the second nine opened in 1993, and the clubhouse was completed in 1995.
The Kilmore & Dunes Course
Another 9 holes were added in 2013 and were known as The Kilmore 9. Recently, the nines were swapped with the back nine of the Hackett Course combined with the Kilmore 9 to produce the Dunes. The claim is this has created the largest dunes golf course in the world.
Carne Golf Links Photography
Buy epic photography of Carne Golf Links here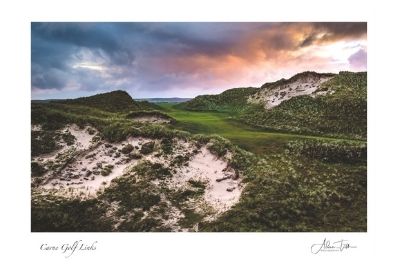 ---
Collections
This course features in these collections. Click an icon to view the entire set.
---
Visitor Information
Everything you need to know before you go!
---