Yelverton Golf Club

Overview
Dartmoor ponies share the common land course with golfers.
The land where the course sits was once owned by Sir Francis Drake.
Course Review

(Click to reveal)

Golf Course Review

Yelverton Golf Club is a moorland golf course on common land north of Plymouth in Devon, England. Adjacent to Dartmoor National Park, it is located in an Area of Outstanding Natural Beauty 600 feet above sea level.
Yelverton Golf Club History
Golf was first played in the vicinity in 1904 when the local vicar formed a club and invited Royal North Devon's professional, Charles Gibson, to lay out nine holes. Another nine holes were added not long after but all 18 fell into disrepair during WW1. In 1920, Herbert Fowler was invited to lay out a new course which is more or less what is played today at Yelverton Golf Club.
Herbert Fowler & James Braid's Contributions
Three of Herbert Fowler's original holes were abandoned after WW2 and replaced by three new holes by James Braid. The holes in question are the current closing stretch of 16, 17, and 18. Hence, Herbert Fowler is responsible for Holes 1-15 and James Braid, Holes 16-18 at Yelverton Golf Club.
There has been some question as to where the missing holes were from Herbert Fowler. If James Braid added three, where were Herbert Fowler's now missing three holes? Evalu18 has been able to confirm they were to the south of the golf course. Three holes, originally the 8th, 9th, and 10th played in a triangular routing south of the current 8th. In fact, Jasper Miners has been able to locate the green sites using an existing course map from 1924 and Lidar map data.
The green sites appear to be intact and offer a real opportunity to be restored. The routing from Fowler would have put a 415-yard par 4 as the 8th, a 362-yard par 4 as the 9th, and a 159-yard par 3 as the 10th. You would then play the 10th to the 15th as the finishing hole.
Of interest, James Braid built three new holes to replace three of Fowler's. It would appear not much was gained from their addition:
Fowler's 415-yard Par 4 was replaced with Braid's 421-yard Par 4.
Fowler's 9th 362-yard Par 4 was replaced with Braid's 378-yard Par 4
Fowler's 10th 159-yard Par 3 was replaced with Braid's 188-yard Par 3.
There is a compression of the holes from the twelfth home, not seen or felt on the other parts of the course. This also explains the walk from the 15th green to the 16th tee and the walk from the 16th green to the 17th tee both of which are longer than the others and are accessible around other architectural elements. For example, the 14th green from the 16th green to 17th tee.
Yelverton Golf Club Hallmarks
The outstanding architectural feature of Yelverton is Herbert Fowler and James Braid's use of old mine workings as 'natural' hazards.
Man-made features are also used. For example, Devonport Leat, built-in 1793 of granite to channel fresh drinking water to Plymouth, is in play as a hazard affecting play on holes 8, 9, 10, and 17.
Parallels to Herbert Fowler's Masterpiece
Peter Alliss said the golf on offer at Yelverton GC was equivalent to that on offer at Walton Heath. The parallels are seen immediately with the clubhouse and the first hole divorced from the rest of the course by a road. The first 12 holes make good use of the southern part of the site playing in seclusion from one another. The 13th to 18th holes are compressed on the northern part of the site with no two holes playing in the same direction.
Yelverton Golf Club Reviews
Read More
Yelverton Golf Club

- Videos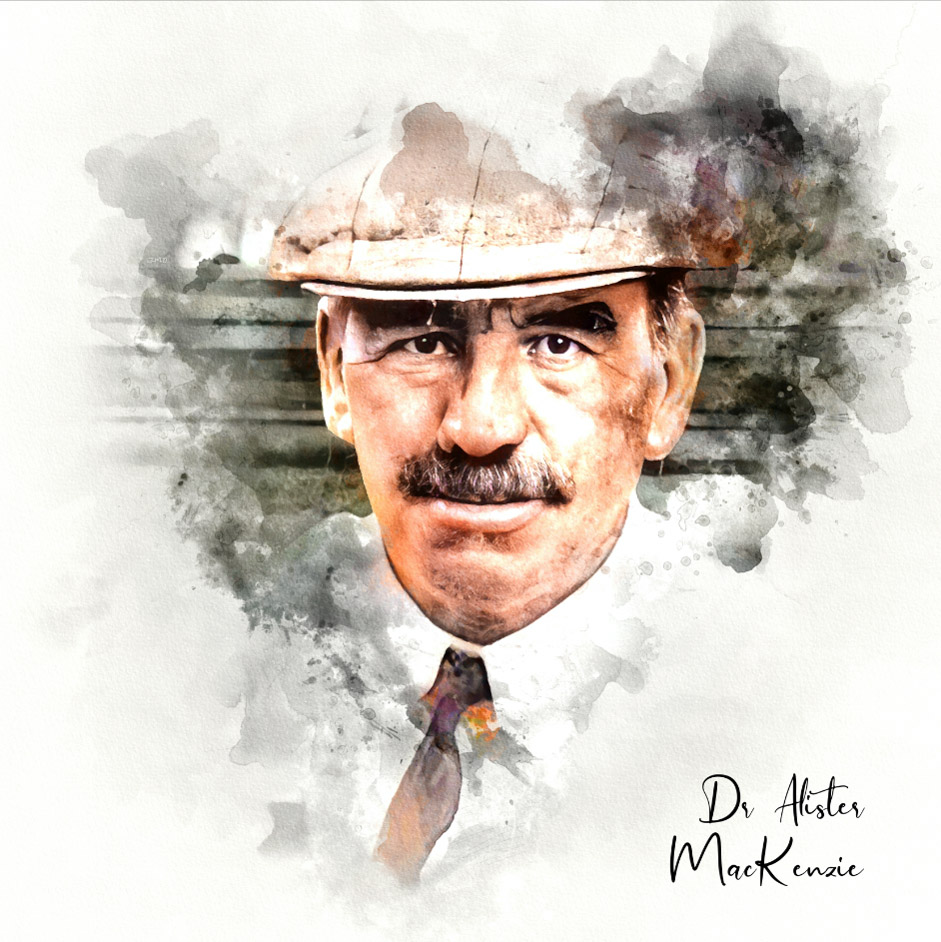 Featured Architect:
MacKenzie, Alister
As taken from his book, Golf Architecture, Alister MacKenzie felt the following were essential: The course, where possible, should be arranged in two loops of nine holes. There should be a large proportion of good two-shot holes and at least four one-shot holes. There should be little walking between...
View Profile