Shiskine Golf & Tennis Club

Isle of Arran, KA27 8HA, Scotland
Overview
Shiskine Golf & Tennis Club is a rare 12 hole golf course on the Isle of Arran. Once played, never forgotten!
Shiskine has become a cult classic among the 'woke' golfing crowd. With day trips available from the Ayrshire mainland, it is sure to be visited more by those looking for a golfing experience rather than ticking a box off their bucket list.
Course Review

(Click to reveal)

Golf Course Review

Shiskine Golf & Tennis Club on the Isle of Arran is best known for what it doesn't have… another six holes. However, when the 12 you do have are this good, you don't need anymore.
Shiskine Golf & Tennis Club History
Founded in 1896, the course has no less than 5 blind holes and even more quirk provided by two burns that cross the course. With a stunning location overlooking Kilbrannan Sound and the Mull of Kintyre, it has been called a ' topographical rollercoaster'.
Willie Fernie laid out the original 9 hole course. Holes 5 and 9 are the only two surviving holes from 1896. The 10th tee is in its original location and would have played to the current 1st green. These two elements would now constitute another original hole.
The original layout was extended to 18 in 1912. Two holes found during the extension are the Crow's Nest holes – the current 3rd and 4th. The 18-hole golf course lasted just 2 years before the Great War broke out. During the war, six holes were used to support food production to support the war effort. Following the war, the club simply carried on with 12!
Willie Park is responsible for the current 12-hole layout which was worked on from 1925 and eventually finalized in 1928.
The Members Only Loop
Visitors are only able to play the 12-hole layout with the 18-hole loop reserved for members only. If 18 holes are needed, the 12-hole layout is played followed by holes 1, 2, 9, 11, and 12. The other hole needed to arrive at 18 is a hybrid from the 3rd tee to the 4th green.
Shiskine Golf & Tennis Club Art
Read More
Shiskine Golf & Tennis Club

- Videos




watch hidden links review of shiskine golf club
Watch golfNV's excellent drone of shiskine golf club
See Erik Anders Lang's visit to shiskine golf club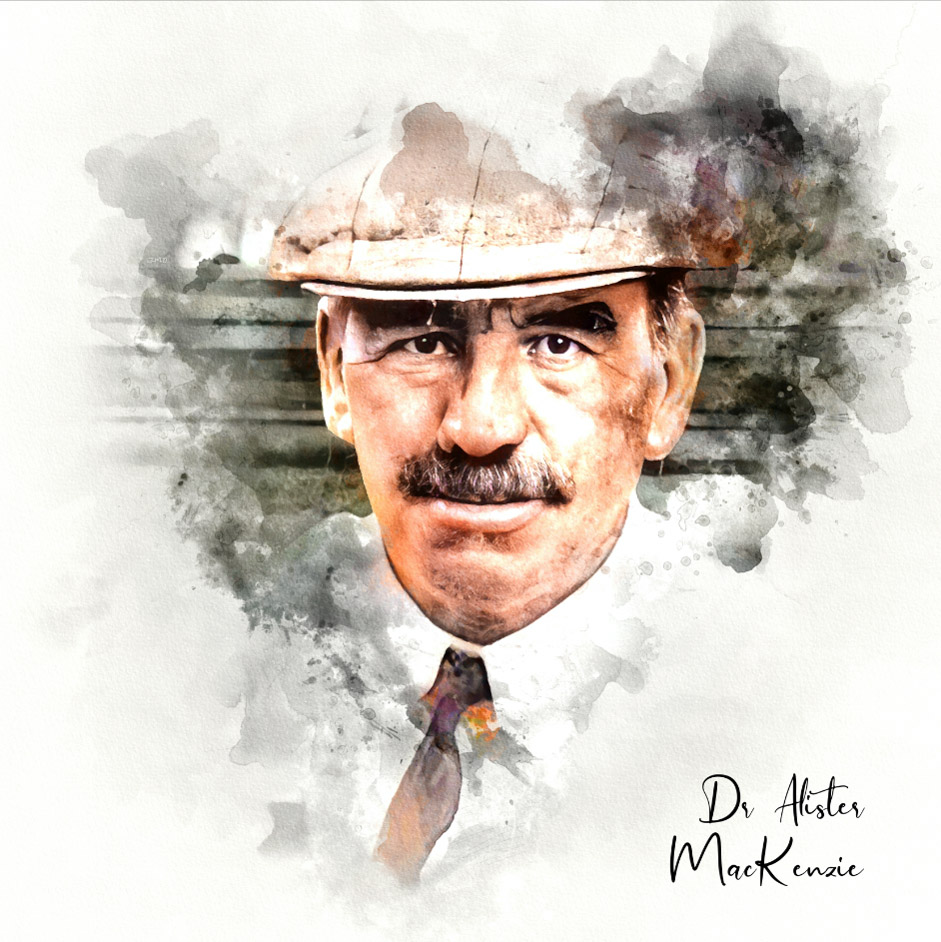 Featured Architect:
MacKenzie, Alister
As taken from his book, Golf Architecture, Alister MacKenzie felt the following were essential: The course, where possible, should be arranged in two loops of nine holes. There should be a large proportion of good two-shot holes and at least four one-shot holes. There should be little walking between...
View Profile