Prestbury Golf Club

Cheshire, SK10 4BJ, England
Overview
The course itself dates to a brief period when Harry Colt, CH Alison, and Dr. Alister MacKenzie were partners! Evalu18 has recently discovered a reference to the plans being drawn up by both Harry Colt and Alister MacKenzie.
Course Review

(Click to reveal)

Golf Course Review

Prestbury Golf Club is an 18 hole parkland golf course laid out over just 90-acres of hilly terrain. North of Macclesfield and south of Wilmslow, this Cheshire-based golf course is the epitome of a Hidden Gem.
Prestbury Golf Club – Colt & MacKenzie
In the Advertiser on May 7, 1920, it was reported that Harry Colt had inspected the land and felt it would be suitable for 18 holes. In any event, it appears construction began in earnest during the spring and summer of 1920 on Prestbury Golf Club.
Previously attributed solely to Harry Colt, it was reported on December 10, 1920, that the course had been designed to the plans of Mr. Harry S Colt and Dr MacKenzie. The impression of the project then? "Money is not being spared – over £6000 is mentioned as the cost of construction."
Prestbury Golf Club Synopsis
The Prestbury Golf Club is relatively short by modern standards and especially to have hosted Open Qualifying. With only three Par 5's barely breaking the 500-yard threshold, there is obviously more at play.
Four Par 3's are split evenly between the front and back nines which average 168 yards. The conclusion is: There must be some sturdy two-shot holes that provide the challenge! Numerous green sites with severe surroundings can quickly turn an innocuous par 4 into a card wrecker.
The 5th hole is a superb risk-reward half-par two-shot hole. This has the potential to be one of Harry Colt's most iconic holes… all the makings of it are here. The landforms are perfect for echelon bunkers and there are broad, bold faces for sitting them… only time will tell.
I also enjoyed the holes near the clubhouse from 7 through 10. These are also masterful in the architectural tool of compression and release. Prestbury Golf Club very, very clever.
Genius Routing
The routing is of note. In a traditional Harry Colt manner, the first holes take you from the clubhouse to the far boundary of the course. The course then tacks back on itself. The back nine is routed around the front nine in a U-shaped formation.
The triple green complex at Prestbury Golf Club is masterful. The three greens are in fact the 1st, 13th, and 17th. Usually, pinch points are headaches for golf courses but this is a highlight. With each green played from a different direction, there is little worry hitting into one another.
What you don't see at first glance is the 2nd, 6th, 14th, and 18th tees also make use of the same ground. Not too far away is another green site – that of the 5th! Pivoting on this central point allowed Colt to route the course into the west corner of the property and find three more holes.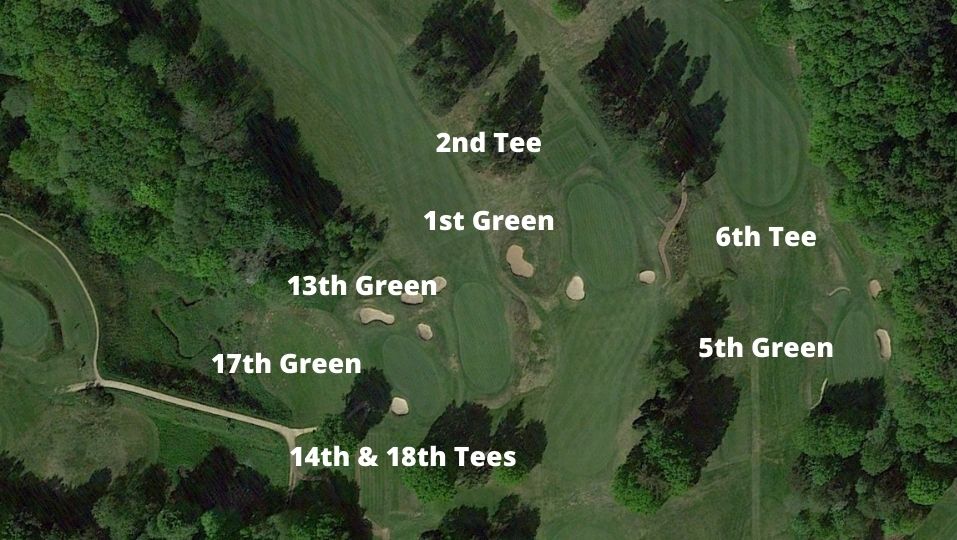 The length or depth of this property is used three times to generate yardage. Holes 1 and 2 (white lines) go from one extremity to the other and create 932 yards of golf. From the clubhouse, holes 9 and 11 (red lines) again go from one extremity to the other creating 951 yards of golf. 13 and 18 (yellow lines) get you from one end of the course and allow you to play a 4 hole loop mentioned earlier. They make up 844 more yards. Using the length of the property, Colt and MacKenzie found 6 holes that total 2727 yards or 43% of the scorecard. The corridor is then used to spur off of to access the corners of the property.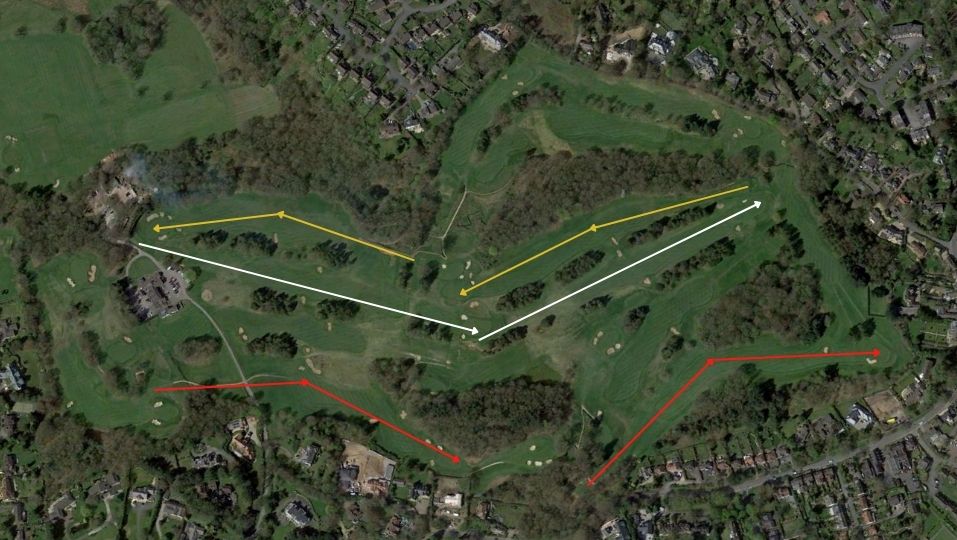 One Worry at Prestbury
The only criticism I can level is the use of tree planting to make the course safer. On a compact golf course, safety and liability are always going to be issues. One does wonder if seeing other golfers and respecting one another during play would achieve the same ends without losing the open heathland expanses that existed for so long… this course is in danger of making itself so safe through tree planting that Prestbury Golf Club becomes a parkland and eventually just a park.
Prestbury Golf Club Reviews
Read More
Prestbury Golf Club

- Videos




Watch prestbury golf club's promo video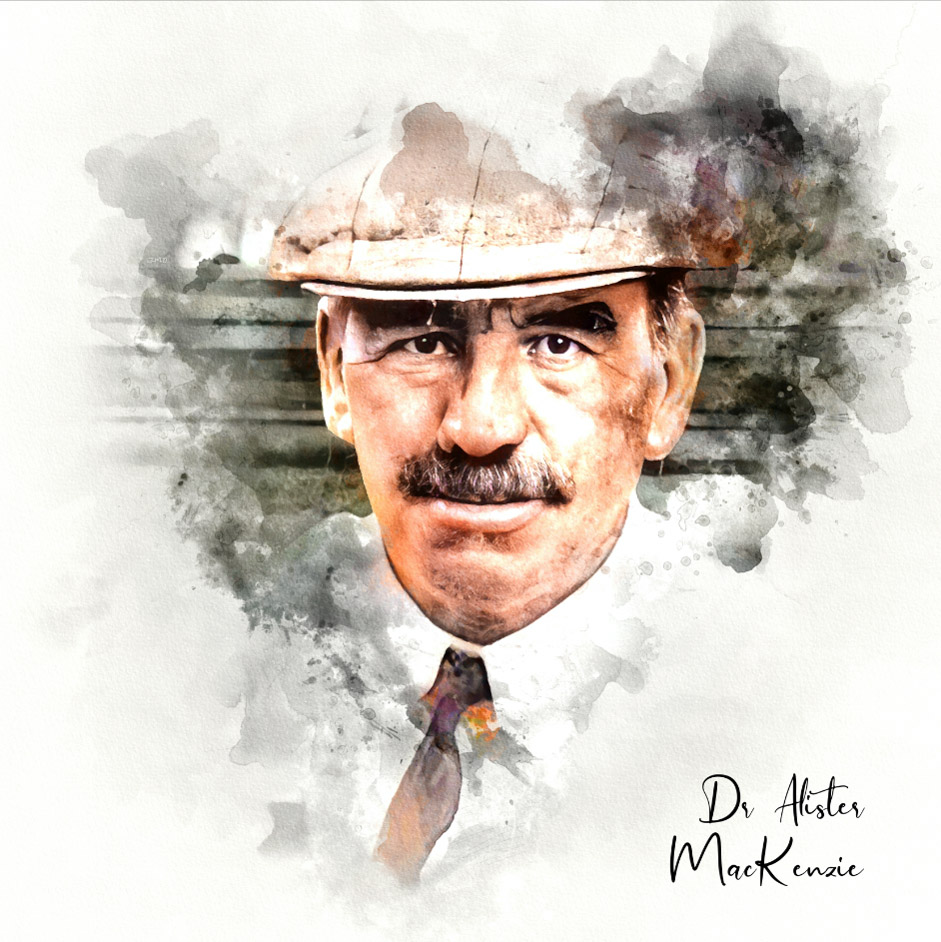 Featured Architect:
MacKenzie, Alister
As taken from his book, Golf Architecture, Alister MacKenzie felt the following were essential: The course, where possible, should be arranged in two loops of nine holes. There should be a large proportion of good two-shot holes and at least four one-shot holes. There should be little walking between...
View Profile