Hadley Wood Golf Club

Greater London, EN4 0JJ, England
Overview
It is one of the few genuine Alister MacKenzie designs in the vicinity of London!
Jasper's Lessons Learnt
What stands out here are the green sites. I've had the privilege to see and play Dr Alister Mackenzie's work at Augusta, Cypress Point, Pasatiempo, and Royal Melbourne. Additionally, in the UK, I can add Alwoodley, Moortown, and Cavendish to that list. These were the first greens I've seen anywhere in the UK that were reminiscent of the original set of MacKenzie greens at Pasatiempo. The 7th green and 12th greens are worth a visit to see and experience.
The routing is a bit awkward in places (9th and 10th transition) but even Mackenzie's original layout had a bit of walk between the 8th and 9th holes. The closing stretch from 14 to 18 are superb with characteristic MacKenzie holes routed over large rolling land forms.
Course Review

(Click to reveal)

Golf Course Review

Hadley Wood Golf Club is an Alister MacKenzie-designed parkland golf course that lies just 30 minutes from central London. Located in the London Borough of Enfield, the course from 1922 is found on the former Beech Hill Park.
Alister MacKenzie at Hadley Wood Golf Club
Hadley Wood officially opened for play on May 27, 1922. Golf Illustrated reported that 'the eminent architect' Dr. MacKenzie was responsible and Claude Harris of Harris, Franks & Co of Guildford, Surrey, was the contractor.
Opening Day
The club opened with a morning match between Ray & Vardon vs Duncan & Smith. Duncan & Smith defeated their opponents 7 & 5 before lunching in the 'handsome clubhouse.'  In the afternoon, the four professionals played stroke play in order to set the professional record. Harry Vardon set the bar with a 71. The bogey score was 78 with the golf course measuring 6539 yards.
Alister Mackenzie Content at Hadley Wood
There are quite a number of original holes and green sites left untouched at Hadley Wood. The 1st, 2nd, 5th, 7th, 8th, 9th, 11th, 12th, 14th, 15th, 16th, 17th, and 18th. That means 13 of 18 are from what many would consider the greatest golf course architect of all time. The club centenary claims there are no new greens but a few have been added (
Clyde Johnson & Cunnin' Golf
Clyde Johnson's bunker work on the 2nd and 9th is superb. If you want to see what the difference is between design and shape and architect/ contractor build, look at the back right bunker on the tee of 2 and then view it green side. Do it again on the 9th with the back left bunker. You can only get that level of finesse and detail with an architect shaper who isn't working off drawings and spends as much time walking back to see what it looks like as he does making it. I cannot wait to see what he could do with holes 7, 15, 16 and 17…
Current Course Hadley Wood Golf Club
Uncongested, Hadley Wood lies on an expansive 265-acre estate adorned with lakes with mature trees. Featuring plateau greens and strategic bunkering, the course measures a modest 6,517 yards from the back tees and features four Par 3's and four Par 5's. Perhaps this is one of the few clubs that has lost distance since opening!
Hadley Wood also has a reputation for its superb conditioning. It boasts all the modern amenities, driving range, and practice facilities you could want along with a stunning clubhouse. With all that club has going for it, it seems strange that it is not better known…
Read More
Hadley Wood Golf Club

- Videos




WATCH THE HADLEY WOOD GOLF CLUB PROMO VIDEO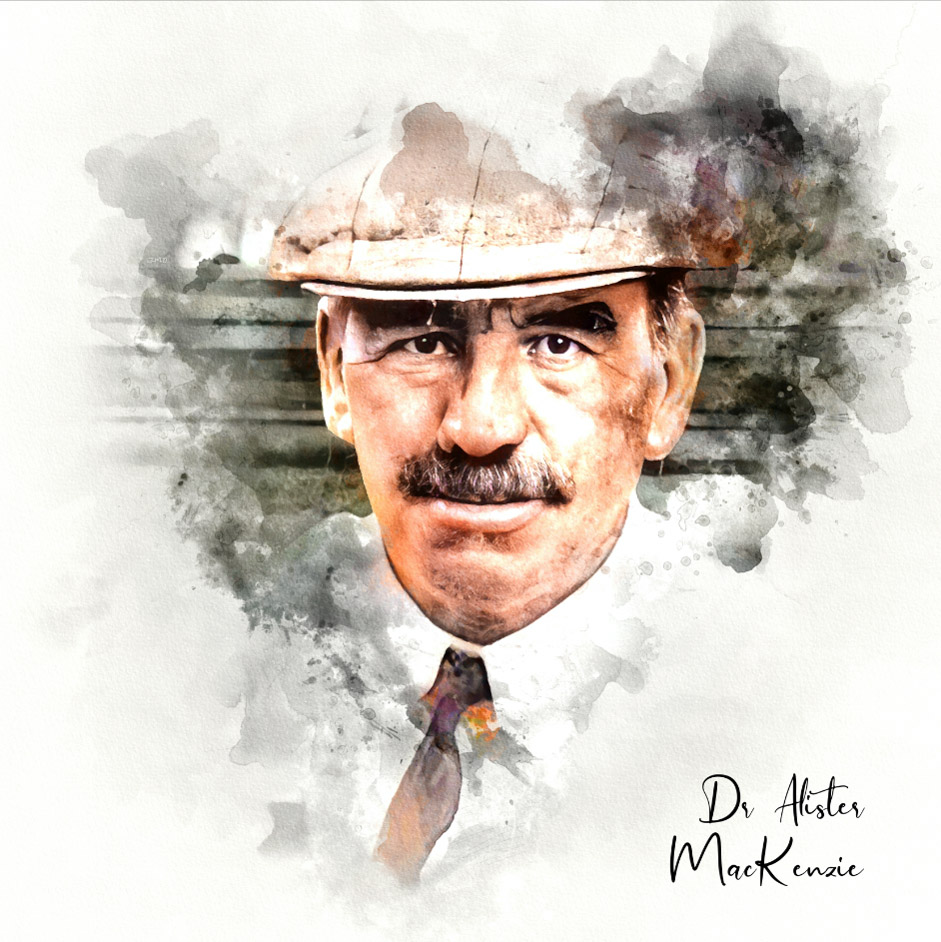 Featured Architect:
MacKenzie, Alister
As taken from his book, Golf Architecture, Alister MacKenzie felt the following were essential: The course, where possible, should be arranged in two loops of nine holes. There should be a large proportion of good two-shot holes and at least four one-shot holes. There should be little walking between...
View Profile