gWest International Resort

Perth & Kinross, Scotland
Overview
gWest is a modern heathland which literally only a handful of people have played...
Course Review

(Click to reveal)

Golf Course Review

gWest, located next to Gleneagles, is Scotland's best-kept golfing secret. The David McLay Kidd design is hidden in plain sight. The 620-acre site promises to become a private gated community with a clubhouse, hotel, dining, spa, and leisure facilities to match the calibre of the course. The views from the course are of the Ochil Hills, Ben Vorlish in Loch Lomond as well as the Trossachs National Park. When finally developed, the family says the estate could have another couple of golf courses and hotels.
gWest
The course is laid out with two loops of nine beginning and ending at the clubhouse with 5 tees on every hole. The clubhouse has taken inspiration from the 17th-century Scottish architect, Colen Campbell. The practice facility measures 280 yards in length, has target greens and a short game facility that has been created to simulate the shots you will find on the course.
The course was designed, built, and maintained but is never played by members of the public. Lee Strutt, who managed the grow-in of the course, describes it as one of the best golf courses he has ever seen. He has worked at RAC and recently managed the estate at Les Bordes. A handful of personal acquaintances have played the course and they echo similar comments. The owner himself, in 2020, admitted to only playing the course 20-30 times since the course was ready to play in 2009.
It was rumored that this is the land Gleneagles wanted when they built the PGA Centenary. They were told no and settled on the land adjacent to the King's. Later, the land they coveted became available but a fourth course at the resort wasn't then a viable option.
Scorecard
Hole 1 – Par 4 – 455 Yards – a gentle opener
Hole 2 – Par 4 – 362 Yards – risk/ reward par 4
Hole 3 – Par 5 – 582 Yards – downhill dogleg par 5
Hole 4 – Par 3 – 234 Yards – uphill with OB!
Hole 5 – Par 4 – 424 Yards – strategic downhill par 4
Hole 6 – Par 4 – 396 Yards – short and tough into the prevailing wind
Hole 7 – Par 5 – 576 Yards – left to right dogleg
Hole 8 – Par 3 – 195 Yards – punchbowl par 3
Hole 9 – Par 4 – 453 Yards – a slight dogleg left to right
Out – Par 36 – 3,677 Yards
Hole 10 – Par 4 – 397 Yards – a dogleg left to right
Hole 11 – Par 5 – 516 Yards – two-shot par 5 for the bold
Hole 12 – Par 4 – 424 Yards – tricky dogleg right to left
Hole 13 – Par 3 – 219 Yards – one-shot hole over water
Hole 14 – Par 4 – 462 Yards – long two-shot hole
Hole 15 – Par 4 – 472 Yards – left to right dogleg
Hole 16 – Par 4 – 397 Yards – right to left dogleg with elevated green
Hole 17 – Par 3 – 199 Yards – aim away from the target to feed the ball in using the ground
Hole 18 – Par 5 – 556 Yards – downwind three-shot hole
In – Par 36 – 3,642 Yards
Total – Par 72 – 7,319 Yards
Despite being a 'Championship' Test the course can also be played from the Red tees at just over 5,233 yards. There are an additional 3 sets of tees that accommodate every player on any occasion.
gWest Summary
Despite work beginning more than a decade ago and the course being fully mature, there are no options for play… There are no members or visitors. Evalu18 is acquainted with some of the privileged few who have walked the fairways and played the course. Conversant in high-end golf course architecture and heavily involved in the industry, they feel the course, once opened, will rival those on offer next door and any inland course south of the border in England!
Read More
gWest International Resort

- Videos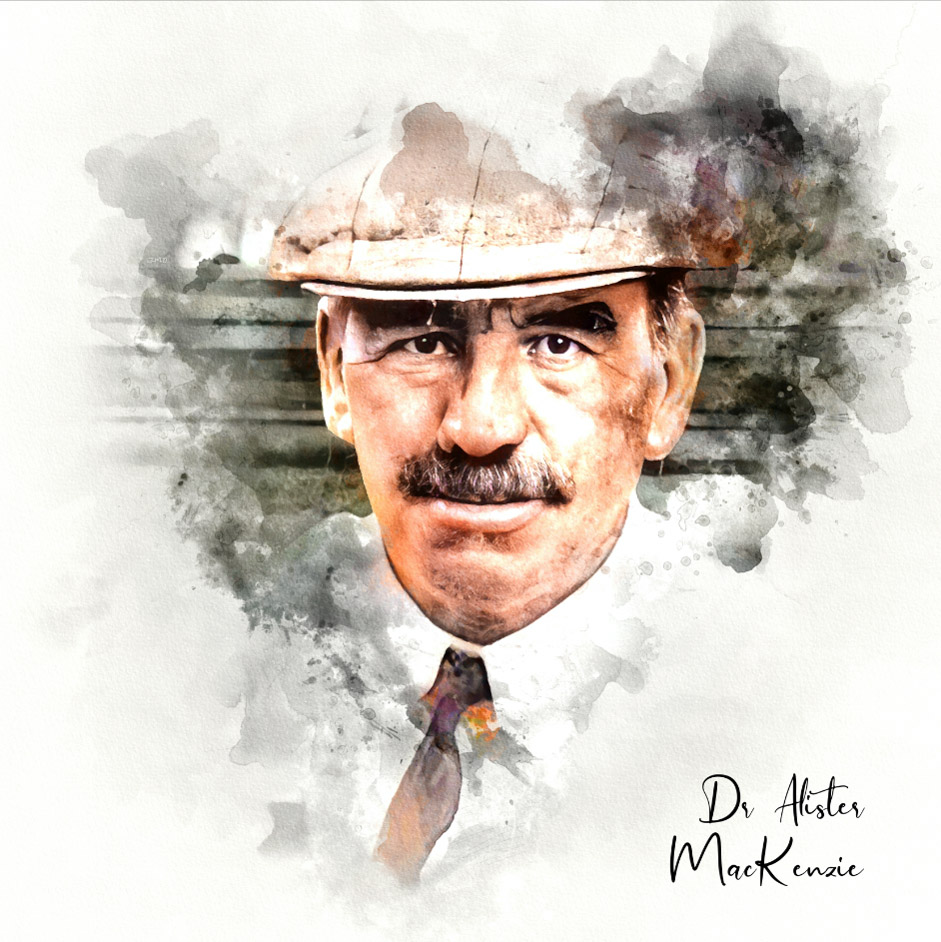 Featured Architect:
MacKenzie, Alister
As taken from his book, Golf Architecture, Alister MacKenzie felt the following were essential: The course, where possible, should be arranged in two loops of nine holes. There should be a large proportion of good two-shot holes and at least four one-shot holes. There should be little walking between...
View Profile