Dumbarnie Links

Overview
Predominantly fescue and bent grasses with all 18 holes on sandy links land.
Fun golf designed to keep the golfer engaged.
Risk and reward are used masterfully. One-shot par fours and dual fairways are hallmarks.
Bunkers are both revetted and natural, blow-out style.
Course Review

(Click to reveal)

Golf Course Review

Dumbarnie Links opened to critical acclaim despite the COVID-19 pandemic of 2020. Despite the lack of American visitors filling the course as it was meant to be, locals were given the opportunity to enjoy the links in a providential twist of fate. Even without the tales of Fife's newest links being spun by deep-pocketed visitors, it has still become the newest must-play in Fife alongside The Old Course and Kingsbarns. It lies directly opposite Muirfield and is ideally located for travel between Edinburgh and St Andrews.
Dumbarnie Links Architects
Click Clark, a professional golfer and Ryder Cup participant, designed the course. A former design partner with Peter Alliss, and perhaps better known for his designs stateside, he has built up an impressive portfolio of golf courses in America and Europe. Two of his designs have been the number 1 golf course in both Maine and New Hampshire.
Dumbarnie Links is a premier site that was founded, developed, and designed by Clive himself with investment from several of his American friends. The course is part of the 5000-acre Bacarres Estate owned by Lord Balniel dating back to the 16th century.
Dumbarnie Links Breakdown
The site itself is 345 acres with a mile and a half of sea frontage on the Firth of Forth. Dual elevations of the site allow for sea views on 14 of 18 holes. The course sports 5 sets of tees which allows play from 5296 yards to 6,900 yards. The Tournament Tee's stretch the course to a daunting 7620 yards!
One hallmark of the design is the notion of risk and reward. There are three potentially driveable par fours and at least 3 holes that offer alternate routes to the hole if you're willing to take it on.
Dumbarnie Links is 2020's hottest golf course and will continue its rise to the top of the rankings, bucket lists, hearts, and minds of golfers the world over.
Golf Architecture Summary
Traditional Scottish fixtures are used on numerous holes to great effect:
Burns come into play on the 1st, 2nd, 4th, 7th, 8th, 14th, and 18th.
"Lochs" of sorts comes into play strategically on the 10th and 15th.
A dry stone wall affects play on the 17th.
More 'modern' architectural features are also included:
Split fairways with risk & reward alternative routes are seen on the 5th and 15th.
George C Thomas-esque island fairways on the 1st, 2nd, 10th, 13th, and 17th.
Centreline bunkers are found on the 3rd, 9th, and 17th.
Points to note:
The two loops make an almost figure eight below the clubhouse, returning to it only on the 18th. You play towards and away from the Forth rather than out and back
The climbs from the coastal holes on the 7th and 17th are done impressively.
Revetted bunkers, naturalised bunkers, waste areas, and marshlands all provide variety.
There are four par 3's and in them, they ask all the right questions. The 6th requires a mid-iron draw. The 8th requires a controlled short iron. The 13th asks you to hit a straight long iron and the 16th could ask you for any of those shots or more depending on the pin position.
The par 5's are all of a proper three-shot length. The Black tees measure 512, 542, 543, and 574 yards respectively. When played from the Tournament Tees, they jump to an eye-watering 569, 546, 608, and 603 yards! The 7th, 13th, and 15th all given options for getting home in two is you're bold enough and have the skill to hit two perfect shots.
Dumbarnie Links is full of character and is a joy to play. Played from the appropriate tees it is hard not to smile the whole way around.
It contrasts with the elegant and classic links so often found in Scotland. Seen as competition to Kingsbarns, it will cater perfectly to the overseas visitor or American-centric palette. I would call it 'gateway' links golf. By that I mean it has enough links to make it authentic but it also incorporates the need for an aerial approach and shot placement. Perhaps the best way to think of it is target links golf.
As of late 2021, the course was still maturing. The sand and dunes still bore the signs of their creation but this is temporary as the wind and grass will eventually soften this and it shows all the signs of bedding in nicely. The dune-scape needed to be manufactured and it does contrast with the immediate surroundings – farmland to the west and marshlands to the east. This contrast will no doubt soften and as it matures, it will only get better.
Conclusion
Dumbarnie Links is the perfect product and addition for a first-time overseas visitor to The Home of Golf. There are no weak holes and the only critique you can level against it is it 'feels' new – which it is. It's not rugged and pure like Brora – nor is it trying to be. It's not old-world elegant like Muirfield – but it wasn't supposed to be. This is a flash links with all the right curves in all the right places to woo overseas visitors… that is what it was designed to be and on that level, I don't think there is any better. They knew the brief and executed it perfectly at Dumbarnie Links.
Dumbarnie Links Photography
Read More
Dumbarnie Links

- Videos




Dumbarnie Links Drone Video
Iona Stephens Visits Dumbarnie Links
Watch Dumbarnie Links Promo Video
Watch Kimber Glen's Story of Holes 1-9
Watch Kimber Glen's Story of Holes 10-18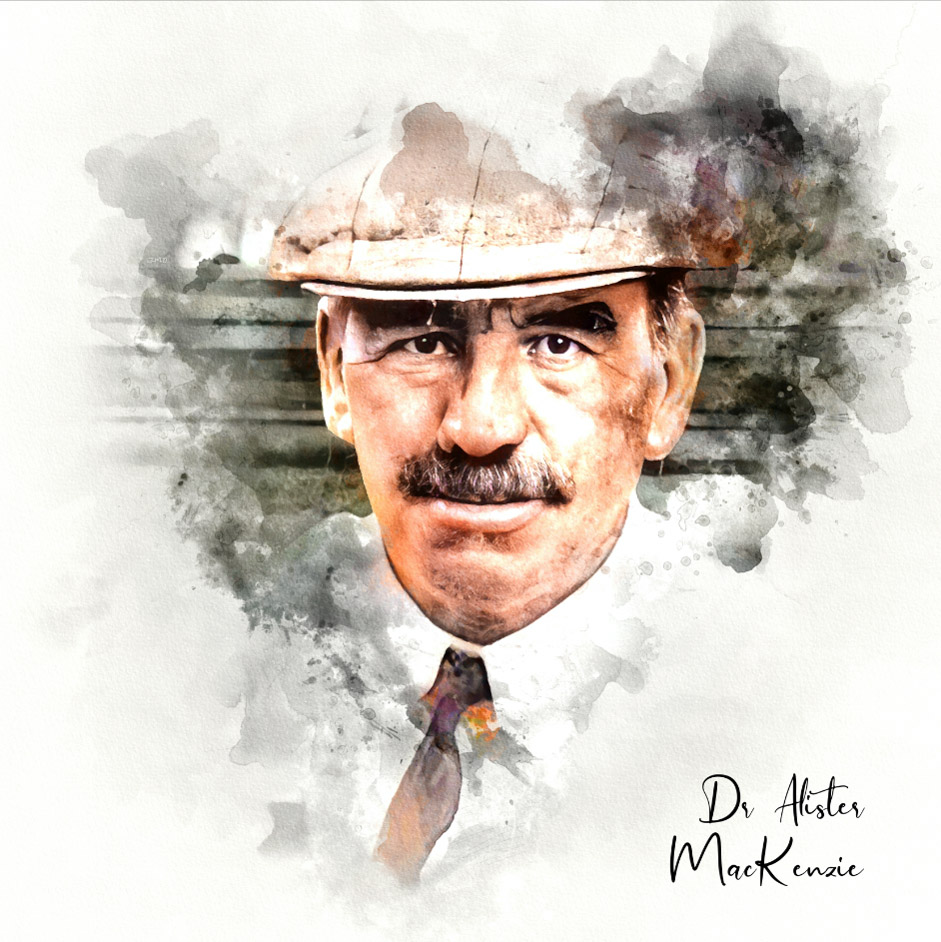 Featured Architect:
MacKenzie, Alister
As taken from his book, Golf Architecture, Alister MacKenzie felt the following were essential: The course, where possible, should be arranged in two loops of nine holes. There should be a large proportion of good two-shot holes and at least four one-shot holes. There should be little walking between...
View Profile