Camberley Heath Golf Club

Surrey, GU15 1JG, England
Overview
Frank Pennink called Camberley Heath Golf Club one of the best courses in the Surrey, Berkshire, and Hampshire neighborhoods.
Frank Pont has been brought on as consulting golf course architect to ensure the course maintains its original character and is true to its Harry Colt heritage.
George Waters, noted American Superintendant, has consulted on the bunkers at Camberley Heath Golf Club.
Course Review

(Click to reveal)

Golf Course Review

Camberley Heath Golf Club is a town in Surrey, England close to both Hampshire and Berkshire. Lying just south of the M3, the Camberley Heath golf course has been surrounded by residential housing but still retains a secluded character about it. It is the home of army golf with the Generals and Admirals playing matches against one another in the 1920s. In more recent times, Camberley Heath Golf Club has hosted both the Lagonda Trophy and Regional Qualifying for The Open.
Harry Colt & FG Waterer at Camberley Heath
Camberley Heath Golf Club is found on sandy, undulating heathland adorned with heather, gorse, bracken, and pines. Opened for play in 1913, the club was officially opened on January 1, 1914. Although it was laid out by none other than Harry Colt, Mr. FG Waterer completed construction and courageously made several alterations when Mr. Harry Colt left for America.
Tom Simpson & Camberley Heath Golf Club
Of interest, Tom Simpson also includes it in his list of golf courses. It wouldn't have been the first time he claimed associates work as his own. However, the publication was dated prior to Harry Colt's death so the conclusion was he must have had a share to some degree.
Jasper Miners, of Evalu18, was able to recently ascertain what Tom Simpson was indeed responsible for at Camberley Heath Golf Club. In 1936, Tom Simpson, along with Miss Molly Gourlay, made alterations to the 1st, 9th, and 18th holes. The reports were glowing with adulations and praise being heaped upon Simpson – being called 'truly brilliant and a 'great artist.'
The Harry Colt then Tom Simpson work is interesting as it mirrors a similar direction taken by Sunningdale at about the same time. Tom Simpson was brought in to sort out some of Harry Colt's work that had not been looked upon favorably on the New course. Perhaps Colt enhancing Park Jr's routing was in some way not too dissimilar to Simpson enhancing Colt's…?
Tom Simpson's 1st Hole
On the first, Tom Simpson, the hole's length was left at 468 yards (curiously 67 yards longer than its current iteration). It appears there were no bunkers originally in the fairway or at the green. Simpson placed a bunker on the left side of the fairway 230 yards from the tee. Finding the right edge of that bunker allowed one to play into the green at the correct angle. Playing away from the fairway bunker brought a new right greenside bunker into play. This is Tom Simpson's strategic minimalism at its' finest.
Tom Simpson's 9th Hole
No length was added on the 9th but it measured 500 yards in 1936. Playing as a three-shot hole, it could be reached with two superb shots. Tom Simpson took a page from Harry Colt's playbook and introduced an echelon bunker near the green. It was said Simpson's changes turned a 'space annihilator' into a 'fine golfing hole.'
Tom Simpson's 18th Hole
It would appear Harry Colt's original 18th was a two-shot hole with a blind approach. Simpson appears to have rebuilt the green to include an upper and lower tier. The idea was to cover the heather-clad hill to allow an approach to the green from below. The overall impression given by the review by Brer Rabbit in Golf Illustrated was that it was nothing less than triumphant. The green on the home hole was condemned, however, being labeled 'hopelessly fantastic' and 'irritatingly fluky.'  The conclusion: '…dig it up and remold it.' Sadly, the green was eventually relaid with significantly less punch.
Tom Simpson had the innate ability to overlay his genius on the work of masters who came before him with dramatic results.
Camberley Heath's Unique Routing
Camberley Heath Golf Club is routed on two parcels of land with a sliver linking the two. Holes 1 to 3 and Holes 13 to 18 holes are found on one parcel of land. Holes 5 through 11 are found on a separate parcel of land to the north. The two sets of holes are linked by the two-shot 4th hole out and the two-shot 12th hole in. The same solution was also repeated in the modern-day at Centurion where two one-shot holes were used to connect two parcels of land. When opened for play, the course measured 6365 yards. The course measures 6400 yards and plays to a Par of 71.
Camberley Heath Golf Club Reviews
Read More
Camberley Heath Golf Club

- Videos




See Golfing World's Video of Camberley Heath GC
See Camberley Heath's Promo Video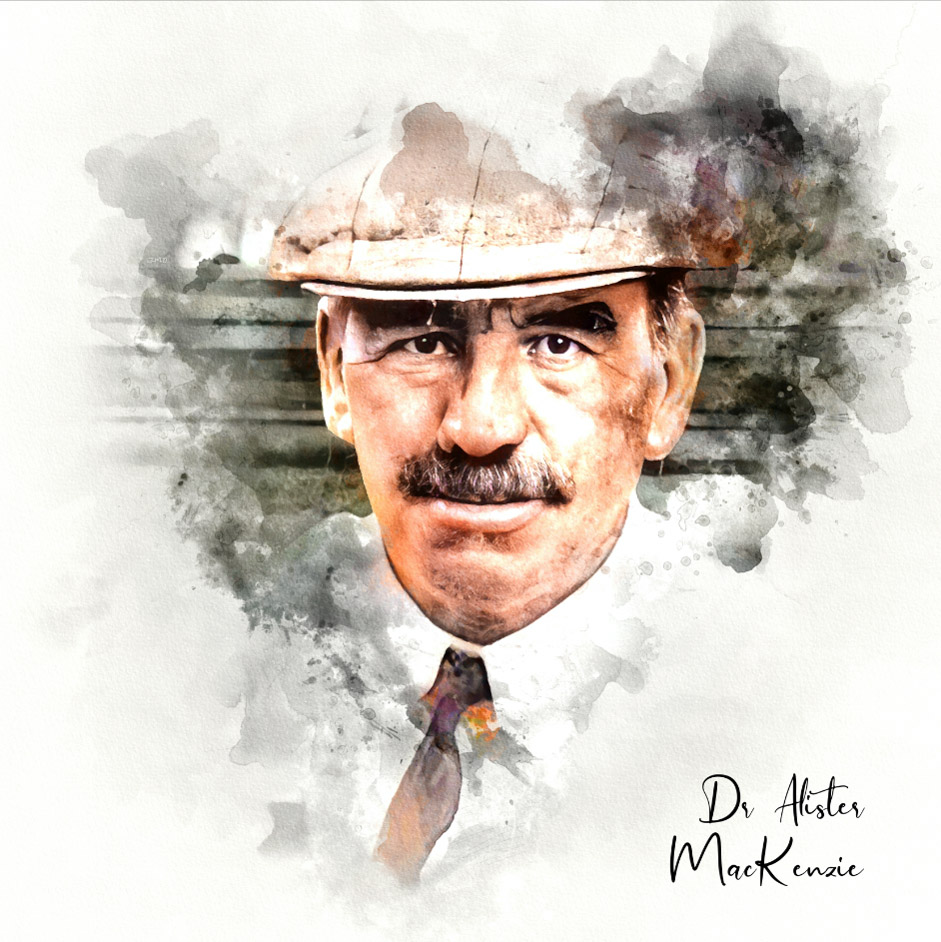 Featured Architect:
MacKenzie, Alister
As taken from his book, Golf Architecture, Alister MacKenzie felt the following were essential: The course, where possible, should be arranged in two loops of nine holes. There should be a large proportion of good two-shot holes and at least four one-shot holes. There should be little walking between...
View Profile