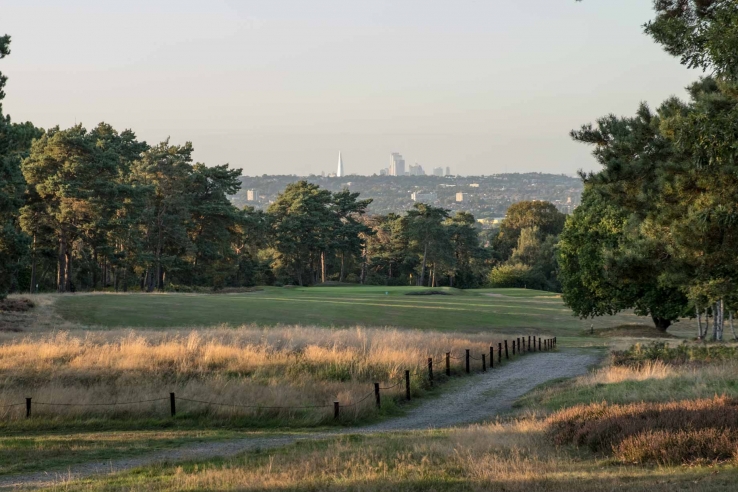 Evalu18
Biography
Golf Architect JF Abercromby (John Fredrick or Aber) was a stockbrokers clerk as well as an accomplished player based in London. It was reported that his short game was uncommonly good. (The Bystander 8 May 1907)
Due to his association with wealthy financier's, Aber was given the opportunity to lay out a course to rival Sunningdale, Walton Heath and Woking. Aber's first design became Worplesdon in 1908, but by no means was it done solo. Willie Park Jr., Open Champion and architect of Sunningdale Old, along with Jack White, Open Champion and Sunningdale's professional, were both on hand to guide Aber. At Worplesdon, Park Jr claimed credit for greens and bunkers. 
Good Work Earns More Work
The result was so successful it won him more work at Coombe Hill in 1909. The roles at Coombe Hill, however, were switched. Willie Park Jr claimed credit for the planning of the course as opposed to greens and bunkers. The two sites differ tremendously and at Coombe Hill, Abercromby acquired the skill of routing holes on a multitude of slopes and undulations. Despite work being starting in 1914, due to WW1, The Addington was completed and open for play in 1919.
Post War Projects
Following this, Bleakdown Golf Club, which had been virtually lost with over 100 acres being sown during the Great War, became the next project for the eminent architect. The course was redeveloped and opened in December 1922 as West Byfleet Golf Club. It was reported that Aber had lengthened and reorganised the course.
1923
In the summer of 1923, JF Abercromby and A Croome teamed up with Herbert Fowler and Tom Simpson to create the design firm Fowler, Abercromby, Simpson and Croome. (The Scotsman 6 July 1923) In 1923, Aber laid out his defining work. The Addington New opened for play on October 7, 1923. The course was located opposite The Addington (Old).
1924
In 1924, Knole Park was added to his legacy. Of interest, Tom Simpson claims Knole Park as his own and the original course map is of his making. At best, it would appear Knole Park was an Abercromby & Simpson collaboration.
During this time, JF Abercromby had also undertaken a course on the continent named The Hague Clingendael. It was opened for play on May 24, 1924, and subsequently completely destroyed by the invading Germans in 1943.
1927
Every architect has projects which never come to fruition. Pine Hills Golf Club was pitched as an ultra-exclusive, members-only club in Croydon for the wealthy and elite. The premise behind the project was the fact that no member should ever have to wait for the tee. The land was purchased, members signed up and then it appears it never went past planning. No satisfactory explanation has been found as to why the project didn't succeed. One reporter did write that Mr Abercromby had purchased large amounts of land in the area on the cheap and subsequently sold it on for a handsome profit a few years later. Perhaps it always was a speculative venture?
1928
Mote Mount Golf Club, now known as Mill Hill Golf Club, was built and opened for play in 1928. There were some claims of construction mismanagement and when brought to trial Aber and the firm of Fowler, Abercromby, Simpson and Croome were completely exonerated. Mill Hill GC has some Abercromby left with at least 3 holes hidden under overgrowth which were abandoned in the mid 20th century. 
1930
In 1930, Abercromby was hired to design Manor Golf Club on behalf of the Great Western Railway. The course is now known as Bovey Castle. Such was the confidence in Aber that Bovey Castle was designed to be the southern rival to both Turnberry and Gleneagles!
1934
It was reported by Henry Longhurst in The Tatler that JF Abercromby had proposed changes to the course on the 5th and 6th holes. It appears that despite his public plans, the committee decided to not implement them.
Golf's Greatest Loss?
Thought to be Abercromby's crowning achievement, Addington New was requisitioned for the war effort during WW2. In 1944, Croydon Council applied for the compulsory purchase of the land which was eventually sold in 1948.
Scattered Remains
In 1922, Aber did some work at Gog Magog Old Course in 1922 but the work was insignificant according to the available information.
Claims of Aber Heritage
Cowdray Park is another course attributed to Abercromby and Fowler, but it is disputed in a few circles and no affirmative evidence has yet been found. The club historian was unable to find any evidence of Aber's involvement but did confirm an early connection to Jack White and followed by Fowler and Simpson. Tom Simpson claimed Cowdray Park GC for Viscount Cowdray as his own.
Liphook has also been attributed to A Croome & JF Abercromby. Whilst it is true they joined the firm of Fowler and Simpson at the same time as announced in 1923, Liphook opened for play in 1922. The newspapers reported Croome as the architect and only recorded Aber's impression of the course. It would appear a close relationship existed between the two men prior to their involvement with Fowler and Simpson. We are also left in no doubt as to Simpson's and Croome's close relationship due to their contributions to West Sussex.
West Kent GC has also been attributed to Aber. The original West Kent course was a Fowler and Simpson design that opened in 1916 at Bickley. The West Kent's original course was requisitioned by the War Ministry in 1939. The club then moved to the Bromley & Bickley Golf Club on Magpie Lane for the duration of the war after B&B GC fell into liquidation. The remnants of Bromley & Bickley GC remain as Bromley GC. Following WW2, West Kent GC moved to its current site which was formerly Downe Golf Club. The course became known as West Kent but originally was named the Downe Golf Club. West Kent GC has moved three times. The current location was known as Downe Golf Course and is purported to be the Abercoromby design. 
Aber's Legacy
In 1928, Alister MacKenzie acknowledged Abercromby as the architect of The Addington, Worplesdon and Coombe Hill and added he was 'perhaps the most successful of British golf course architects.'
"Although not as well known as the other Golden Age architects, he was every bit as good," says Mr Donald Steel in an email to Evalu18 regarding his restorative work done at Bovey Castle in Dartmoor. He was not prolific, but the work he did and the company he kept leaves no doubt of his rightful place among the most respected Golden Age architects.
Tutored by Willie Park Jr and a contemporary of Herbert Fowler and Tom Simpson, JF Abercromby is an underrated architect. He was not prolific,  and much of his work goes unnoticed by the uninitiated, and they are poorer for it.
A Closer Look
We wish to thank a friend of Evalu18, Keith Cutten, who has kindly provided some of the material for this short biography of JF Abercromby. For a more detailed account, you can find his book by clicking here.
---
Architectural Hallmarks
Quality and quantity of JF Abercromby 's one-shot holes. Some designs feature as many as 6. Despite the general assumption that Fowler introduced the 6x6x6 design ethos of 6 one shot, two shot and three-shot holes, Aber did it originally.... twice!
5 astute observations were commented on in the September 2008 edition of Through the Green by Peter Freeman.
One-shot holes are the most memorable and are the core of his layouts.
Sparing use of bunkering or none at all.
Subtle movement in his green complexes.
Ravines, trees and existing hazards used to add strategic value.
Often almost equal use of one, two and three-shot holes.
In his approach to design, he didn't sketch holes nor measure distance. Work was done on-site, in the dirt, by feel and by eye.
Geoffrey Cornish in his book, The Architects of Golf, writes regarding JF Abercromby: "Contemporary critics felt he made the most natural-looking hazards of any architect of the day and some considered him the finest British designer of the era before WW1."
---
Portfolio