The Modern Golf Art Revolution
Evalu18's journey to uncover and discover the greatest and most architecturally rich golf courses in the UK & Ireland has brought us into contact with many like-minded people. Modern golf art connoisseur, talented artist and life-long Hoylake member, Joe McDonnell is one of them – and his journey has become part of ours.
St Andrews Old Course WaterMap
One of the first architectural research projects Evalu18 undertook, was an in-depth study of the Old Course – nothing like aiming for the sky! The purpose? To share every last detail that had been forgotten over time.  After months of reading, research and assistance from Old Course experts such as Scott McPherson, we were feeling pretty good about the whole thing and wrote an in-depth review, but we felt it warranted something more.
We'd connected with Joe on social media and could clearly see that he had an ability to visualise courses in a way we'd never seen before. Merging our research with Joe's creativity, we decide to make a map with all the named bunkers and other features 'called-out' whilst giving a 'nod' to the original 1924 Alister MacKenzie map. And so it began.
The St Andrews Old Course 'WaterMap' has been met with acclaim, with the ultimate acknowledgement coming from St Andrews Links Trust, with whom this original map is now under licence. Since then, other clubs and their dedicated members in the UK, Ireland, USA and across the globe have become eager to commission artworks in a similar style.
Joe McDonnell's Process
Joe's technique is very different from, and vastly more complex than, the many simpler course maps that are available online – most of which are created from tracing the outlines of fairways, greens and tees from Google Earth, or similar aerial map providers. They of course still have appeal, but 'WaterMaps', as they've been named, are very different – a combination of digital watercolour brush techniques and drone-derived digital terrain models.
Joe's official course artwork always begins with a bespoke and comprehensive aerial survey which gives Joe exactly the assets he needs. Sam Cooper, a fellow Hoylake member, has been perfecting these course surveys over the last couple of years whilst completing (as restrictions allow!) his 'Links On the Road' tour. Rather than a simple fly-over, Sam conducts a golf architecture-grade survey which results in, among many other things, an orthomosaic – thousands of overlapping photos, which are then merged into a huge, ultra-high-resolution master image.
This source material provides the foundations upon which Joe can build his product catalogue.
Modern Golf Art Portfolio
Original WaterMaps
The original 'WaterMap' print was the first evolution of Joe's golf art, where he digitally paints with watercolour brushwork techniques onto the orthomosaic and terrain model composite. The resulting artwork features a level of detail, depth and complexity that no average commissioned oil or watercolour painting ever could. What's more, its modern aesthetic has a much broader appeal. Multiple variations of the WaterMaps can be produced, featuring a full course, individual holes or a compilation of holes.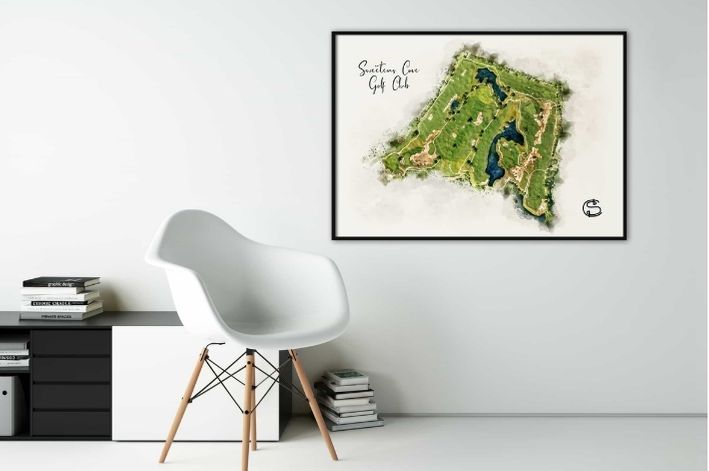 3D WaterMaps
As both Joe and Sam perfected their skills, Joe started to further experiment with the 3D terrain data, which has resulted in a new WaterMap style. Whilst the print itself is flat, the 3D effect is so real, you'll want to get up close just to check. The look of these new maps is quite different from the original, in that much more of the surrounding terrain is included. This lets Joe showcase the course in a different, more contextual way. Printed mounts are an integral part of these variants, which truly showcase the shadows and depth of the landscape. For examples, see Sweetens Cove 3D WaterMap or St Enodoc Golf Club.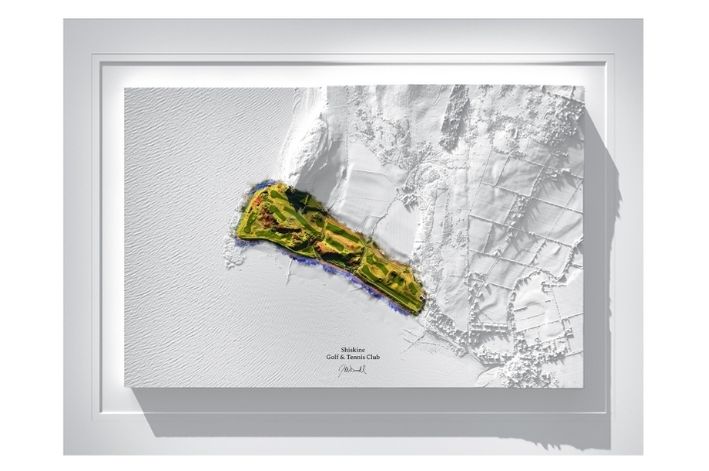 Physical 3D Models
Launching soon! Physical 3D models of individual golf holes and full courses are in the final stages of development, so watch this space. There is simply nothing currently available that comes close to rivalling this exciting new product. Imagine being able to actually hold your favourite hole in the palm of your hand, analyse every contour and proudly place it on your desk, shelf or, for the true fan, your bedside table. Joe is currently in discussions with clubs to produce full-colour 3D relief model installations of entire courses – exciting stuff!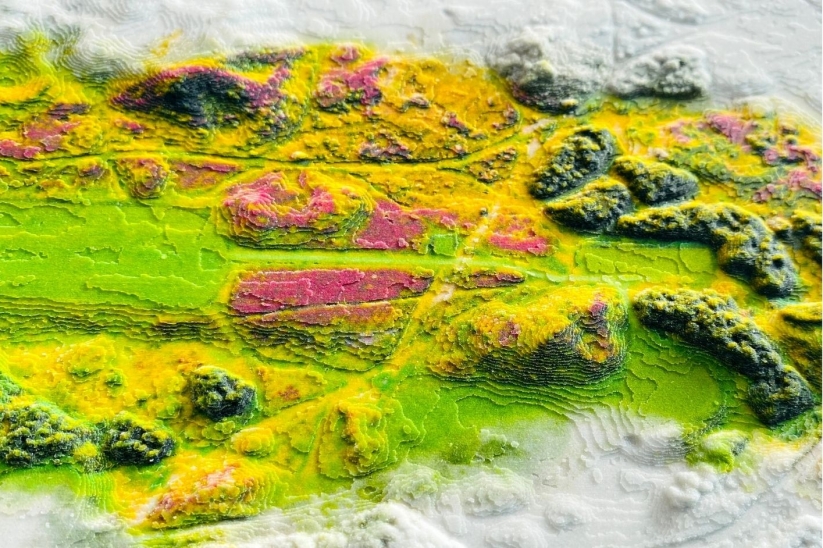 3D Digital Course Tours
For clubs wanting to offer something truly spectacular to members and prospective customers, the same source material is also used to produce fully interactive 3D course tours – each one individually tailored to include the information a club would like to see on each hole – architectural history, yardages, facts – endless possibilities. These course tours can be seamlessly integrated into clubs' websites with minimal setup. See Joe's 3D course tour of Silloth on Solway Golf Club.
We've no doubt that this is just the beginning of Joe's creative journey. Watch this space to see what happens next.
Join The Modern Golf Art Revolution
Evalu18 is the exclusive retail partner for Joe's artworks – view his collection.
For more information about the full range of services Joe offers, visit his website.