The man responsible for Augusta National & Cavendish is perhaps the best-known golf course architect: Dr Alister MacKenzie. His work around the world, particularly in the sand-belt of Australia and on the Monterey peninsula, gains constant and growing acclaim. Also, each year his godlike status is further reinforced by the masses who tune in to The Masters.
It is curious for some that the most authentic Alister MacKenzie course could in fact be Cavendish in Derbyshire, England. Let's take a deep dive into Alister MacKenzie's Augusta National & Cavendish.
Evaluating Augusta National & Cavendish
The influence of Alister MacKenzie's entire body of work inevitably fed into the design of ANGC but Cavendish's presence can particularly be felt. How so? The commonalities are astounding. They both share relatively wide and sloping fairways, both have carefully and strategically placed bunkers, meandering water hazards and dangerous greens. There can be no doubt, Cavendish had quite a bit of influence on the making of ANGC. Almost untouched for 90 years, much of the backbone which makes Augusta the first course on many bucket lists can be found in Derbyshire, England.
Cavendish was built over undulating moorland terrain with deep ravines, valleys, hollows, raised plateaux, incised rivers and challenging side slopes. Being quite windswept, along with pure fescue fairways and slick, bouncy approaches and green surrounds play familiarly like a links course. Today, however, following extensive planting of native deciduous trees in the 1990s, the setting of the course has become more parkland in style. So too with ANGC, what we see now at has been developed continuously over the years to continually test those playing the game to the highest level.
Comparing Augusta National & Cavendish
We are not left to guess what Dr MacKenzie found appealing in a golf course. Twice in his writings, he set out 13 principles of design that would count towards a golf course being of outstanding architectural merit. What were they and how do Augusta National & Cavendish stack up?
Alister MacKenzie's Golf Course Architecture Principle #1
The course, where possible, should be arranged in two loops of nine holes.
Strictly speaking, Cavendish has two loops, just not in two sets of nine. The two loops are comprised of  1 through 7 then 8 through 18. However, the original layout played differently, which meant that the 7th hole, as played today, was the 9th. ANGC conforms to MacKenzie's ideal of two evenly divided loops of nine.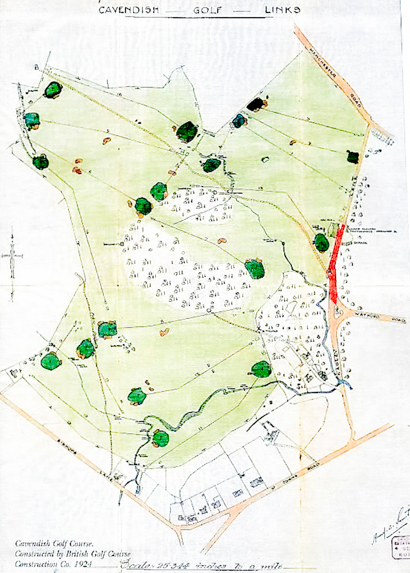 Alister MacKenzie's Golf Course Architecture Principle #2
There should be a large proportion of good two-shot holes and at least four one-shot holes.
Cavendish has five one-shot holes, twelve two-shot holes and one three-shot hole. The first Par 3 has been placed four holes into the round. Five holes later you encounter another on the 9th. On the inward nine, every second hole from thirteen through seventeen are Par 3's. ANGC has four almost evenly spaced one-shot holes on the front and back nines appearing on 4, 6, 12 and 16.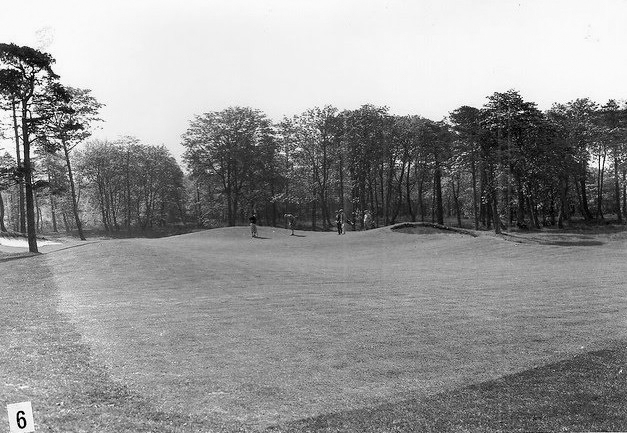 At Cavendish, there are 12 two-shot holes. That leaves just one three-shot or Par 5 on the card. ANGC has perhaps a more balanced scorecard with four Par 5's and the remaining ten holes as two shotters.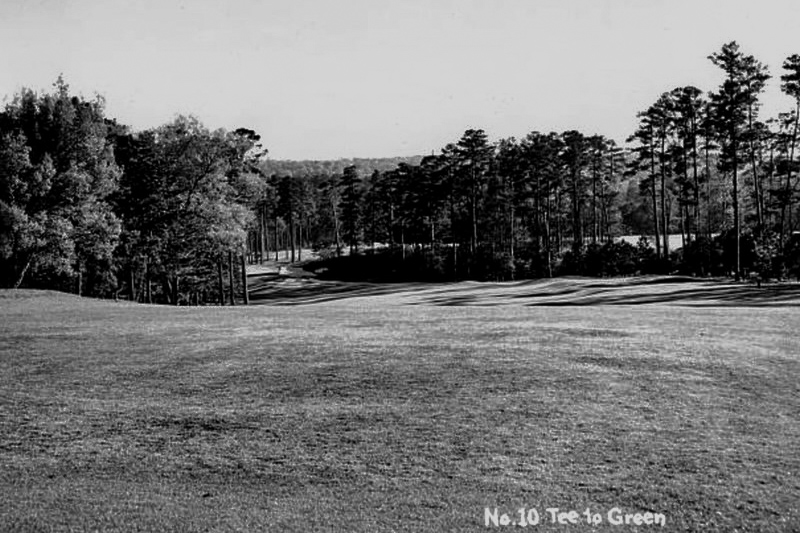 Alister MacKenzie's Golf Course Architecture Principle #3
There should be little walking between the greens and tees, and the course should be arranged so that in the first instance there is always a slight walk forwards from the green to the next tee; then the holes are sufficiently elastic to be lengthened in the future if necessary.
Cavendish excels in this way with no long walks between the last putt on one hole and the tee of the next. Likewise, ANGC has been lengthened and altered over the years but long walks back from green to tee do not exist.
Alister MacKenzie's Golf Course Architecture Principle #4
The greens and fairways should be sufficiently undulating, but there should be no hill climbing.
Despite being located in the rolling hills of the Peak District, there are no steep hills. Although Augusta is more undulating than average it would not be fair to label it as a hike. At Cavendish, the contoured greens, the courses' main defence, and are renowned for their severity. The slopes and undulations mean the green speeds are intentionally kept slow by modern standards for them to be playable. ANGC's slick greens are legendary with the world's best driven to fits over the devious speed and slopes.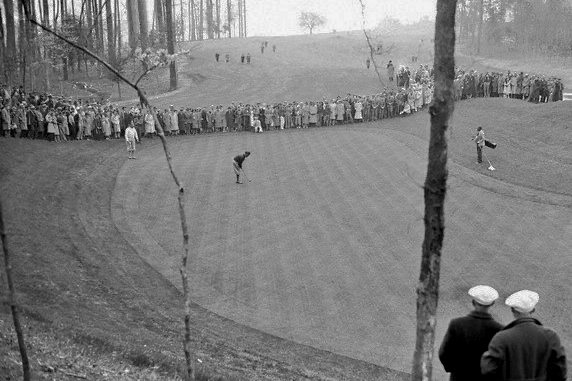 Alister MacKenzie's Golf Course Architecture Principle #5
Every hole should be different in character.
The routing and changes of elevation ensure there are no two holes alike at Cavendish nor ANGC.
Alister MacKenzie's Golf Course Architecture Principle #6
There should be a minimum of blindness for the approach shots.
Cavendish has no blind shots. At ANGC, there is one blind shot from the fairway on eight.
Alister MacKenzie's Golf Course Architecture Principle #7
The course should have beautiful surroundings, and all the artificial features should have so natural an appearance that a stranger is unable to distinguish them from nature itself.
Cavendish is set in the rugged Peak District making it one of the most picturesque courses in Britain. Golf course historians and architecture aficionados are mixed in their feelings of ANGC. The paradisaic nature of the grounds is breathtaking but certainly more manicured than naturally rugged.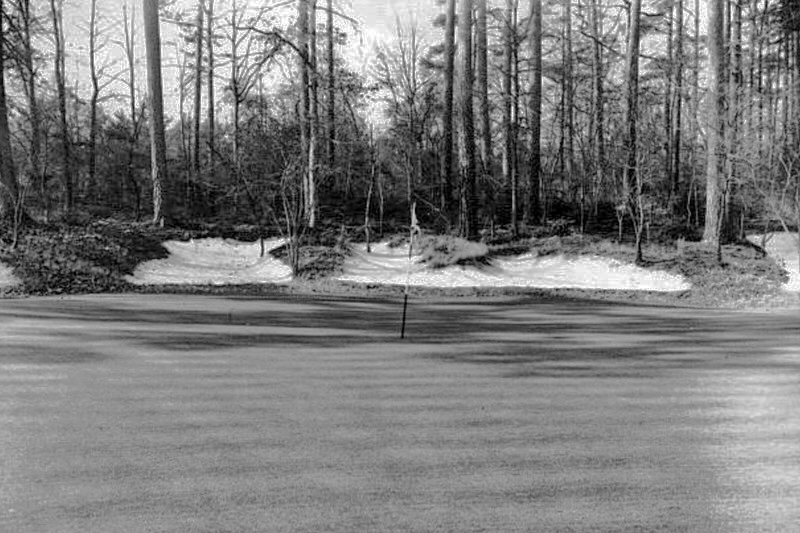 Alister MacKenzie's Golf Course Architecture Principle #8
There should be a sufficient number of heroic carries from the tee, but the course should be arranged so that the weaker player with the loss of a stroke, or portion of a stroke, shall always have an alternate route open to him.
Drives at holes 5, 8, 10, and 18 demand bold strong tee shots. Four of the five one-shot holes are played over ravines. There may not be precarious carries for the professionals we watch on T.V. at ANGC, but the drives need to carry and be placed to certain positions. For example, you must carry the valley on 1, make it down the hill on 9, around the corner at 10, over the hill on 11, around the corner at 13 and as far as the dogleg on 18.
Alister MacKenzie's Golf Course Architecture Principle #9
There should be infinite variety in the strokes required to play the various holes–that is, interesting brassie shots, iron shots, pitch and run-up shots.
The variety of the greens complexes at Cavendish require great imagination for the approach shots. To score well all variations of chip, pitch, pitch and run, and flop shots are all necessary. The original green complexes at ANGC are among Dr MacKenzie's finest work and the length of the holes so varied that every shot in the bag is needed to play the course successfully.
Alister MacKenzie's Golf Course Architecture Principle #10
There should be a complete absence of the annoyance and irritation caused by the necessity of searching for lost balls.
The greenkeepers at Cavendish keep the fairways wide and rough playable resulting in the elimination of searching for balls. ANGC has no real rough and the treed areas are covered with pine straw.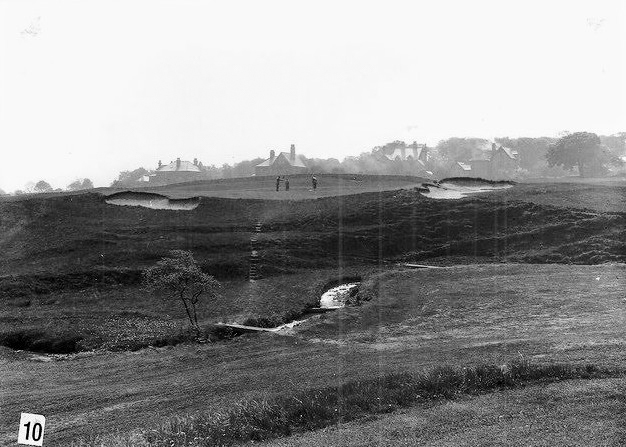 Alister MacKenzie's Golf Course Architecture Principle #11
The course should be so interesting that even the scratch man is constantly stimulated to improve his game in attempting shots he has hitherto been unable to play.
The fairways may be quite wide, but it doesn't mean golfers can be careless about where they play the ball. From the tee, you have to place the shot with confidence and intelligence. Because of the orientation of the green complexes and contouring, a premium is placed on the line of approach or attack. Players are frequently enticed into making a wrong decision meaning finishing close to the pin is a remote possibility. Both Cavendish and ANGC excel in this regard.
Alister MacKenzie's Golf Course Architecture Principle #13
The course should so be arranged that the long handicap player or even the absolute beginner should be able to enjoy his round in spite of the fact that he is piling up a big score. In other words, the beginner should not be continually harassed by losing strokes from playing out of sand bunkers. The layout should be so arranged that he loses strokes because he is making wide detours to avoid hazards.
There are only 53 bunkers at Cavendish so MacKenzie certainly didn't overdo this hazard. Any round at ANGC would be a memorable experience despite how well you may or may not play. No one would accuse Augusta of being 'heavily' bunkered.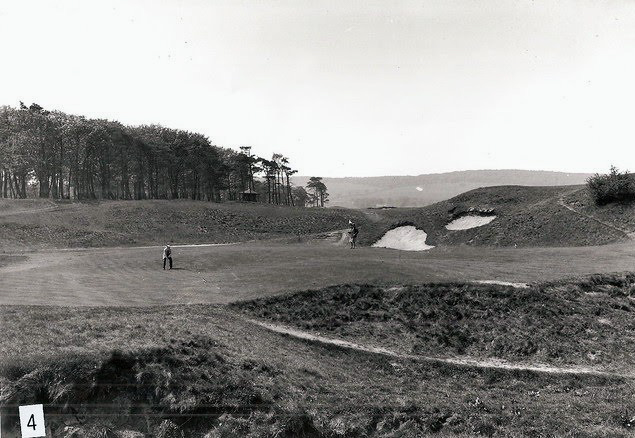 Alister MacKenzie's Golf Course Architecture Principle #13
The course should be equally good during winter and summer, the texture of the greens and fairways should be perfect, and the approaches should have the same consistency as the greens.
On this count, Cavendish is found wanting. Due to the local climate and extremes in the weather, course conditions are maintained to the highest standards during peak season. For most of us, we only get to see a glimpse of ANGC for a week or so in the spring. It is, of course, in pristine condition and not a single spot or blemish can be found. When the good Doctor mentioned that perfection is the ideal standard, he could have never imagined the degree that could now be attained.
Further Parallels Between Augusta National & Cavendish
After comparing Augusta & Cavendish on the basis of MacKenzie's principles it's curious to note the similarities don't stop there. Consider the following:
Both courses start with a left to right opening hole.
Both courses finish with holes that have a narrow channel for the tee shot.
In between, the 2nd at Cavendish is a right to left dogleg similar to the 14th at ANGC.
The 5th has a false front reminiscent to the 9th at ANGC.
7 at Cavendish asks for a bump and run approach to access the pin as does 1, 3, 5, 6, 7, 14, and 17 at ANGC.
9 at Cavendish is a short, downhill Par 3 like 6 at ANGC.
10 and 11 at Cavendish has a creek meandering alongside play just like Amen Corner on holes 11 through 13 at ANGC.
15 is a narrow green affected by the wind just like the devilish 12th at ANGC of Sunday afternoon fame.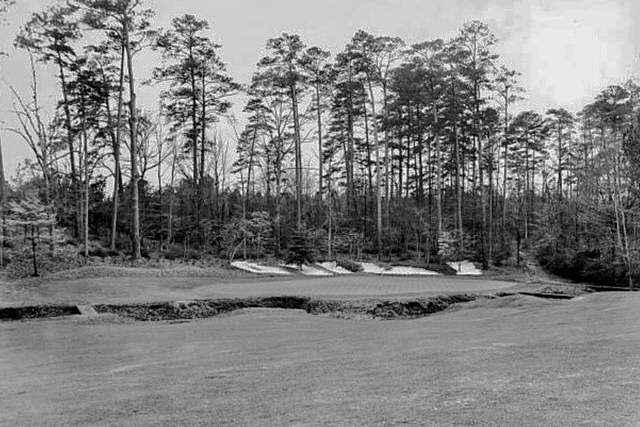 The parallels are indeed curious between Augusta National & Cavendish. Whilst most of us will never be able to walk the sacred grounds of Augusta National, the best of Alister MacKenzie's design is available to all at Cavendish. Perhaps the easiest way to experience a true MacKenzie design is to travel to Derbyshire, England, UK.
Special Thanks in Helping Us Write Augusta National & Cavendish
We wish to thank Mr Eddie Birchenough for his insight and playing experience of many rounds at both Augusta National and Cavendish. Thanks also to Mr Jonathan Gaunt who is the consulting architect at Cavendish. We finally wish to thank Simon Haines (@Hainsey76) for providing photos.