The brilliance of James Braid is on display Hole 4 St Enodoc with his routing through some of the property's most exciting topography. After an out and back opening and second hole, you stand on the third tee wondering how on earth you will tumble down the 3rd then wind up on the 4th green just one hole later. The four-hole stretch from 3 through 6 is one of the best in golf.
While the 6th at St Enodoc garners most of the attention with its massive crater-like bunker, but the strategic design of Hole 4 St Enodoc is world-class. In essence, it is the unruly cousin of the Road Hole at The Old Course, St Andrews.
Identifiable Characteristics of Hole 4 St Enodoc
On the fourth tee, variety abounds. There are four conventional approaches which could yield anything from an eagle to par or worse.
Option A: Lay-up 150 yards straight in front of you leaving a 140-yard uphill second. Simple!  Until you factor in the second shot is uphill, usually with the wind, over two bunkers and to a green now oriented perpendicular to yourself affording you the shallowest of targets. Oh and the temptation to go long is muted by the fact O.B. is located only a few feet beyond the green.
Option B: Go for the ledge in front of the green. A 225-yard shot over the corner will set up a relatively easy second shot to a green orientated lengthwise. A narrow opening is all that is to be navigated which gives you an excellent opportunity for birdie. The trade-off? Cut the corner of O.B. and find a landing zone flanked on two sides by O.B. again. There is a genuine risk of hitting three off the tee. If the new 2019 rule is applied, you still have a two-shot penalty, and the relief options resemble the first shot of option A.
Option C: Go for the green. Riveting, but eagles are rare on this all but un-drivable, drivable par 4.
Option D: Play it as a three-shot par four and hope for a one-putt. Lay up short, lay up to the ledge, get it close with your third and hole the putt for par.
This gem is a short par four can be successfully played in four very different ways. While it does yield birdies, a three is not the most common score. In matchplay, it provides the opportunity for both the tiger and rabbit, if they play within their respective games. At first glance, it confounds but the strategy and genius of number 4 is top drawer.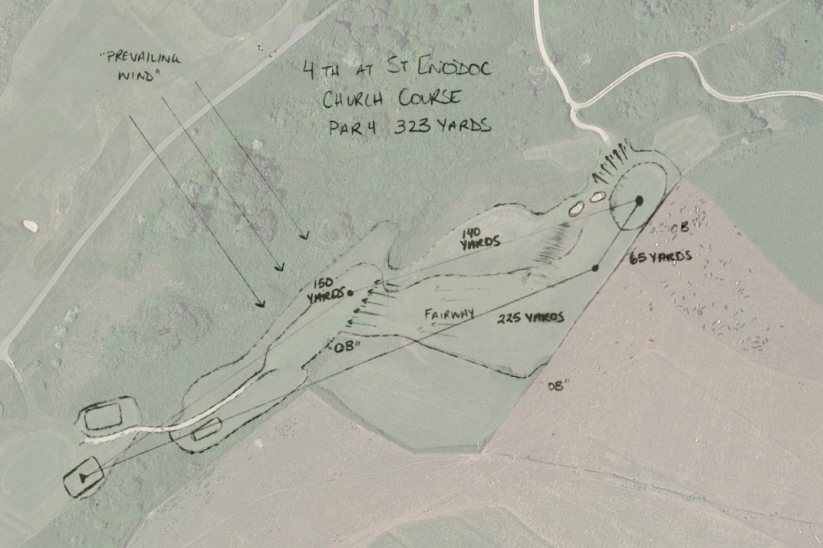 What Makes Hole 4 St Enodoc Special?
Variety, as illustrated above.
Clever use of O.B. in a strategic manner.
Risk vs Reward for every category of player.
Clever use of awkward natural features and man-made limitations to enhance strategy and intrigue.
Further Reading
Tom Doak has written about it in the Confidential Guide, and Clyde Johnson added it to his set of the Fried Egg's Eclectic 18. St Enodoc by James Braid is a superb course punctuated with incredible highlights such as the fourth.