Manchester Airport MAN – Best Golf Courses
Travel Review
Welcome to Evalu18's Manchester Airport MAN Best Golf Courses Travel Guide! Perhaps surprisingly, Manchester is the third busiest major international airport after LHR and LGW. Fortunately, some of the England's best golf courses are near Manchester Airport MAN. Whether transiting through for business or pleasure, the top golf courses nearby are worth packing your clubs for.
20 Minutes or Less
Firstly, Reddish Vale Golf Club is Alister MacKenzie's third 18 hole design. Ran Morrisett hails the course as a peer to Alwoodley and Moortown and possessing the drama and adventure of the top inland golf courses of Sunningdale Old and The Addington!
Secondly, Prestbury Golf Club is a Harry Colt designed golf course on the outskirts of Macclesfield, England. The hilly terrain and sandy subsoil means you're usually playing firm and fast golf. Elevated tees and greens along with excellent practice facility makes for a great first option.
Thirdly, Sandiway Golf Club a woodland and heathland on priceless sandy soil. Ted Ray laid out the course in 1920. Following on in 1926, Harry Colt made it what it is today with only holes 2, 3 and 4 being altered.
Within 40 Minutes
Cavendish Golf Club is another Alister MacKenzie gem in the midst of a comprehensive plan to restore it to its former glory. Said to be the course that inspired Augusta National, read about the uncanny parallels between the two by clicking here.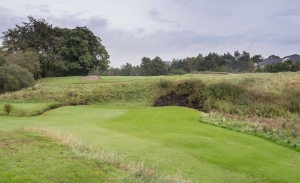 Delamere Forest Golf Club is a Herbert Fowler designed golf course that is one of the finest heathlands in all of England. Known for its great conditioning year round, you'll be taken by the charm of this traditional members club.
About an Hour Away
If you're up for a little trek, Huddersfield (Fixby) is a great option. Recent upgrades to the bunkers by Swan Golf Designs along with USGA spec greens mean the course is kept in superb condition.
Conclusion
The golf on offer in and around Manchester Airport MAN is some of the best in England. Sandy firm and fast moorlands make for great golf and there is an abundance of it here. No matter which direction you are travelling to or from, you're never far away from some of the the top golf in the UK.
---
Featured Courses
Useful links to the courses in this guide.