Harry Colt – UK & Ireland – Best Golf Courses
Travel Review
We present to you the Harry Colt Travel Guide. Perhaps no other golf course architect is more has created such an outstanding body of work than Harry Colt. The UK and Ireland have an abundance of great Harry Colt designs. We've tried to show highlight a variety of his best work. For a full course portfolio, visit his biography by clicking here.
Irish Links
Royal Portrush Golf Club – Dunluce Links recently played host to The Open Championship. In fact, it is the only golf course outside Scotland or England to ever have such an honour. 14 green sites are Harry Colt originals.
Rebuilt in 1920 following World War 1, Harry Colt was called upon to reconstruct the links at Royal Dublin Golf Club. As Ireland's second oldest golf club, it stands to receive further accolades when CDP restores the Harry Colt features.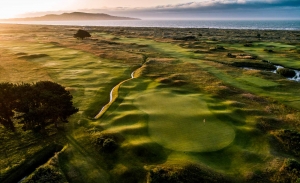 Scottish Links
While many play The Old Course at St Andrews, they often overlook the Harry Colt Eden Course at St Andrews that is just next door. Despite losing 7 of the 18 original holes, the 11 that remain are excellent. Additionally, the course is usually quite a bit quieter than the Old, Castle, Eden and Jubilee.
English Links
Rye Golf Club – Old is home to the world famous President's Putter but it is also the golf course which made Harry Colt a golf course architect rather than a lawyer. A private club, it can be accessed by appointment if an approach is made in the right way using the proper channels.
Heathlands
Swinley Forest Golf Club in Berkshire, England is a all-world golf course that has perhaps one the best collections of par 3 holes anywhere. Matchplay at Swinley Forest is one of golf's greatest pleasures. Harry Colt himself referred to it as his least bad golf course.
Sunningdale Golf Club – Old is one of the premier inland golf courses in the Uk but also the world. Universally hailed as a champion of strategic design, it is on of Harry Colt's greatest achievements.
St George's Hill Golf Club – Red & Blue is a held out by some to be his best work in Surrey. His work is so good here, the 8th hole graces the cover of one of his competitors books: Robert Hunter's The Links.
The Wild Card
A nine hole Harry Colt in Hampshire, England owned and operated by one of the UK's retail giants. The untouched green complexes at Leckford Estate – Old Course are national treasures.
Conclusion
Harry Colt was a prolific architect with a portfolio of top tier golf that precious few others can match. Nonetheless, while many of his golf courses are pricey there are also many that are affordable to play. The Harry Colt Travel Guide offers destinations at both ends of the spectrum.
Photos courtesy Larry Lambrecht
Please login or register to add this content to a list.
Featured Courses
Useful links to the courses in this guide.