0 Comments
Putting Coaches & Short Game Coaches have carved out a niche in the industry. If it's wedge play, pitching, chipping, bunker play there are coaches who can dial you in. When it comes to putting there are those who specialize in this game within the game with Phil Kenyon leading the charge. Let's take a quick look at those who know the most about the aspect of the game which matters most!
Putting Coaches
Putting Coach Dave Stockton
Dave Stockton's Specialty: Putting Coach
Dave Stockton's Personal Bio: A pre-eminent short game guru, Dave Stockton is a 2 time PGA Major Championship winner, 11-time PGA Tour Winner, 14-time Champions Tour winner, and former Ryder Cup Captain.
Location(s): Dave Stockton will entertain requests for private lessons at Redlands CC in California, USA. His son, Ron Stockton, charges $250 an hour if Dave Sr's charge is a little too steep. His other son, Dave Stockton Jr, charges $450 an hour in San Diego, CA, USA.
Dave Stockton's Philosophy & Methodology: Dave Stockton promotes and teaches a unique mental philosophy – what he terms 'Unconscious Putting' along with positive visualization.
Dave Stockton's Famous Students: Rory McIlroy.
Instruction: A refreshingly simple book, Unconscious Putting: Dave Stockton's Guide to Unlocking Your Signature Stroke is well worth the money.
Putting Coach Phil Kenyon
Phil Kenyon's Speciality: Putting
Phil Kenyon's Personal Bio: Was the right-hand man of Harold Swash. Harold Swash was an engineer and architect and passionate golfer with a talent for putting. His grooved putter face is the genius behind Yes! Golf and the C-Groove Putter. Phil Kenyon is now the principal at the Harold Swash Putting School of Excellence
Location: Formby Hall, Lancashire, England, UK & Online
Phil Kenyon's Famous Students: Justin Rose, Tommy Fleetwood, Rory McIlroy, Francesco Molinari, Henrik Stenson & Brooks Koepka amongst others.
Free Online Instructional Videos: Click here for Phil Kenyon's 4 Part Video Masterclass Series. For £397, you can sign up for a 12-week program that allows you access to 300 videos in 7 modules.
Phil Kenyon's Teaching Aids: Phil Kenyon's training aid's brand is known as Visio. His Putting Aids include Putting Mirrors, Putting Gates, Elevated String Lines amongst other gadgets.
Short Game Coaches
Short Game Specialist James Ridyard
James Ridyard's Specialty: Wedge Game or Short Game Specialist
Location: Whittlebury Park, Northamptonshire, England, UK or Online
James Ridyard's Personal Bio: James Ridyard spends most of his time in the UK working with elite players and tour professionals. He is a business partner of John Graham's who is a full-time putting coach on the PGA and LPGA tours.
Free Online Instructional Videos: James Ridyard put himself on the map with a one-hour-long presentation at the 2015 PGA Teaching & Coaching Summit. The video of his presentation of golf instruction's biggest stage can be seen here
James Ridyard will let you test the water with a $5.99 video compilation before you push the boat out on the 5 video set for $99.99 which covers Approach Wedges, Scrambling, Bunker Play, Green Reading, and Putting.
If you can't bear parting with $99.99 for the 5 video set, you can purchase the 4 Video Putting Set (Players Version and Coaches Version) can be had for $79.99.
You can also have Full Day, Half Day, and One Hour Lessons in person with James Ridyard.
Short Game Coach Dave Pelz
Dave Pelz's Specialty: Putting & Short Game or 'from 100 yards and in.'
Dave Pelz's Personal Bio: A former NASA scientist, Dave Pelz left aerospace for something for more complicated… understanding and teaching the short game.
Location(s): In the UK, the website list four locations but only Foxhills appears to have schools scheduled. In Ireland, Killeen Castle frequently hosts schools. See the Pelz Golf website here
Dave Pelz's Famous Students: Phil Mickelson & Tom Kite amongst man, many others…
Dave Pelz's Teaching Aids: The Dave Pelz Pro Shop has much the same gear as many of the other coaches. Elevated Aim Lines, Phony Holes, Mirrors, and Putting Tracks. Dave Pelz's Putting Cips and Dave Pelz's Putting Tutor rank amongst his most beneficial.
Instruction: Two videos are available online for $19.99. Dave Pelz – How To Play From Sand and Dave Pelz – A Process for Practice – See It, Feel It, Do It, Hold It.
If you're serious, Dave Pelz also has multiple books that are encyclopedic in nature. Dave Pelz's Putting Bible, Putt Like the Pro's (Green Reading), Dave Pelz's Putting Games, Dave Pelz's 10 Minutes a Day to Better Putting, Dave Pelz's Short Game Bible, The Art of the Short Game, and Dave Pelz's Damage Control: How To Avoid Disaster Scores.
In-person instruction is provided in numerous locations worldwide. The options are 1, 2, and 3-day events. The 1 Day Scoring Game Clinic provides 6 hours of instruction with a 6-1 student-to-teacher ratio which covers the short game and putting. The 2 Day Short Game School provides 2 days focused solely on the wedge with the putt being given no love. The ratio drops from 6-1 to 4-1. The 3 Scoring Game School is the premier golf instruction program with a 4-1 student-to-teacher ratio and covers putting, chipping, pitching, wedge, and sand play.
Short Game Coach Mark Roe
Mark Roe's Specialty: Putting & Short Game
Mark Roe's Personal Bio: Mark Roe was a journeyman professional golfer on the European Tour amassing more than 500 appearances. He won 3 times and climbed as high as 40th in the OWGR.
Location(s): Pachesham Golf Centre Surrey, England, UK
Mark Roe's Philosophy & Methodology: Bunker play, pitching, chipping, and putting. Mark Roe endeavors to teach feel, spin control, and shot visualization around the greens.
Mark Roe's Famous Students: Lee Westwood, Justin Rose, Francesco Molinari, Darren Clarke, Nicolas Colsaerts, Ian Poulter amongst others.
Instruction: In-person lessons are available as well as playing lessons in 3 countries in Europe.
Short Game Coach David Edel
David Edel's Specialty: Putting, Short Game & Equipment
Location(s): Texas, USA
Philosophy & Methodology: David Edel developed the world's most complete putting fitting system. Originally working with Henry Griffitts, David Edel developed the putter fitting system before venturing out on his own. He has continued to innovate and has developed the reputation of Edel Golf into having the most complete and advanced putter fitting system in the world.
David Edel's Famous Students: Bryson DeChambeau (Built DeChambeau's putters and single-length iron's before Cobra's sponsorship). Sir Nick Faldo was also at one time associated with the brand. Many PGA Tour players visit David Edel in order to be fit despite being under contract with large OEMs.
David Edel's Teaching Aids: In association with Mike Adams, David Edel made the Grip Analyzer and Trainer. Together they also developed 'The Groover" Swing Trainer.
For Edel EAS Putters and SMS Wedges in the UK, contact The Putter Tailor.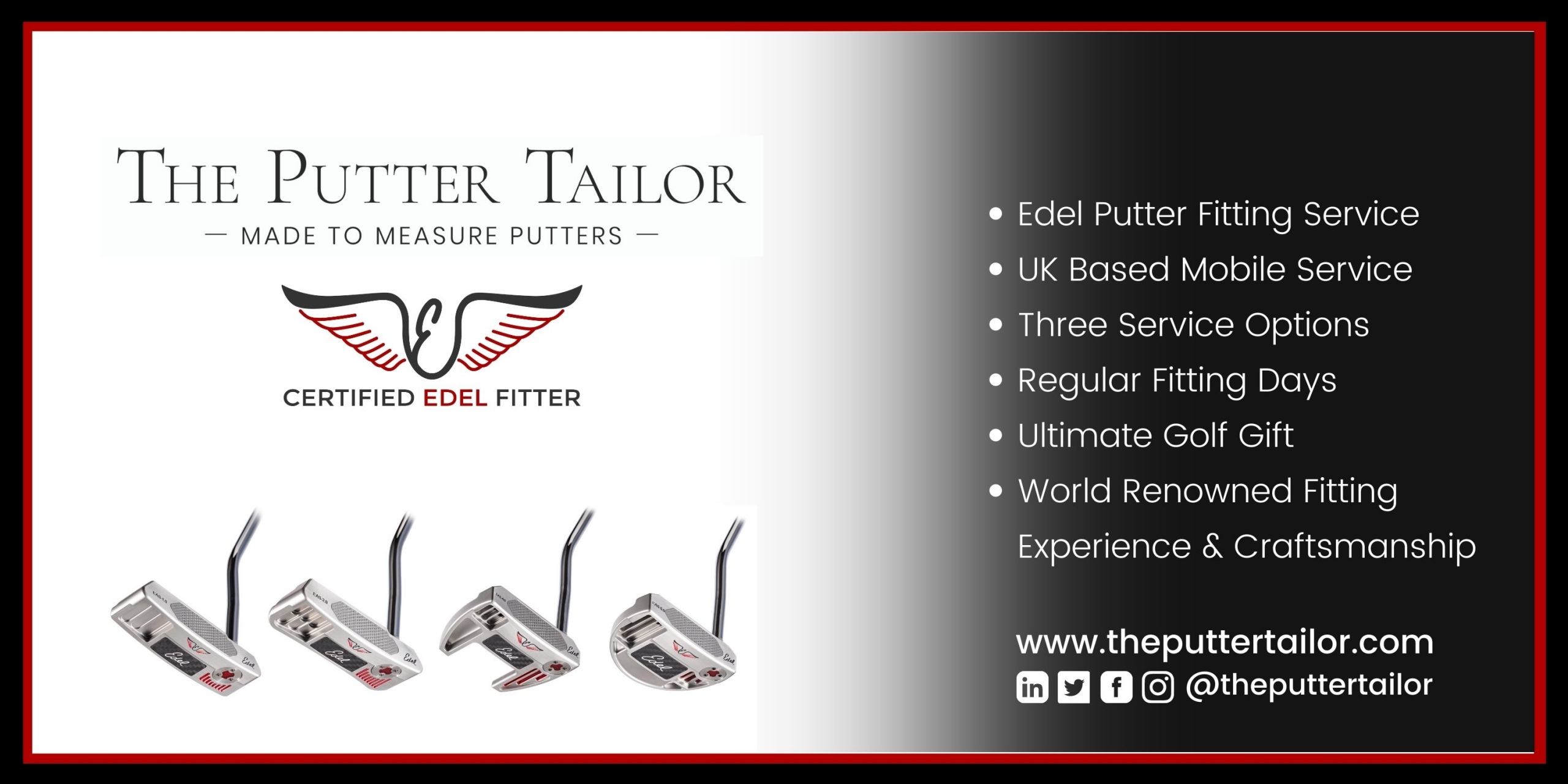 Short Game Coach Stan Utley
Stan Utley's Specialty: Putting & Short Game
Stan Utley's Bio: You can watch his bio video here. He played on the PGA Tour and holds the PGA Tour record for the least amount of putts over nine holes – taking just 6 at the 2002 Air Canada Championship!
Location: Grayhwak GC, Scottsdale, Arizona, USA
Stan Utley's Famous Students: Sergio Garcia
Stan Utley's Teaching Aids: Stan Utley collaborated with Jim Hackenburg and developed the Orange Whip Wedge. The Flight Deck is a variation of a theme similar to many mirror & gate style putting aids on the market. The Art of the Swing is Stan Utley's short-game book that focuses on the sequence of motion.
Stan Utley's Instruction: Stan Utley has written four books. The first is The Art of Putting – The Revolutionary Feel-Based System for Improving Your Score from 2006. A year later in 2007, Stan Utley released The Art of the Short Game – Tour-Tested Secrets for Getting Up and Down. In 2009, Stan Utley released The Art of Scoring – The Ultimate On-Course Guide to Short Game Strategy and Technique, and his latest title, The Art Of The Swing – Short Game Secrets That Will Improve Your Total Game in 30 Days was published in 2011.
Putting Coaches & Short Game Coaches Summary
It would seem the tendency is to specialize as a swing coach or short game coach. As Phil Kenyon and Dave Stockton have proved, the short game can be broken down even further focusing solely on the most important aspect of the game, putting.
There can be no doubt that the game from 100 yards and in contributes more to a golfer's score than any other aspect of the game. One commonality between the aforementioned Putting Coaches & Short Game Coaches is their passion for their niches. The best in the world rely upon their swing coaches for their long game but it is telling that most also employ the services of either Putting Coaches & Short Game Coaches to gain the extra advantage…
https://evalu18.com/wp-content/uploads/2021/05/Featured-Image-3.jpg
573
1500
Jasper
https://evalu18.com/wp-content/uploads/2018/10/evalu18_main-strapline-white-mustard_large.png
Jasper
2020-08-11 09:21:14
2021-05-31 10:37:16
Putting Coaches & Short Game Coaches