0 Comments
The putter is the most personal club in the bag and the putter grip is your only physical connection to it. In the past, putter grips may have been viewed simply as a matter of preference or feel. Some may have seen a correlation between hand size and putter grip type but it seems to never have gone beyond that… until now. Before we delve into the science and correlation of your putting stroke and putter grip size and putter grip type.
SuperStroke Putter Grips
We took a deep dive into the hottest putter grip brand at the moment in our article which can be read here. What makes SuperStroke putter grips so special is its Traxion material and Spyne reminder technology. The Traxion Tour, Flatso, and Pistol grips serve the conventional golfer, and a handful of nonconventional styles round out the product range. SuperStroke is one of just two companies whose products are available as options on Edel Golf's EAS Putter Range. The other? Bestgrips.
BestGrips Putter Grips
You can order your Edel EAS Putter with a standard-sized 50-gram leather pistol grip. Bestgrips are leather putter grips that are made by hand in the USA. The tackiness of the grip is dependant upon the leather. The tackiest is the MicroPerf. Prefer soft and tacky? Try the Major Leaguer. Prefer firm and rough? Try the Gridiron. The Edel version is the same soft leather used for American baseballs. The stitched back is a pleasant reminder and reminiscent of your luxury car's steering wheel.
Edel Putter Grips
Edel Golf makes both SuperStroke and BestGrips available for their workshop-produced putters. The Edel Golf Putter Grip design is non-tapered and round. With no sharp edges or any other markings that may impact the alignment, they are certainly unique! Be in no doubt – putter grip size and putter grip shape influence aim. David Edel explains the theory in a video you can see here.
TwoThumb Grip
TwoThump Grip is a UK-based company that claims its putter grips reduce wrist break and therefore twisting. It has a tour presence with Bernd Weisberger and Matt Wallace gaming the putter grip. The idea is rather simple, align both thumbs on the paddle grip to align the shoulders. The left, right and back sides are flat and the top is slightly convex allowing a place for both thumbs on the top.
To get the most out of the grip, you should probably think about adopting its methodology. The grip may work well for side-on golfers but under or cover golfers may struggle. It would also be logical that a centered ball position is adopted. Similar to a SeeMore putter, it's not as easy as swapping a grip, there is a methodology that goes along with it…
Ping JAS PP58 & Ping JAS PP58 Blackout
Better known as Tiger Wood's Putter Grip, the Ping JAS PP58 or Ping JAS PP58 Blackout (Tiger Woods version) is actually not a Ping putter grip but rather a Golf Pride Putter Grip. Perhaps it is the one grip which is used by the greatest putter of all time which isn't sued but anyone else… curious indeed!
Flat Cat Golf
Used by Justin Rose on tour for a period of time before he inked a deal with Lamkin, the Flat Cat putter grip has two flat sides that come in five sizes: Slim, Svelte, Standard, Fat, and Big Boy. The grip can be installed in one of two ways to accommodate traditional or left-hand low grips (flat sides parallel) or flat sides perpendicular for claw, open-hand, or pencil putting grips.
Lamkin Putter Grips
Since 1925, Lamkin has been making golf grips. The perpetual battle of Lamkin vs. Golf Pride is golf's version of Coca-Cola vs. Pepsi – it appears you side with one over the other. Elever Lamkin started making leather grips in his Chicago garage in 1925. By 1960, the company was producing rubber grips and Arnold Palmer was a lifelong supporter. Nowadays, Justin Rose is the standard-bearer for the brand on the PGA Tour.
Lamkin has introduced a Putter Grip Fitting System which attempts to fit a putter grip to your path and putting grip. An explanation of the fitting process can be seen here. Lamkin is best known for its Crossline but its' Fingerprint Technology is now its most innovative product. Lamkin's Genesis Material is the rubber of choice with a Polyurethane sleeve making an appearance may of its 2021 lineup.
Golf Pride Putter Grips
Golf Pride is dominant when it comes to its usage. It is the Acushnet of the golf grip segment with Golf Pride Tour Velvet being the grip of choice for the majority of PGA Professionals and amateur golfers alike. Golf Pride takes a hand-size approach to grip fitting and lags behind Lamkin in offering putter grip fitting solutions.
The 2021 lineup includes three families of putter grips. The Tour SNSR, Pro Only & Pro Only Cord, and Tour. The Tour SNSR is the SuperStroke competitor and the Tour rubber grips are your classic putter grips al a Tiger Woods (see above). The Pro Only is the upgraded version of the classic Tour family which comes in Red Star (Slim), Blue Star (Standard), & Green Star (Mid-Sized) variants.
Putter Grips Summary
One thought to be a simple after-thought and of no consequence, the putter grip is now known to be one of the most important aspects of the putter. Grip selection should be made with your fold pattern taken into account and after your putting stroke has been analyzed.
Swapping grips may sound simple enough but the repercussions can have devastating effects. For example, a longer, wider, thicker grip usually means heavier. Without understanding the effect of the grip on club weight, swing weight, balance, and how these relate to the path, cadence, tempo, and face angle, a simple change could set off a bewildering new set of issues.
Your best bet is to be fit by an Edel Certified Fitter that can fit you for a made-to-measure Edel EAS Putter. Every variable, including the grip, is taken into account to ensure the putter you are custom fit for is the putter that is correct for you.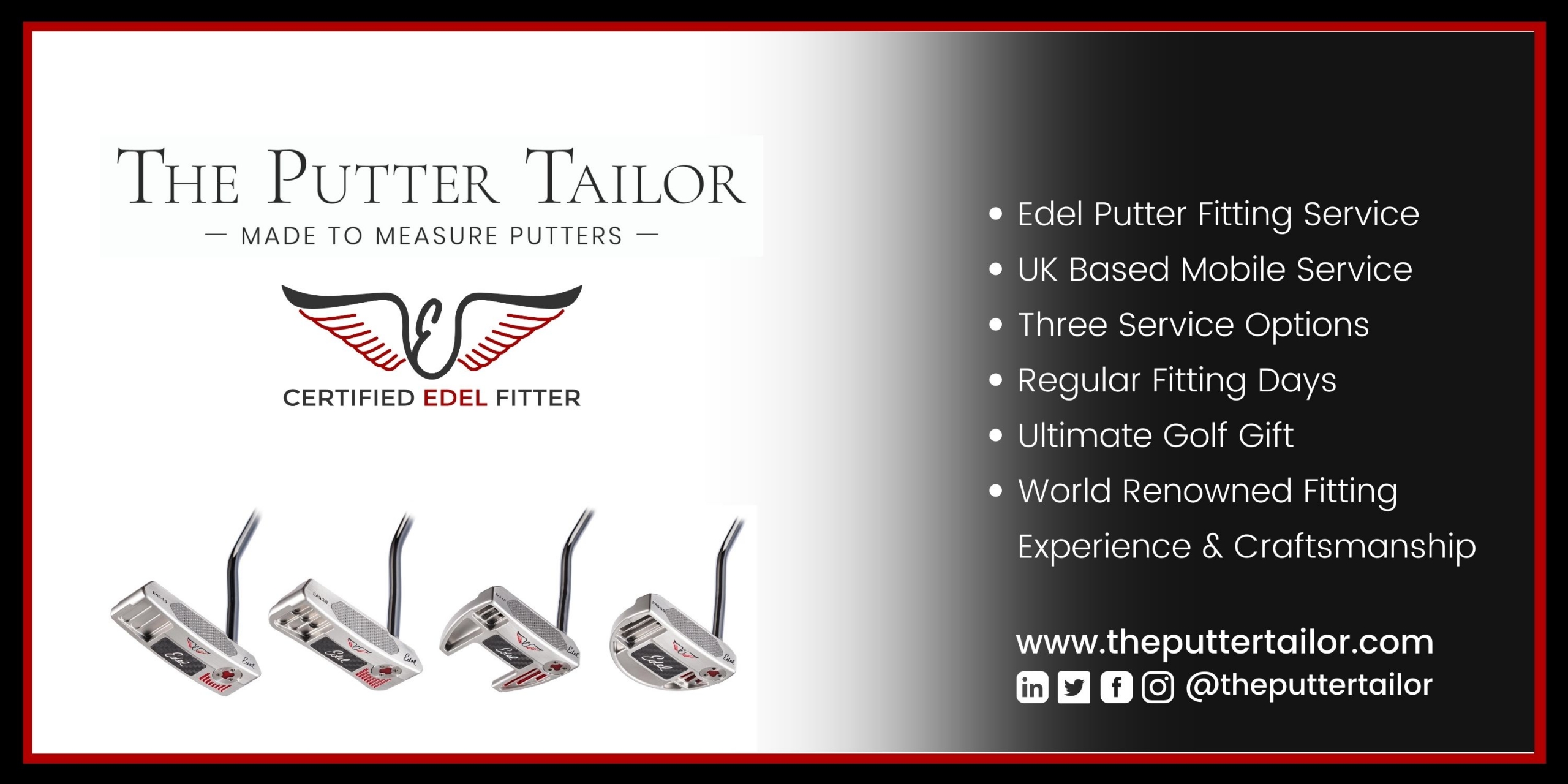 https://evalu18.com/wp-content/uploads/2021/05/Featured-Image-2.jpg
573
1500
Jasper
https://evalu18.com/wp-content/uploads/2018/10/evalu18_main-strapline-white-mustard_large.png
Jasper
2020-08-10 14:33:08
2021-05-11 13:19:39
Putter Grips