0 Comments
Evnroll Putters have made a name for themselves in the golf equipment industry with regards to their groove technology. Described as revolutionary rather than evolutionary, Evnroll has found a niche alongside the bigger OEMs. Despite Evnroll being a new name for most, overnight success has taken decades. Let's take a deeper look and see how Evnroll Putters stack up!
If you want to jump straight to the end and see the verdict of Evnroll ER Putters vs. Edel Putters jump to Evnroll Putters or Edel Putters at the conclusion of the article. 
Background of Evnroll Putters
Guerin Rife is the man behind Evnroll. In the mid-1980s, Guerin Rife made his first putter design, a cavity-backed mallet known as True Blue.
This was not his final innovation as Rife Golf also sprang from his genius. Rife patented grooves on putter faces in 1996, licensed the technology to Spalding/ Topflight. After 4 years, he took back the patent in 2000 to establish Rife Putters. The company still exists as Rife Golf and sells Vault 001, Vault 002, TwoBar, Tropical, and RG Series putters. Rife was involved with the company until 2009, after which it was sold and Guerin Rife parted ways with the company which still bears his name.
Had Guerin Rife exited right, Rife Golf may well have been EvnRoll. The foundation of Evnroll putter groove technology from 1996 until 2009 had been laid and Guerin Rife had another trick up his sleeve. The full story behind what makes Evnroll grooves work can be read here. The unexpected result of the new grooves was something that was seen previously in drivers – gear effect. A video of the technology can be seen here. The putters debuted to wide acclaim in 2016 and Evnroll has gained momentum ever since.
In generic testing by MyGolfSpy, Evnroll Putters consistently outperform the competitors as their groove technology makes the sweet spot a sweet face. They seem to be one of the best putters for the average punter who is interesting in an off-the-rack solution. However, if you're reading this, you a probably looking for better than best for the majority. As well, all putts may roll the same distance but that's not helpful if you cannot aim it or control distance.
2016 Evnroll ER Putters
In 2016, Evnroll had several putter models. These were the Guerin Evnroll ER1 (an Anser style blade), ER2 (an Anser style widebody or mid-blade), ER5 (a fang styled hybrid mallet), and ER6 Red (Ping Ketsch style mallet).
2016 Evnroll Putter – Blades – ER1 & ER2.
2016 Evnroll Putter – Mallet – ER5 & ER6.
2017 Evnroll ER Putters
In 2017, four more models were introduced. The ER3 WingBlade (a Ping B60 look alike), a black ER6 (as opposed to the ER6 Red), the ER7 Full Mallet, and an ER8 Tour Mallet (that looks a lot like the Odyssey Rossie).
2017 Evnroll Putter – Blade Models: ER1, ER2 + ER3.
2017 Evnroll Putter – Mallet Models: ER5, ER6 + ER7 & ER8.
2017 Evnroll Putter – Black/ Murdered Out Models: +ER6B
2018 Evnroll ER Putters
In 2018, four more putter models were released bringing the total to 12. Evnroll's answer to the putter porn, Scotty Cameron crowd was the ER1.1. This was Evnroll's first plumber's neck. The ER2CS provided center shafted (CS) putters the ER2 model in their preferred setup. The ER3 WingBlade was modified to have more of an angular notch as opposed to a curved 'bite'. The ER7 was given the same treatment as the ER2 with the center shafted variant, marketed as the ER7CS. The ER9 was subsequently released. Jumping on the high MOI bandwagon, the Evnroll ER9-10K is a behemoth available in 3 head weights, 3 weights, and two hosels.
2018 Evnroll Putter – Blades – ER1, ER2, ER3 (Modified) + ER1.1
2018 Evnroll Putter – Mallet Models: ER5, ER6, ER7, ER8 + ER9 10K.
2018 Evnroll Putter – Black/ Murdered Out Models: ER6B
2018 Evnroll Putter – Centre Shafter Variant: + ER2CS and + ER7CS
2019 Evnroll ER Putters
In 2019, Evnroll Putters release a massively offset putter known as the TourStroke Trainer. The ER1TS also debuted with the original ER1 being discontinued. The ER2 was updated with a plumbers neck and called the ER2.1. The ER5 was given the black treatment for the 'murdered out' crowd.
2019 Evnroll Putter – Blades -ER2, ER3, ER1.1 + ER1TS + ER2.1 + TourStroke Trainer & (Discontinued) – ER1
2019 Evnroll Putter – Mallet Models: ER5, ER6, ER7, ER8 & ER9 10K.
2019 Evnroll Putter – Black/ Murdered Out Models: ER6B & ER5B.
2019 Evnroll Putter – Centre Shafter Variant: ER2CS & ER7CS.
2020 Evnroll ER Putters
In 2020, the Evnroll ER1.2B and ER7B models were introduced, receiving the murdered-out treatment based on the ER5 from 2019. The Evnroll ER2CS and ER5CS provided more centre shafted models for the crowd that prefers that aesthetic.
2020 Evnroll Putter – Blades – ER1TS, ER1.1, ER2, ER2.1, ER3, TourStroke Trainer
2020 Evnroll Putter – Mallet Models: ER5, ER6, ER7, ER8 & ER9 10K.
2020 Evnroll Putter – Black/ Murdered Out Models: ER6B, ER5B + ER1.2B + ER7B
2020 Evnroll Putter – Centre Shafter Variant: ER2CS & ER7CS + ER5CS
2021 Evnroll ER Putters
2021 brought about the V Series. 6 models were chosen and consumers were given the ability to chose one of four hosels. The Short Slant, Long Slant, Short Plumber, and Long Plumber hosels are meant to be fit to your path, determined to be a full, mid, or slight arc. The arm lock market was also tapped into with the 'Midlock' models released.
2021 Evnroll Putter Blades consist of the ER1TS, ER1.2, ER2, ER2CS, & ER2.2.
2021 Evnroll Mallets consist of the ER5, ER5CS, ER7, ER8.3 + ER10 Outback Mallet (Spyder aesthetic). – ER9 10K (Discontinued)
2021 Evnroll Putter – Black/ Murdered Out Models: ER1.2B, ER2B, ER5, & ER7B.
2021 Evnroll Putter – V Series – ERV1, ERV2, ER5V, ER7V, ER8V, ER11V
2021 Evnroll Putter's left-handed versions also made their debut with the ER2, ER5, ER7, and ER10 being offered.
2021 Evnroll Putter Armlock and Midlock versions also made their debut with the ER2V ML, ER5V ML, ER8V ML, and ER11V ML.
Custom Fit Evnroll Putter
The Evnroll Putter Fitting Experience or ERX can be enjoyed for $150 USD – you just need to make it to Carlsbad, CA at Evnroll's HQ. The website indicates that eye dominance, swing weight, toe hang, stroke path, grip size, grip shape, shaft offset and lie angle are part of the fitting process. Rollboard and Quintic are used to fine-tune and validate the fit. As far as customisation, you can choose the head finish, shaft finish, and paint fill which are purely cosmetic.
Perceived Strengths of Evnroll Golf Putters
Groove technology. It works and is quite an easy concept to grasp. Genius and obvious, it is amazing that someone didn't see it sooner.
Perceived Weaknesses of Evnroll Golf Putters
Stability weighting – heavier head weight and heavier grips mean heavier putters. This is sold as Heavy = Stable. While this may be true for some, there is no such thing as one size fits all.
Until 2021 and the introduction of Evnroll's ER V Series Putters the level of customisation was at best aesthetic.
The Evnroll Gravity Grip is a 105-gram grip that incorporates a 70-gram steel rod under the grip. It is said to 'virtually eliminate face rotation through impact.' How this works with the hosel technology and arc is not explained…
Alignment Options – lines and dots. Lines are provided whether you like them or not. Two dots on the top line are there 'subtle alignment queues.' Again, there is no such thing as one size fits all. Lines, dots, or the absence of one or both affect aim, and not having the option to adjust this leaves balls out of cups.
Envroll Putters or Edel Putters
Is Envroll a one-trick pony? There is no doubt – the groove technology works and after that, the custom fitting of Evnroll Putters outside of their HQ and ERX fitting falls in line with most other OEMs. While lie, loft, and length are fitted for there is no explanation as to methodology and how the product fits into that. Evnroll embraces the arc stroke fitting concept and attempts to match your arc with the hosel. After you move on from the putter grooves, there is not much more to get excited about when it comes to custom fitting. Revolutionary technology is found on the ER Putter face but that's about it.
Edel still holds sway with both fitting methodology and putter adjustability and customisation. When it comes to dialing in fit biomechanically for lie, loft, length, grip size Edel is the only putter fitting system that incorporates this insight. Head shape, hosel design, and alignment aids are used to dial in aim. Feel can be fine-tuned using head weighting, counterweight, and internal shaft weighting. The Edel fitting methodology and equipment work harmoniously together to create the industry's finest custom-fitted putters. Each one, made to measure for you.
If you're looking for a putter that will roll the ball to where you aimed even on off-centre hits, Evnroll has technology that will help. On their website, it uses the example of a 25-foot putt missing due to a 1/2″ off-centre strike on the putter face. The make percentage of a 20-25 foot putt on the PGA is 12.47%. Over 25 feet and the make percentage drops to 5.45%. If the best golfers in the world miss between 87% and 94% of putts around 25 feet, how much will this technology help? It tough to say without the data.
I for one would reckon a putter I can aim and roll consistently with precise distance control means more than one that corrects a mis-hit from 25 feet. The ball off the face of the Evnroll ER Putters may leave mishit putts in the same location as a centre strike but what if I cannot aim the putter in the first place? The ball off the face of the Evnroll ER Putters may leave mishit putts at the same distance as a centre strike but what if I cannot control the distance in the putter in the first place? To my mind, there are bigger proverbial fish to fry before I worry about what happens with I mis-hit a 25-foot putt. This is where Edel again proves its worth with its industry-leading fitting and putter custom fitting.
Where can I be custom fit for an Edel EAS Putter?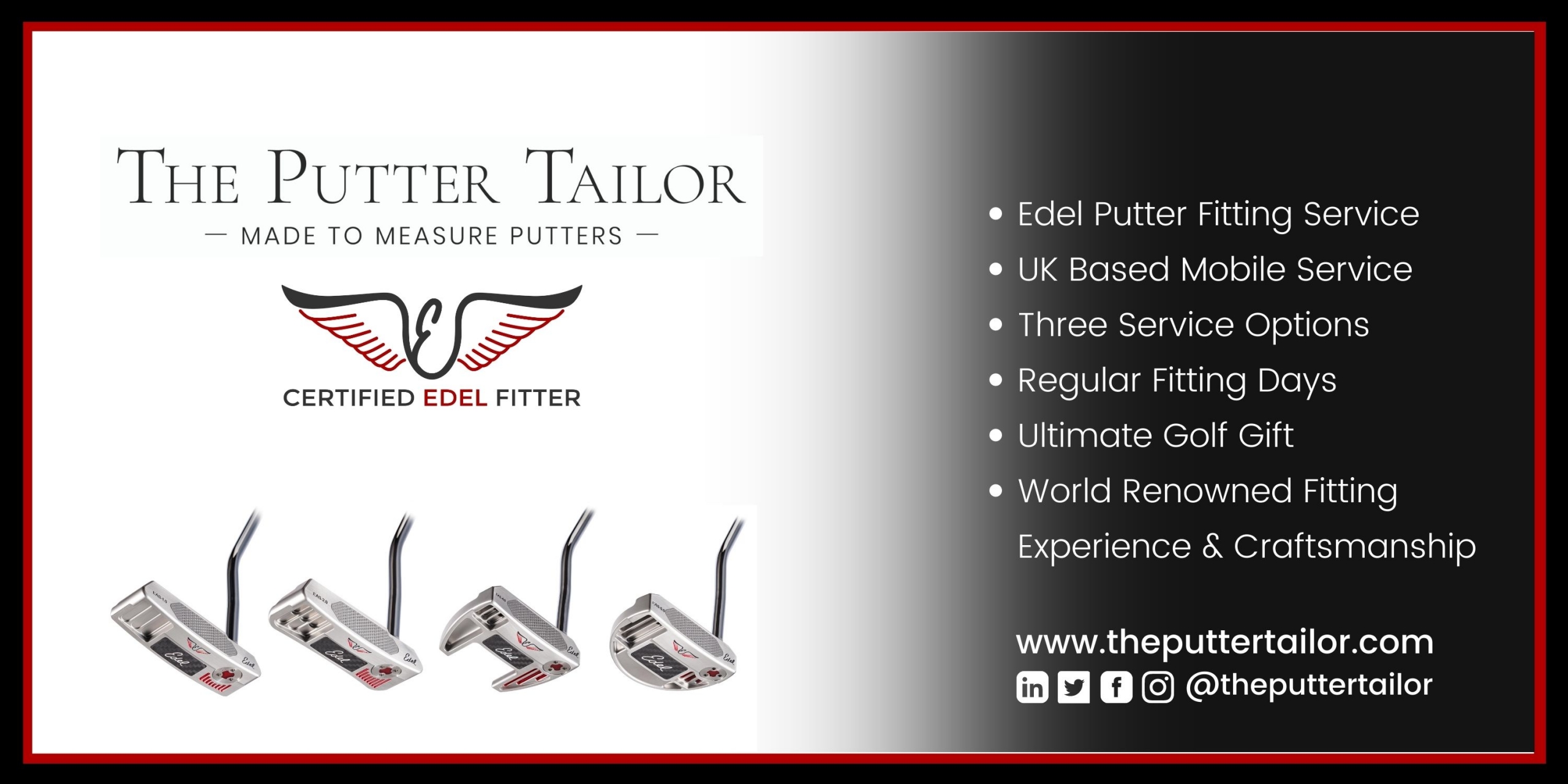 https://evalu18.com/wp-content/uploads/2020/08/Featured-Image.jpg
573
1500
Jasper
https://evalu18.com/wp-content/uploads/2018/10/evalu18_main-strapline-white-mustard_large.png
Jasper
2020-08-06 13:39:02
2021-06-18 09:47:04
Evnroll Putters