Ballyliffin Golf Club Old Links
Architects:

Lawrie, Charles
Ruddy, Patrick
Craddock, Tom
Faldo, Sir Nick

Holes of Merit:

5, 12, 13, 14, 18

NCG Rank:

68/100 in GB&I
Please login or register to add this content to a list.
Overview
Tom Doak says the fairways are the most wrinkled he has ever seen!
Ballyliffin GC Old Course Videos
If this doesn't get your golfing juices flowing, nothing will... click here
An epic AirSwing promo video can be seen by clicking here
Golfing World visited the course and the video can be seen here
Watch The Average Golfers video here
---
Golf Course Review
Nick Faldo is to Ballyliffin Golf Club Old Links what Tom Watson is to Ballybunion Golf Club. Both world-renowned players helped put it on the map and we are all better for it.
The acclaim Nick Faldo brought to the links also won him some design work. The original course was a modest 9 hole laid out in 1947. The course was extended to 18 holes in 1973. Then Faldo added 32 peat revetted bunkers in addition to 1000 yards in length in 2006.
The Ballyliffin Golf Club - Old Links may not be as 'old' as many others but it certainly has all the charm of an old-world classic.
Ballyliffin GC Pollan Links
Ballyliffin Golf Club Pollan Links was completed over the 2019-2020 winter season. The new short course is a bit of fun to accent the two championship courses on offer with holes ranging from 90-147 yards in length.
The course may not require length but the greens and bunkers will provide plenty of drama, built to be peers to the other 36 on the big boy's courses.
BALLYBLIFFIN GOLF CLUB OLD LINKS ARTWORK
To purchase Ballyliffin artwork click here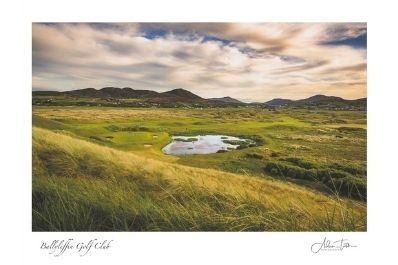 ---
Collections
This course features in these collections. Click an icon to view the entire set.
---
Visitor Information
Everything you need to know before you go!
---
Evalu18 Recommends
Everything you need to know before you go!
Stay:

Food & Drink:

Things To Do: